There's always been a strong connection between cricket clubs in Yorkshire and those over in Australia. Whether it's social tours or players getting opportunities overseas in leagues. Stephen Cook explains how a club cricket Ashes came about between Sheffield & New South Wales – and the enduring friendship ever since.
The history of friendly rivalry between the two clubs goes back to 1983 when the banter between two brothers resulted in an invitation from North Ryde RSL to Norton Oakes to visit Sydney in early 1985 to play cricket and enjoy the sights of Sydney.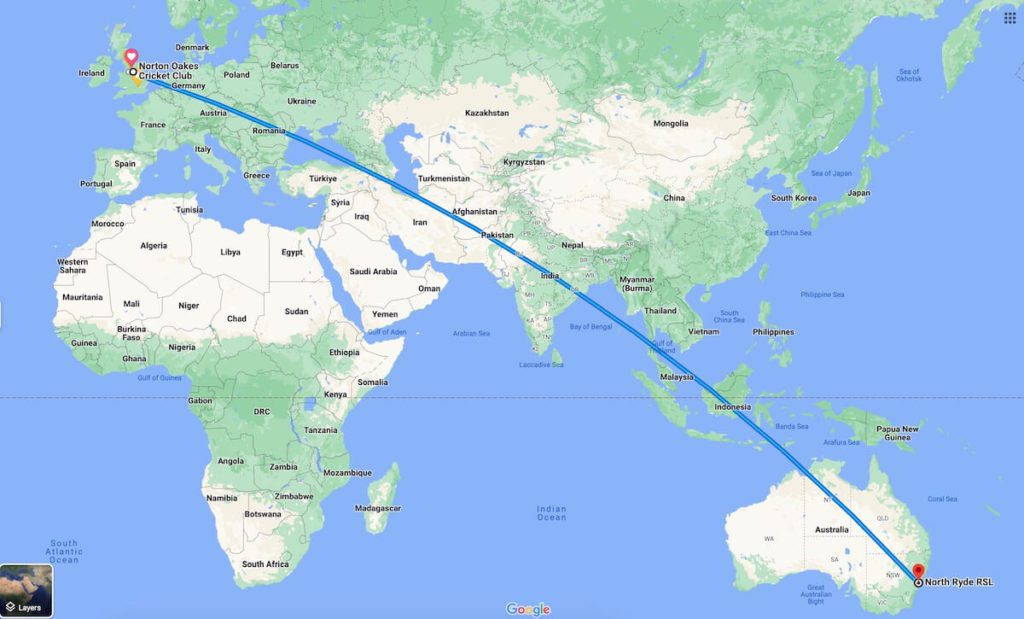 George Dingwall had emigrated to Australia some years before and had become President of the cricket club within North Ryde RSL (Returned & Services League) in Northern Sydney; while his brother Norman was Treasurer of Norton Oakes Cricket Club in Sheffield. Norman had played for the club for 30 years and spent a long time as Second Team Captain.
The first tour was undertaken by a group from Norton Oakes in January & February 1985, with the reciprocal invitation for North Ryde to visit Sheffield accepted and took place in 1986.
Since those early days, the tours have become a regular fixture with groups travelling across the globe on a regular basis, the only real delay was due to the pandemic following Norton Oakes' tour to Sydney in January 2019 – the arrangements have been on hold until the friendly rivalry resumes in July and August 2023.
The cricket games between the two sides are hard fought but amicable too; traditionally three one-day games and a two-innings Test match to decide who holds the Ashes created when the first stump to be hit in a game was burned (at a barbecue of course!) in 1985.
On that opening tour, the first two one-dayers were shared and the 2-innings match tied so it came down to the last match which the hosts won.
The mature oak tree inside the boundary fence at Norton Oakes came as a surprise to visiting North Ryde captain Brett Roberts in 2006 who said:
"We were all amazed to see the tree as we have nothing like that in Australia. We had our pictures taken with it and were keen to find out the local rules about what happened when the ball hit it."
It was just as well Brett checked as one Aussie fielder who will remain nameless tried to throw the ball in from the boundary over the tree itself, only to fail and gift 4 runs to the home team.
(The Norton Oakes Team meet the City of Ryde Mayor on their tour in 2019.)
Since 1985, the fortunes of each club have ebbed and flowed with some memorable performances from each side.
It's fair to say that touring teams from both sides have taken a while to get used to the very different conditions, coming from an English winter into 30 degrees with jetlag and a little hungover (first-time tourists have often fallen victim to the 'Aussie Beer team' on arrival) takes some adjustment!
After a period of weather-affected draws, it was decided in 2004 to make the Test match 3 days and the Ashes has transferred hands a number of times since then, with Norton Oakes becoming the first team to win overseas in 2014 only to relinquish the Ashes on home soil two years later.
This year the Oakes are looking to claim back the urn, and then defend it again on the to return to Sydney and North Ryde in 2025. The unique connection between the clubs is as strong as ever and long may it continue.
2023 Ashes in Yorkshire:
Sunday 16th July – First One Day International
Sunday 23rd July – Second One Day International
Tues 25th to Thurs 27th – Test Match
Sunday 30th July – Third One Day International
All games will be played at Norton Oakes Cricket Club, Oakes Park Sheffield S8 8DA.
For more info on the history of Norton Oakes Cricket Club, there's a very good website to click around here: https://treeintheoutfield.wordpress.com.
So, what are the other links between Yorkshire club cricket and Australia? Does your club have Aussie cricketers who are part of your proud history? Are there more link-ups between clubs like Norton Oakes and North Ryde?
Leave a comment below, tweet me at @cricketyorks or comment on the Cricket Yorkshire Facebook page.
Latest posts by Cricket Yorkshire
(see all)