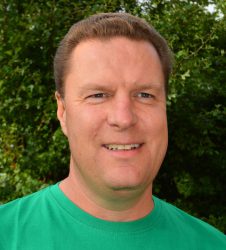 Latest posts by Andrew Gallon
(see all)
At the tail-end of June, Andrew Gallon headed to Swallow Lane, home to Golcar Cricket Club, who in 2021 are celebrating their 150th anniversary.
Golcar played Mirfield-based Huddersfield League Premiership rivals Moorlands.
If you're driving to Golcar Cricket Club, try to approach via Outlane and Scapegoat Hill. Wow! Engage second gear and plummet headlong towards the village, absorbing as you descend a scenic panoramic across the spectacular South Pennine landscape.
Golcar's compact ground – another I've been to this season with a rectangular layout – is just off Swallow Lane, above the village centre and behind a pub, The Commercial.
This year, Golcar Cricket & Athletic Club (to use the correct title), founded in 1871, celebrate their 150th anniversary.
To mark the occasion, they've become the first Huddersfield Cricket League club to live stream games – via FrogBox – and bought new covers, with a smart anniversary logo. Golcar (pronounced Gowker) run eight teams: three seniors, five juniors.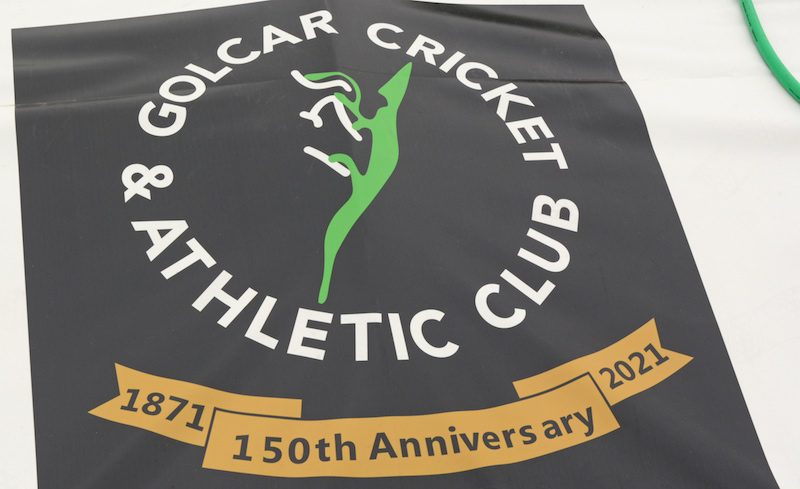 As you'd expect, the cricket club's badge features a lily. Locals are known as Golcar Lilies.
The lily emblem was imported from France with the Huguenot people, renowned weavers who fled a sixteenth-century religious war and found sanctuary in the district.
The next Golcar Lily Day, incidentally, is on May 7, 2022. COVID put paid to the 2021 event.
The Swallow Lane ground's lofty elevation provides excellent views of the surrounding countryside. According to the Huddersfield Cricket League website, Golcar's pitch stands at 722 feet (220 metres, if you prefer metric).
Looking south, down the wicket and beyond the clubhouse roof, you can see across the Colne Valley to the Etherow-Holme watershed and the Holme Moss telecommunications mast.
In the opposite direction, a hillside rises steeply to a breezy summit. The houses on the edge of the precipice must enjoy some of the best views in Yorkshire.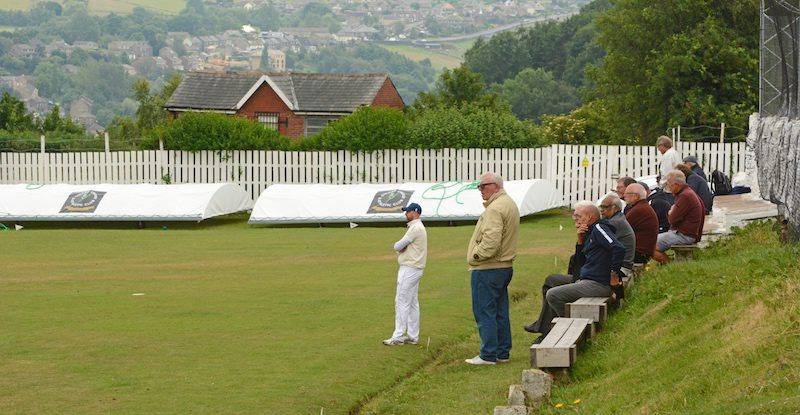 A grassy, bench-topped bank along the west side provides an opportunity to get above the action. It's popular with regulars, who on the afternoon of my visit seemed immune to a noticeable breeze blowing into their faces from the northeast. Some even wore shorts!
Behind the bank, protected by state-of-the art netting, a relatively new housing development, the appositely named Century View, appears incongruously modern against the white painted drystone perimeter wall.
Dominating the south end, Golcar's gabled clubhouse is a utilitarian, rather forbidding gritstone structure.
Alongside, the lighter, brighter scorebox and dressing rooms appear much more recent. To the rear is a car park and a windbreak enclosed bowling green. When I arrived, a woman was using the latter to practise croquet.
Back gardens fringe the north end and east side. At the north end, a resident's wrought iron access gate features a cricket bat and ball design (a fan, clearly) whilst repurposed iron pipes provide the base for Heath Robinson forms. An early example of recycling? Works a treat.
Before the start of the game, a fourth-versus-third clash with Premiership rivals Moorlands, a thoughtful resident popped out to lend a couple of umbrellas.
"In case it rains," he said, in a scouse accent, glancing up at the cloudy sky. His red T-shirt was emblazoned with 'Heart as Big as Liverpool'. "Just leave them in the garden when you go."
The east side of the ground is little more than a narrow track linking Swallow Lane with the car park.
A hoarding advertises the nearby Bolster Moor Farm Shop, which sells "sausage of the year, championship pies and award-winning black pudding". Sounds delicious. Bolster Moor Farm Shop is Golcar Cricket Club's major sponsor for 2021.
In the southeast corner, several wooden benches bear memorial plaques to former players and fans. Another, above the entrance to the adjacent groundsman's store, salutes Ronnie Taylor, "sponsor, supporter and worker for Golcar Cricket Club".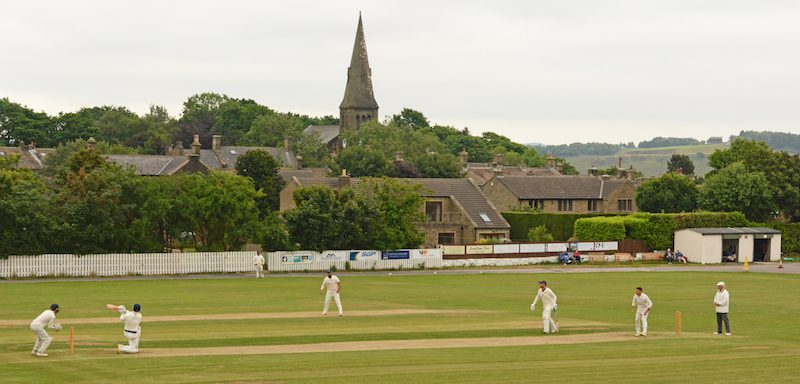 Over the rooftops, to the east, the spire of Golcar's Anglican church, dedicated to St John the Evangelist, rises majestically. Opened in 1829, it is a so-called Waterloo church. Is its bell mechanism on the blink? I got the impression it didn't quite manage to chime every hour.
The live stream footage proved a boon for the partner and daughter of a Golcar player.
Watching in Australia, the child's grandparents were able to see their granddaughter, whom they've yet to meet. Position your buggy at the end receiving deliveries then wave. Simples!
Given the teams' proximity in the table, the game's one-sided nature was disappointing.
Only a week before, Moorlands had beaten, by three runs, second-placed Hoylandswaine in a reportedly pulsating encounter. As anybody who follows the Huddersfield Cricket League will know, victories over big-spending Swaine are cherished! But at Swallow Lane, the Mirfield men's contribution was merely fitful.
I was keen to get a first look at Golcar all-rounder Steve 'Cobber' Whitwam, who can be described with complete accuracy as a Huddersfield Cricket League legend.
Steve grew up in Melbourne, Australia. His parents, Ron and Joan, both from Golcar originally, relocated to their home village when he was 13.
A left-handed batter and right-arm off-spin bowler, Steve has taken a thousand wickets and struck 20,000 runs – both records for the Huddersfield Cricket League.
Against Moorlands, who were asked to field, Steve scored 33, figuring in an opening stand with James Howson (58) worth almost a hundred. He followed up by taking 3-36.
Moorlands' best spell of the game reduced Golcar to 128-5. But Dan Woodhead (35) and Craig Ruscoe (23) helped the hosts reach 215 off 48 of their 50 overs. Nadim Hussain finished with 4-25, James Stansfield 3-45.
The visitors' reply never got going. It could've been worse, mind. Golcar (fingers doubtless numb on an increasingly chilly afternoon) dropped three catches, one of them admittedly very difficult, with the opposition floundering at 62-7.
The determination of the eighth-wicket pair, captain Eddie Walmsley (27) and Arslaan Razzaq (23), ensured Moorlands kept defeat on the right side of respectable. They were dismissed in 41 overs for 120.
Will Hinchliffe took 3-37. He had some trouble with his run-up, always unsettling for a bowler. In the end, he halved its length and solved the problem.
The full six match points enabled Golcar to leapfrog Moorlands into third place, four behind second-placed Hoylandswaine and six adrift of leaders Thongsbridge. (Editor's Note: Current Huddersfield Cricket League Tables since).
At cricket, my ears are attuned to vocal exchanges between players.
The Moorlands fielders came up with two good ones.
As one received a cap from a team-mate, he remarked: "There's some stains on this that I'm not going to question."
A minute or two later: "One more wicket, lads, before sanitiser." A sign of the times!

Many thanks to Andrew and you can read his club cricket series, Miles per Gallon, on the website throughout the summer.