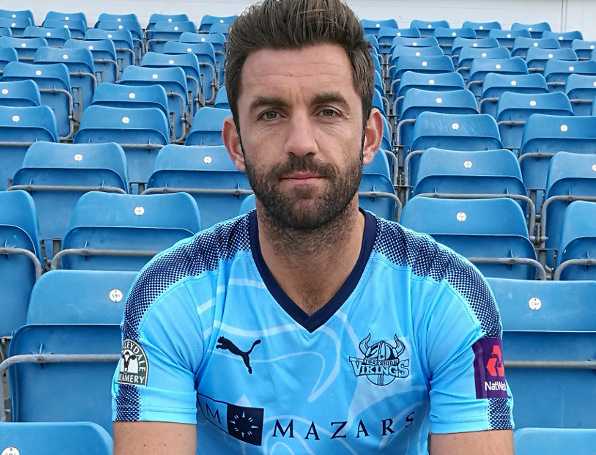 Liam Plunkett stands up tall on the railing in his aqua blue Yorkshire T20 shirt, puffs out his chest, points that chiselled chin and stares into the distance while the photographer reels off multiple frames.
The Yorkshire and England bowler doesn't grumble when asked to model moodily but flashes his best 'blue steel' pose (Zoolander film reference) then japes with Tim Bresnan who grabs him in a mock embrace that mimics Kate Winslet and Leonardo DiCaprio in 'Titanic'; that romantic-nautical-iceberg caper from the Nineties.
Time will tell whether Yorkshire's season will sink or swim but with commitments wrapped up for a national newspaper, Plunkett shakes my hand and we drop into the blue plastic seats of the North East Stand.
First impressions of Liam on this fickle April morning (managing to be both spitefully cold and pleasingly warm almost simultaneously) are that he is what you might call a 'big unit.'
I am over six foot tall but feel like one of The Borrowers.
In fact, having once been broken by hours spent in the Leeds IKEA in Birstall, I am now something of an expert when it comes to the relative merits of wardrobes and the 32-year-old from Middlesbrough looks distinctly more teak than chipboard.
We get the injury update out the way first, Plunkett sounds upbeat describing it as a "little grade one" – that's only a mildly torn calf muscle as opposed to when it twangs like a rubber band and that's your summer scuppered.
He missed out on Yorkshire County Cricket Club's squad for the second Specsavers County Championship game (not quite fit) – away at Edgbaston against Warwickshire from today – but Yorkshire's bowling attack now has more bite with David Willey, Matthew Fisher plus Adil Rashid's given the green light by England.
While the injury setback might be annoying, I reference Plunkett's well-known dedication to the gym and his eyes light up: "I love to do it..even now with my calf, I'm trying to swim and do upper body stuff and start biking."
But with Plunkett, fitness has moved beyond a professional necessity to cope with the rigours of England and Yorkshire to where he's fully qualified and well placed for life after cricket.
He's almost completed his Strengthening and Conditioning Level 4 qualification – advanced accreditation that would allow him to be employed in professional sport.
It includes Olympic lifting – I forget to ask how often he can loft Adil Rashid above his head but I'm guessing it's impressive.
I'm not one for weights unless you count laying waste to a 3kg tub of Nutella during a boxset on Netflix.
Another project away from delivering his 90mph rockets at batsmen for club and country is the Liam Plunkett Fast Bowling Academy where those aged 13 and up can learn from Liam and hone their game with a training programme.
A number of Yorkshire County Cricket Club now have coaching interests such as Andrew Gale, Adil Rashid and Ryan Sidebottom and if I were a mere thirty years younger, tips and tricks from Plunkett who possesses the X-factor to rattle the world's best batsmen would be tempting.
I want to know what Yorkshire's mentality was in the weeks and months after that deflating September defeat at Lord's that saw the County Championship move from Leeds to London.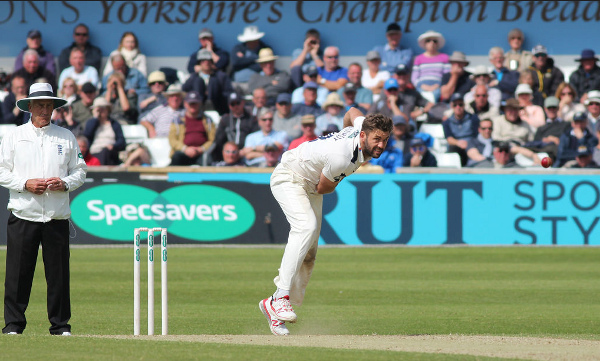 When did the plans hatch to go one better in 2017?
"It pretty much started when we'd finished…even that night after we got beat. The lads had a few beers and you're thinking about next year. When I've been back (at Headingley), you can see the passion of the guys who want to get better. It (not being Champions) might give the lads a kick up the backside."
We finish with a nod to Plunkett's ambitions for this season.
In the week after we met, he was rewarded with a one-year contract extension that sees him with Yorkshire County Cricket Club until at least December 2018.
With county appearances dictated by England, Yorkshire can still expect to see Plunkett in a White Rose shirt but he's well established now as an international fast bowler of repute in limited-overs cricket.
If all slots neatly into place, Liam will mark his 50th ODI appearance for his country when he takes to the Headingley outfield against South Africa as England launch their One Day Series with a day/night fixture against South Africa at Headingley on Wednesday 24th May.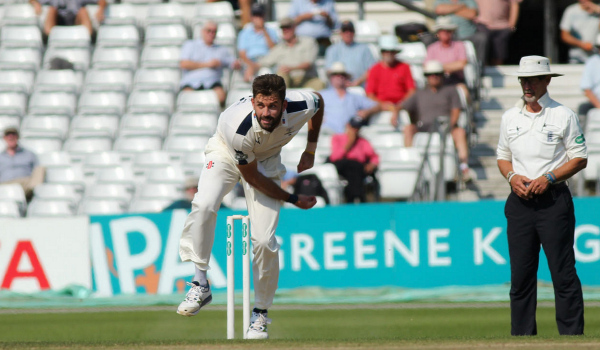 As for adding to those meagre 13 Tests, appearances for Yorkshire in the County Championship is the route back into the fold:
"My endgame is to play for England in all forms…that'll be until the day I retire. When I'm 42 and still playing county cricket, I'll still want to play for England!"
So, there you have it. A Cricket Yorkshire world exclusive. Liam Plunkett plans to play county cricket until he's at least 42.
So, with another decade stretching out ahead of him, perhaps it's a particularly astute move on Plunkett's behalf to be an expert in the art of strengthening and conditioning.
After all, deep heat can hide a multitude of aches and pains but age catches up with us all eventually.
Until then, he has stacks of wickets and runs on his radar and Yorkshire will be hoping Liam Plunkett can help spark the club's four-day title aspirations into life before igniting the home crowd in the Royal London One-Day Cup for good measure.
Photo credits of Liam bowling: Jeremy Lonsdale
(If you're into your Yorkshire cricketing history, check out Jeremy's new book 'A Game Taken Seriously.')
**LISTEN TO LIAM'S FULL INTERVIEW (3:20)
Latest posts by John Fuller
(see all)