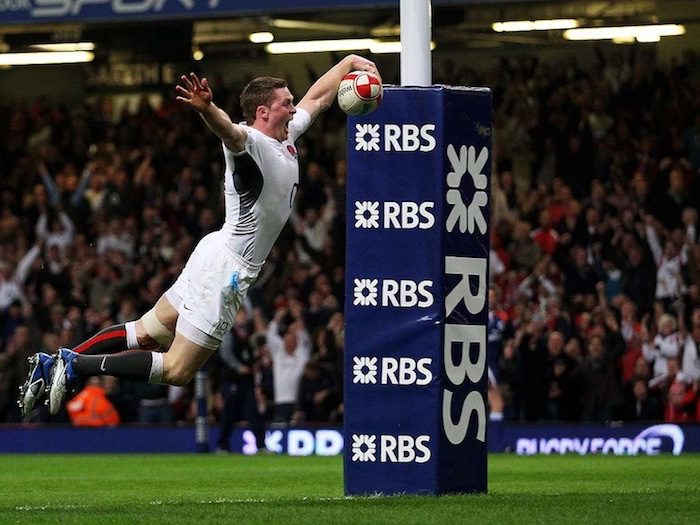 Opportunities like these really don't crop up too often sitting next to England Rugby Football Union Coach Stuart Lancaster, who is guest speaker at Headingley.
The event, in aid of Kirstall Educational Cricket Club who have suffered a catalogue of theft and vandalism you'd scarcely believe, includes a talk from Stuart on his framework for success, applicable to both business and sport and the journey he has had since he took over.
This could have been awful; well, maybe not awful as it was all for an excellent cause but one of those stuffy evenings where conversation doesn't flow nearly as freely as the wine.
Fortunately, rugby union is high up the list of priorities in our household though my wife tends to flee the room as I sit about a millimetre from the telly when the autumn internationals swing round, barking in horror or distilled joy at dropped passes or cauliflower ear-crunching tackles.
The other thing going for this encounter is that as a journalist, even one supposed to be off-duty if there is such a sleep mode for us lot, questions dance on the tip of my tongue constantly.
There is scope to look at what lessons from rugby union might cross over into cricket; particularly around engagement for internationals where demand for Twickenham games is stratospheric.
Headingley would dearly love to tap into the ticket frenzy that saw a staggering 650,000 applications for the England versus Australia World Cup pool game on October 3 2015.
Over three courses that barely touch the sides due to being glued to the conversation, we swap perspectives about grassroots cricket and rugby, fan engagement and what it means to be English and, whisper it quietly, proud of being English.
But first, especially if 'egg-chasing'  – as it's known in some rugby league devoted Yorkshire towns – is relatively new to you, some brief context on Stuart Lancaster who inherited a post-World Cup shambles every bit as chaotic as England cricket can be.
Lancaster's Leeds roots…
Though born in Penrith, Lancaster is many ways Leeds through and through.
There is room for a war of the roses quip about the house of Lancaster and red roses if you fumble for it but we'll skip on.

 His playing career saw a century of appearances as flanker for Leeds Carnegie before he managed their Academy from its inception in 2001.
A role as Carnegie's Director of Rugby followed (during which time Carnegie won promotion to what was then the Guinness Premiership) and notable stints as RFU Head of Elite Player Development and England Saxons Head Coach.
In the aftermath of England's 19-12 defeat to France at Auckland's Eden Park in the 2011 Rugby World Cup, Martin Johnson resigned as Head Coach and Lancaster got the chance to take over in an interim capacity.
I liked that. There were all sorts of high-profile names linked to the job at the time but the Rugby Football Union (RFU) looked to someone who had risen up through their coaching ranks.
In a nod to sleeves-rolled up graft, Lancaster had to earn the right to a permanent position. As probations go, it was fairly intense.
This was an England rugby team who had been hit by scandals during the global tournament in New Zealand with Mike Tindall, Chris Ashton and James Haskell all embroiled in unwelcome headlines.
English rugby – as its cricketing counterpart has had to weather more recently through Pietersen's book – had their own dodgy dossiers leaked to the press.
Reports allegedly from the RFU surfaced in The Times including one with players' frank comments about discipline, the media, coaches and training.

It was time for a clean slate and Lancaster offered that in spades.
One early prominent change that caught my attention at the time was a move from pampering in Portugal to a Yorkshire Division Two club, West Park RUFC, for England's usual pre-tournament camp.
The messages were pretty clear but after being written off as lofty, arrogant and operating in their own bubble, it was time for England to get back to basics, an opportunity for them to re-connect with grassroots but this was also Lancaster creating his own bond.
The transformation has seen England beat the best in the world and put their house in order from top to toe. 

English cricket now faces similar accusations as the rugby union squad once did. England fans don't feel its their team, they feel alienated, frustrated and are voting with their wallets where empty seats continues to be a burning issue.
Anyone who's ever been to a rugby international at Twickenham knows that the fan's experience can be explosively visceral. It's a red-rose cauldron but 
Lancaster recognised that the crowd needed bringing back under their wing and the reconnection with their national heroes is one of the success stories.
The notion of Twickenham as an immensely tough nut to crack had somewhat crumbled but it was that home advantage ethos formed a key factor in a pulsating win over New Zealand in 2012.
True, cricket doesn't lend itself to tub-thumping although it's been achieved before with the 2005 Ashes (that once-historic series that now comes round about as often as Eastenders).
The crowd takes their energy and purpose from the field of play no doubt; I was at a rain-ruined Edgbaston to see a firecracker of an hour's play where Flintoff ripped into South Africa with hostile bowling that included completely foxing Jacques Kallis.
We were all a bit fed up because of the rain, and possibly from memory some dubious decisions around bad light, but that single hour was worth being there in spades. The noise was unbelievable; a real sense of seeing something remarkable people would talk about for years.
Lancaster was surprised to once see English flags taken off fans at a cricket international; he's keen to go the other way and tap into that patriotism and infuse it throughout Twickers.
The England rugby team now get off the team coach and walk through the crowd from the Lion Gate; a long, deliberate move designed to build and tap into the fervour of the Twickenham crowd; a two-way process incidentally.
Through those dinner conversations and Lancaster's subsequent talk on rebuilding English rugby his way, I learnt a lot about his philosophy and came away thinking cricket would do well to snaffle a few lessons, particularly around humility.
In terms of its popularity and allure, England cricket has taken a battering and the latest fallout from KP's book is just another depressing example.
Why should fans automatically be expected to shell out not inconsequential sums to go and watch their country play cricket when they don't feel any ownership?
How do you achieve that? Lancaster did it by picking apart the detail as to what it means to be English; to really hit home the pride in the shirt.
He asked parents of players to write to their sons illustrating what it meant to witness them representing their country while there was also a kind of player he was looking for.
What I know about American football can neatly fit on the back of a postage stamp (not large letter either) but New England Patriots quarterback Tom Brady went from one-dimensional discard to part of three Super Bowl victories and twice named Most Valuable Player.
That, I am told by NFL brethren, is a HUGE deal (unlike MVPs in cricket which are about as irrelevant as those ICC team rankings).
The point, in case you're flagging, was to mould a player who had serious potential but left his ego at the door. It's not hard to imagine Lancaster giving short thrift to Pietersen and others.
Vis-à-vis selection, a surgical scalpel also helped with thirteen of the England rugby squad who were in the World Cup jettisoned because they didn't buy into a new selfless culture.
A brave decision bearing in mind he didn't even have the job long-term at the time.
Since, there's been the usual rugby rollercoaster but England rugby fans probably on balance admire Lancaster's thinking and supporters feel it's their team and that translates in everything from ticket sales to what they can transmit to the team on the field.
Ultimately, he'll be judged by this World Cup, a fact he was phlegmatic about as waiters buzzed around us.
At the time of our dinner, Stuart's contract was up for renewal after 2015 and unless disaster beckoned in the group stages, it was hard to imagine Lancaster not staying the course for years to come.
Sure enough, Lancaster and his entire coaching team subsequently had a massive vote of confidence from the RFU when they were signed up en masse to preside over England's next phase of development until 2020.
What about financial muscle in both cricket and rugby union?
England, Australia and India pushed through a radical restructure of the International Cricket Council (ICC) which sees these three cricket boards given more powers over the finances and executive status in how the ICC operates.
Meanwhile, Twickenham owns its own 82,000 capacity stadium so the millions in gate receipts alone each match keep the coffers looking very tidy.
Yes, it's London-based with all that disposable income sloshing about but there's probably some research kicking about that shows how far people are willing to travel to a rugby international at Twickenham.
Both sports are intertwined with BskyB with a recent deal seeing Sky Sports and the RFU agree a five-year broadcast deal until the end of the 2019/2020 campaign.
In cricket, the ECB's deal with Sky runs until 2017 with an option for a further two years while Channel 5 are set to continue showing highlights until at least 2017.
The issue of broadcast rights is one feverishly debated on here but it seems that counties are finally pushing for some domestic cricket on terrestrial TV.
These broadcast rights deals are penned years in advance so that 2018-2019 extension between Sky and the ECB is being thrashed out this winter.
Sky digs deep into its pockets for exclusive sports TV rights and the value of any future deal might drop if they have to share it with a terrestrial broadcaster.
The best possible result surely is a highlights package for the NatWest T20 Blast from 2015 on the BBC with its combination of reach and technology. We could be some way off that.
Banging on about broadcast rights (as I love to do) and who holds those cards is fundamental because of the impact for participation at grassroots and interest in the game.
It seems absurd that as things stand, an English cricket fan can't watch their national team in a World Cup unless they pay for the privilege.
As a BBC licence payer, I have deep rooted issues with that which would fill a hundred websites. Perhaps this will change. We live in hope.
There's something to be said too about how rugby weaves the availability of international tickets through its grassroots clubs; offering priority and linking the very top with the very bottom.
This isn't open season on picking over the bones of English cricket, rugby union has its own dilemmas, but cricket has a number of fundamental issues that it needs to address.
Whether a change of leadership at the very top will speed that change (Yorkshire's Colin Graves is hotly tipped to challenge Giles Clarke) is a script still being written but expect political jostling ahead of 2015 elections within the ECB that will have ramifications for the future direction of both amateur and professional cricket in England and Wales.
So what could change?
The England cricket team should be more accessible for ordinary fans. Open training sessions perhaps and more than the annual appearances to engage with clubs at NatWest CricketForce.
Exposure of the game to significantly larger audiences through the BBC, ITV or Channel 4's terrestrial coverage. Or else, use Sky's Pick TV for free-to-air but their Ashes highlights were reluctant at best.
There are ways and means of breaking the mould but they require those with the vision to do it.
Latest posts by John Fuller
(see all)