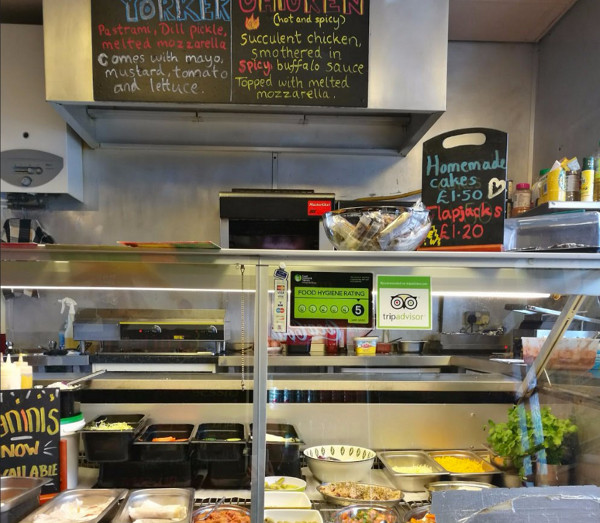 Lisa on BBC Look North had promised sunshine and mild temperatures but as the Northern Rail bonerattler dragged its way indignantly to Burley Park station, the clouds were grizzling, moping and pouting.
The briefest of pitstops on Cardigan Road at Slips Deli afforded the luxury of taking the weight off my scrawny pins, unaccustomed as I've been over winter to lugging camera equipment around the county.
I was content to stare gormlessly into the middle distance, buoyed by the presence of a proper, no-nonsense mug of steaming builder's tea.
My attention flitted to the numerous blackboard menus dotted around the place, all decked out with coloured chalk and hand-drawn flags for international culinary creations.
This was the place in Leeds where you could fasten your jaws to a baguette the size of a bready submarine long before the rise of convenience sandwich giant Subway became a thing.

**

I join Nick Davis, General Manager of Leeds Bradford MCCU, and we snake our way through glutinous Headingley traffic and up to Sports Park Weetwood – the University of Leeds' flagship sports facilities where the Yorkshire-based cricket academy is headquartered.
This will be the third year that Cricket Yorkshire is a shirt sponsor of Leeds Bradford MCCU and it was time to go and watch them train, do interviews and photograph them shivering on a bleak morning that blossomed later.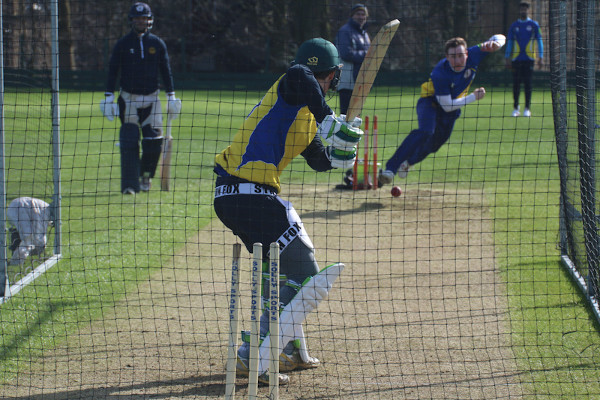 Those in the know are well aware that Weetwood is a meterological Bermuda Triangle defying any predictions (it bucked the trend later as Lisa predicted!) and even in the sun, the lads were looking a little like forlorn penguins queuing on an ice floe as they had nets.
There could be no complaints with the surface as it had been under water in the last week but 'Robbo' the groundsman got it looking like a bowling green.
We put the world to rights up in the pavilion while he munched on crisp sandwiches – the secret fuel that leads to so many commendable cricket squares for Yorkshire CCC and Leeds Bradford MCCU.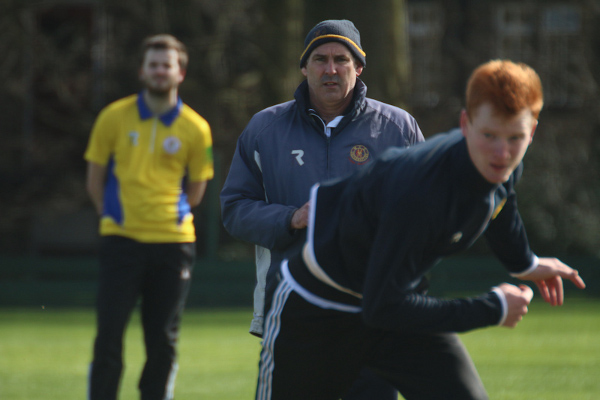 As to prospects, talking to Leeds Bradford MCCU players and staff, there is the usual sense of the unknown given their squad always evolves due to graduation from university.
Yet, that is amplified this time by not having been away on pre-season (due to the cost) as they have done previously to South Africa. Last year, they had five games in five days in March against teams such as North West Dragons in Potchefstroom to gel as a squad, stretch the legs and rack up some overs outdoors in the heat.
The absence of this may not prove fateful though the comparison with their second county opponents, Yorkshire County Cricket Club, is telling as the latter spend eleven days in the UAE.
The squad, captained this season by willowy fast bowler Moin Ashraf, have lost nous and cricketers formed key partnerships last summer with the likes of Billy Root, Christian Davis, Alex Lilley and Chris Harwood.
The Yellows were also expecting Middlesex County Cricket Club allrounder George Scott to be available but the twenty year-old is not part of the MCCU squad and will be pushing for county cricket down at Lord's instead.
As something of a footnote observation, the county champions can point to a steady influx of MCCU cricketers from Yorkshire with Scott joining Martin Andersson, an allrounder studying at University of Leeds, and opener Nick Gubbins in the Middlesex squad.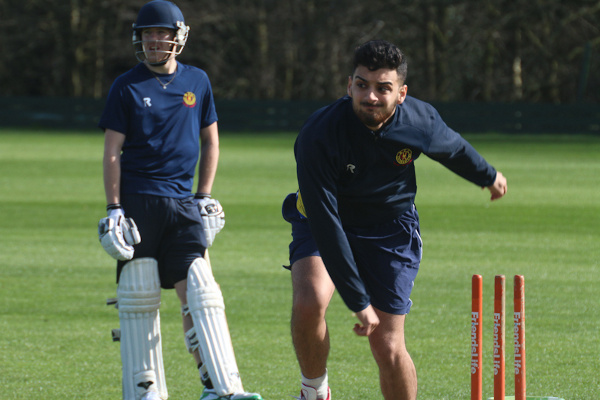 But the cyclical talent factory at Weetwood is such that there are new faces; those bedding into routines in their second and third years and chances to impress with the goal of signing – or retaining – a professional contract on the county circuit.
Not that these lot are green….a third of the 21-man squad have already linked up with a county in the past year.
Three squad members have 2017 summer contracts with counties in Anderson, right-arm fast-medium bowler Oliver Bocking with Essex and allrounder Jordan Thompson who will be with Yorkshire Academy.
Additionally, right-arm seam bowler bowler Dan Houghton has been involved at Lancashire through their Academy and second eleven and played for England Under 19s against India in Nagpur in February.
Off-spinner/batsman Harry Killoran was included in the Derbyshire Academy intake for 2016 and Scotland's wicketkeeper-batsman Craig Wallace spent January out in Abu Dhabi and Dubai playing international cricket.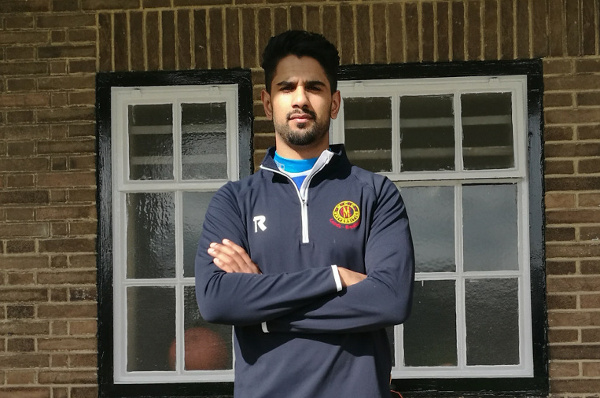 Before he was scheduled to bowl, I sat down with Leeds Bradford MCCU captain Moin Ashraf to assess what shape the squad is in for the three counties at the front-end but also for trophies across university competitions.
It's an astute pick from Head Coach Andrew Lawson given Ashraf is that bit older at 25 and has been through the highs and lows at a county cricket club before with Yorkshire CCC and then last summer at Northamptonshire.
Ashraf's own ambitions are to cement the relationship with Northamptonshire after he featured in the NatWest T20 Blast including 2-42 against Yorkshire.
Moin's own captaincy experience has only been the occasional county second-eleven match: "Coaches have generally left me to study my own game…I've picked alot of people's brains…I've got alot of knowledge in terms of what they would do…what sort of fields to set…"
I've interviewed Moin a few times for Cricket Yorkshire, observed him on the field and from a distance at least, he comes across as mild-mannered.
Did he, I put to him, have the steel to make the tough decisions?
"There's a time and place for everything…there's a time for a rocket and a time for putting an arm around someone. You have to behave like a professional cricketer…you have to work twice as hard as someone who's got that contract."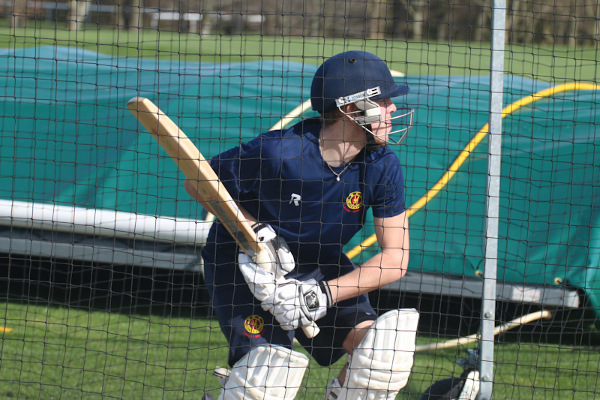 FIXTURES AGAINST KENT, YORKSHIRE & WORCESTERSHIRE

Well, it won't be long now…Leeds Bradford MCCU kickstart their 2017 campaign with an away trip to Canterbury to take on Kent at the Spitfire Ground on Tuesday 28 March (though the students are down on Kent's fixture list as a UCCE!)
Sunday 2 April sees the second three-day match against county opposition with Leeds Bradford MCCU the 'visitors' to Headingley to take on the usurped county champions, Yorkshire.
Finally, the students are at their Weetwood HQ against Worcestershire from 7 April in a game that isn't deemed first-class (first two are but third was de-classified years ago when counties used to play later and field weaker sides).
Good luck to the squad and staff as they embark on a season that could help shape their future careers.
DON'T MISS ALL THE ACTION…
You can follow their progress this season here on cricketyorkshire.com but also get live updates on Twitter (follow @cricketyorks) and 'LIKE' Cricket Yorkshire's Facebook page to see match photography and other unique content.
PLEASE SHARE THIS ARTICLE!
If this was an entertaining read for you then please share the article using the Facebook and Twitter buttons at the top or bottom of this page.
You're able to introduce Cricket Yorkshire's journalism to friends and cricket fans around the world and play your part in helping the website grow…
Latest posts by John Fuller
(see all)