Tony Hutton looks at the history of Lascelles Hall Cricket Club (on the Eastern outskirts of Huddersfield) and an enduring association with playing Yorkshire County Cricket Club down the years.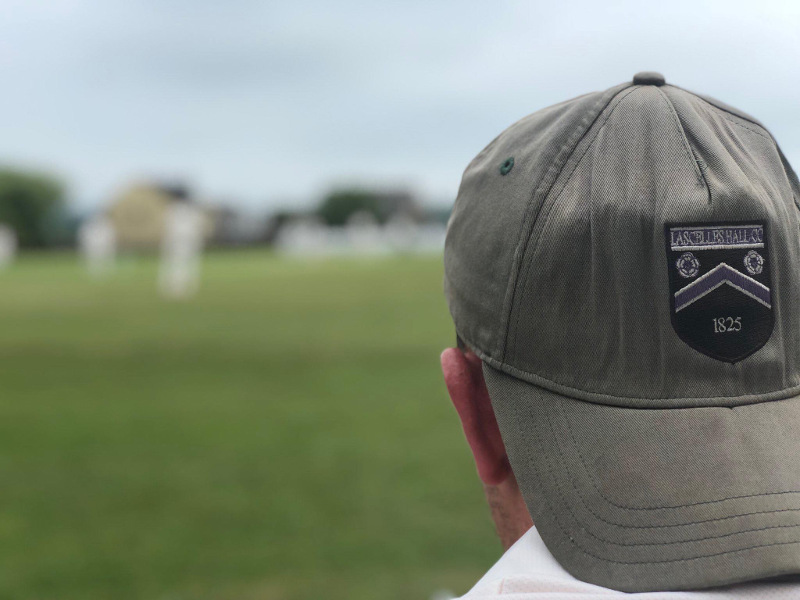 The cricket club at Lascelles Hall, originally a very small village just outside Huddersfield, was founded in 1825 which makes it one of the oldest clubs in the county of Yorkshire.
The club has a remarkable history, particularly from those early days up to the end of the nineteenth century when it provided a long list of players for the Yorkshire county team.
The village side, having already beaten an All England XI in 1867, took on the might of Yorkshire and beat them by 146 runs in a two-innings game in 1873.
They also had no trouble in beating Sheffield, then considered to be the strongest side in the county, as well as a Surrey XI. So it is not surprising that Lascelles Hall is regarded as the cradle of Yorkshire cricket, standing alongside the achievements of Hambledon (from an earlier time) in the south of England.
Much has been written about the reasons behind such cricketing success from so small a community and it seems to be generally agreed that the textile industry's early days, involving handloom weaving before the introduction of machines, had much to do with it.
This was a cottage industry, involving children as well as adults, who could plan their working schedule to fit in with time for cricket when the weather was good. In addition, the practice of throwing the shuttle from hand to hand across the room helped the co-ordination of hand and eye.
It is thought that the invention of the power loom was much to blame for the loss of the village's success around the turn of the century.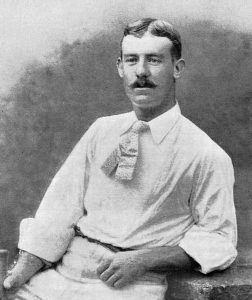 The great names of that period include John Thewlis, Luke Greenwood, Ephraim Lockwood, David Eastwood, Andrew Greenwood, Henry Lockwood, Allen Hill and Billy Bates (above).
The Thewlis family alone were able to field a team, plus umpire, scorer and gateman, which took on Chickenley in 1866. Bates went on three tours to Australia and notably took the first hat-trick for England in Test cricket. He was a splendid all-rounder and it was a tragedy when he was struck in the eye during net practice on his last trip to Australia to end his first-class career.
Worse was to follow when Bates insisted on attending John Thewlis's funeral on a bitterly cold day. He caught a chill and died at the age of only 44. He was buried alongside his old friend at Kirkheaton only a few days later.
Thewlis himself had fallen on hard times and had died shortly after a reunion with his old comrades at the Tandem Inn, their old meeting place at the foot of the hill on the way into Huddersfield.
Lascelles Hall take on Yorkshire CCC – again!
My own interest in the club started back in 1947 when my father moved from Leeds to work in Huddersfield and bought a house in Lascelles Hall. For three years, I spent most of my summers either watching them perform in the Huddersfield League or during the school holidays played with friends or visiting cousins on the edge of the ground with bat and a tennis ball.
I played my first proper game of cricket on the very edge of the square for our junior school team (under elevens) against another local school. My friends told me that Len Hutton had played on the ground in 1946, which I found totally unbelievable. It was several years later before I realised it was true and Yorkshire had again played against the village side.
My family moved again, this time to the faraway Midlands, where I lived in exile for almost twenty-five years. However, I returned to live in Yorkshire in 1975; just in time to see Yorkshire playing against Lascelles Hall yet again. The match was in celebration of the club's 150th anniversary.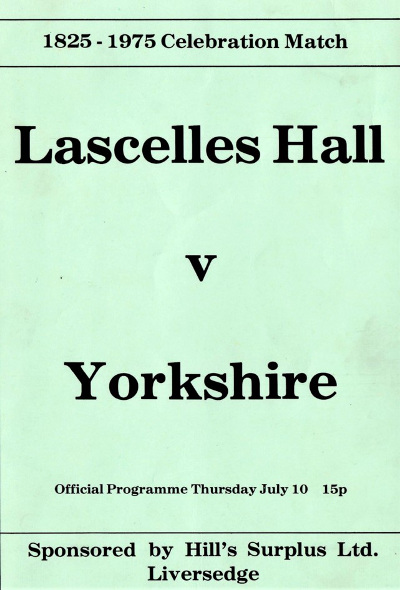 A great occasion both for the club and for me personally to return to my boyhood haunts. In Boycott's absence, acting skipper John Hampshire knocked up a very rapid 50 and Geoff Cope's 6-50 saw the county men home.
The following season Yorkshire visited again, this time for a John Hampshire benefit match in which they took on a Huddersfield League XI. On this occasion, Mr Boycott did turn up, but not for long. After being dismissed cheaply, he left for a business appointment!
The pitch provided uneven bounce and both Cope and Hampshire sustained hand injuries. Yorkshire just managed to win by the narrowest of margins – two runs. A guest star for Yorkshire was footballer Keith Kettleborough who made 55 not out in his only appearance for the county.
So many happy memories of cricket at the Hall and despite break-ins and arson attacks on the pavilion and scoreboard, which destroyed much of the club's important memorabilia, they manage to keep going.
It's a wonderful hilltop position, still has the same views and looking across the valley to the North, you can make out the white figures on the field at Kirkheaton where Yorkshire's two greatest cricketers learned their trade, Wilfred Rhodes and George Hirst.
Latest posts by Cricket Yorkshire
(see all)