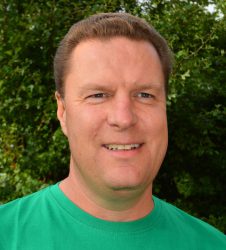 Latest posts by Andrew Gallon
(see all)
Despite it saying 'Keighley' on my birth certificate, I have only a tenuous connection with the town.
My folks, from Sheffield, relocated to Keighley in the early Sixties when Dad was offered a post in its NatWest branch.
The babes-in-arms Gallons (I have a twin sister) came along in 1965. By 1970, however, the family was on the move again, and I left Keighley without even attending school there.
All this crossed my mind in paying a first visit to Keighley Cricket Club's Lawkholme Lane, the sort of classical town centre cricket ground gradually becoming a rarity.
I've no doubt, now and again, avaricious developers cast an eye over the site.
As one looks across the cricket square from the seated paddock in front of the pavilion, a traditional, twin-gabled, two-bay structure of great interest, Riddlesden, where we lived during the family's time in Keighley, is opposite, along the northern flank of the Aire Valley.
I recall the Leeds & Liverpool Canal flowed lazily at the bottom of our back garden, which probably caused my parents a few heart-stopping moments when we were playing out.
How old is the pavilion at Lawkholme Lane? I can't find out.
---
In common with many locations in Yorkshire (and Lancashire), the Lawkholme Lane cricket facilities are side-by-side with a rugby (or football) ground, in this case Keighley Cougars Rugby League Club.
---
Others I can think of, where similar arrangements prevail, include Batley, Burnley, Leeds (Headingley), Middlesbrough, Otley and Sheffield (Abbeydale Park).
Sadly, the likes of Bradford (Park Avenue), Halifax (Thrum Hall), Huddersfield (Fartown) and Sheffield (Bramall Lane) have been either lost to redevelopment or seriously downgraded.
Over the years, I have watched rugby league at Lawkholme Lane (Cougar Park, latterly, of course) several times.
Indeed, on the afternoon of my maiden visit for cricket, a quarter-final, against Cleckheaton, in the Bradford Premier Cricket League's Priestley Cup, top-of-the-table Cougars were hosting third tier rivals Oldham, surely the biggest loser of rugby league's post-1995 summer era.
Keighley Cricket Club, established in 1848, recently received the go-ahead, from planners, to erect indoor nets and a gym at Lawkholme Lane.
The two-storey building will chew up a chunk of car park on the west side of the ground. The nets will be on the ground floor, the gym on the first.
Indoor nets are likely to encourage year-round practice at Keighley Cricket Club, who run three senior teams and various junior sides down to under-nines.
---

Keighley have played at Lawkholme Lane since 1869. They moved from nearby Dalton Lane.

---

The club joined the Bradford League in 1916, after spells in the West Yorkshire, West Riding and Yorkshire Council leagues.
According to the Bradford Premier League's hugely informative website, Keighley's most successful period was the 1940s.
Leading players of the era included Tom Goddard, Eddie Paynter and Winston Place.
Back to the here and now.
It appears the Lawkholme Lane pavilion, together with its adjacent clubhouse (nice nostalgic photographs) and elevated tearoom (what a spread of goodies), has had a recent white paint makeover. Very smart, they look, too.
Best view in the house is from the stone steps leading up to the first-floor tearoom.
I do like the seats provided at the ground: old-fashioned, sturdy concrete posts, supporting broad, wooden beams. Again, a fetching re-paint seems to have taken place.
Dominant to the east is the white-painted rear of the rugby league ground's timeworn main stand, the oldest bit of which dates from 1933, and its sturdy, square floodlight pylons.
Only a wire fence separates the grounds.
I have seen a 1902 photograph, taken during a Keighley Northern Union match against Broughton Rangers.
It reveals that little more than a row of bleachers once demarcated what were then relatively undeveloped enclosures.
What became Keighley Rugby League Club came about in 1876.
Nine years later, the rugby club (this was before the 1895 schism) amalgamated with the cricketers, who had prepared a rugby field in anticipation either of establishing their own rugby section or of persuading the existing rugby club to join forces with them.
Today's view, looking north, over Lawkholme Lane, of residential Riddlesden and of the windswept greenery of Rombalds Moor, offsets slightly the industrial units, container stacks and palisade fencing – truly, an ugly triumvirate – which press against the cricket ground's northern and western perimeters.
Scoreboard and groundsman's store, melded in a familiar combo, are positioned in the northwest corner.
Approaching Keighley via the spectacular minor road over Rombalds Moor, passing three high-level reservoirs, Reva, Weecher and Graincliffe, and the famous Dick Hudsons pub, I wasn't at all sure how the Priestley Cup tie would pan out.
---
In the competition's last round, Keighley, mid-table in Division One, had disposed of Premier Division strugglers Batley.
---
On the other hand, Cleckheaton, battling to avoid relegation from the top-flight, accounted easily for Jer Lane, the First Division's runaway pacesetters.
In the event, Cleckheaton won easily, beating Keighley, the last second-tier team in the 2022 Priestley Cup, by 182 runs, to set up a Sunday, July 17 semi-final trip to Premier Division rivals Methley.
The visitors won the toss and elected to bat.
In the second over (while the soon-to-vanish sun was still shining), Keighley spilled a sharp catching opportunity in the slips.
On an irritatingly breezy afternoon (summer soon?), that unfortunate lapse rather set the tone.
Opener Toby Booth (117, in 116 balls, including three sixes and 16 fours) featured in a second-wicket stand, worth 177, with left-handed overseas recruit Yousaf Baber (71 off 76 balls, with 10 fours).
Booth and Baber – the 'B' Team, surely – catapulted Cleckheaton from 35-1 to 212-2.
---
Former Yorkshire all-rounder Richard Pyrah (54 off 39), a winter signing, and captain Mally Nicholson (40 off 33) ensured there was no let-up for the hard-pressed, scarlet-capped (and red-faced) Keighley bowlers and fielders.
---
With 50 overs complete, Cleckheaton posted 353-6. Daunting.
Quick Billy Whitford took 3-54 from eight overs.
Keighley's reply began promisingly.
Wicketkeeper Adam Smith (39 off 41) and action man Whitford (37 from 30) added 79 for the first wicket.
A flurry of dismissals followed, however, and suddenly Keighley were floundering, at 87-5.
Third man out, for one, having faced four deliveries, was professional Noah McFadyen, the highly-rated Australian all-rounder. Earlier, he had claimed one wicket.
Simply not McFadyen's day. A shame because, in the Priestley Cup win over Batley, the Brisbane-based Queenslander took 4-23 then hit an unbeaten 63.
Two entertaining batting cameos prevented a Keighley humiliation and kept the crowd engaged.
No 5 Simon Bailey cracked a fine 42 (off 32), which featured two sixes in consecutive balls, a trick he pulled off twice.
Each blow endangered anybody sitting in the pavilion paddock.
---
The third of Bailey's sixes into the paddock was caught – impressively – by a spectator, who earned a big cheer and took a deserved bow.
---
Not to be outdone, No 8 Ijaz Ahmed joined Bailey at the crease, and struck a flamboyant 25 (from 19).
His knock included a six onto the roof of the rugby league ground's main stand.
"I thought you were a bowler, Jaz?" shouted a spectator, as the ball was retrieved.
Bailey and Ahmed added 44 for the seventh wicket.
The fun couldn't last forever, of course, and Keighley were dismissed for 171 in the 35th over. The last three wickets added just seven runs.
Home fans were flummoxed by an umpiring decision not to award a four when they felt a fielder had only too obviously failed to stop the ball rolling across the boundary rope.
One observed: "If that had been over there [the rugby league ground], it would've been a try. Half his body was over the line!"
Iain Wardlaw (3-44) and Amir Hussain (3-52) led the wicket-taking.
The latter, good to watch, picked up two victims in two balls.
Over the fence, the rugby league wasn't any closer.
---
In front of more than 2,400 spectators, Keighley (joined, for the day, by the juniors of the Keighley Albion amateur club) hammered poor Oldham 62-0.
---
At the final hooter, some members of the rugby league crowd 'swapped sides' to watch the climax of the cricket (and avail themselves of the clubhouse bar!), thereby pushing the Lawkholme Lane attendance to about 160.
It would be good to think cricket and rugby league will continue to co-exist, on the same site, for many years to come.
Hands off our sporting heritage.
Many thanks to Andrew for this extremely comprehensive round-up – his club cricket series, Miles per Gallon, is on cricketyorkshire.com throughout the summer.