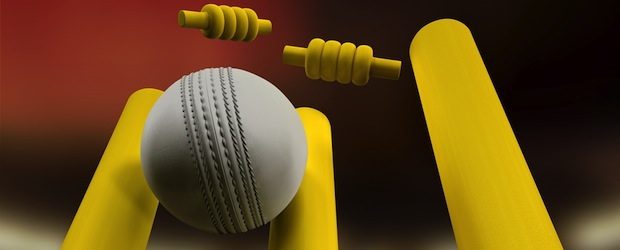 It's at this time of year when winter has got her fingers wrapped around us that cricket has never felt further away.
Foggy breath and a pickaxe to de-ice the car in the morning while your cricket bag is gathering dust wherever you put it since that last September fixture.
Well, here's the thing. Why not play cricket indoors?
Whether you're a club cricketer looking to maintain some fitness or have never played the game before, there's a lot to be said for indoor cricket.
The notion that cricket is seasonal has long been put to bed.
Internationals play all year round so why can't you? Working to the basis that you're not turning your arm over in Sri Lanka or Australia with England or weighing up an IPL contract, your local sports hall could be a low-key but admirable alternative.
The England and Wales Cricket Board (ECB) champions this form of the game with offers clubs the chance to compete for the ECB National Club Championship.
The South Yorkshire League side Dearne CC won the title after travelling down to Lord's in 2014. Here's a taster on YouTube:
But indoor cricket's for everyone, not just those who already own a pair of whites so how about a few obvious but indisputable benefits?
It's (generally) warm, self-contained and everyone gets in on the action. No fielding long on to long on for fifty overs and not getting a bat.
Paul Berry is one of those driving the indoor cricket growth in Yorkshire and runs the 365 Cricket League.
Just to stay with West Yorkshire for a moment, there are indoor leagues flourishing across Leeds, Bradford, Wakefield and Calderdale.
Some fifty teams alone do battle just in Leeds and there are possibilities for every age and ability of cricketer – seniors and juniors in the guise of club, corporate and social teams.
One of those teams are predominantly a works team from the Leeds-based creative agency, Home Marketing.
Falling numbers in recreational cricket might have made recent headlines but James Watson's story is an example of those that are tempted back to the game.
James started playing cricket again three years ago with Rodley Cricket Club who have senior teams in the Central Yorkshire Cricket League.
His connection with club cricket and loyalty to Rodley remains albeit playing is now on an intermittent basis; classing himself as not good enough to now play first-team cricket and reluctant to take up a place ahead of promising juniors in the seconds.
The move into indoor cricket came after a group of work colleagues enjoyed a knock about in the nets at Headingley.
The chance to play weekly indoors proved too tempting and James has been running a team in the Thursday league for the past three years.
The Home Agency do battle at the Leeds Sports Centre (opposite Elland Road Stadium) with its ECB indoor cricket centre against the likes of Fying Bails and Eversheds.
It's not just encouraging participation and retention of players that's a positive here but in James' case, learning more about running a cricket team has been an insight:
"Whilst very small scale it has been a great insight into running a small cricket team.
I am constantly recruiting new players whilst keeping the core of our squad together and captaining on game day.
This has been the most difficult part of it. The league itself is terrific and all of us play it in the right spirit – to win but having fun; no matter what the outcome of each game."
We can tend to think of amateur cricket in quite limited terms through the eyes of the club scene but indoor cricket attracts a real diversity of players.
With a works cricket team, James believes it helps to bring members of staff together from various departments outside the office environment and there's also the added bonus of clubbing your boss' bowling unmercifully:
"We have had some of our bosses down which has been interesting because all levels of hierarchy at work go out of the window at the crease!"
The makeup of the Home Agency's squad is mainly lapsed cricketers who can't commit to the outdoor format and who view this as a convenient hour, each week, to have a game and socialise.
It's a story that illustrates how if you offer people the variety of opportunities to play formats of cricket they like on their terms then the chances are many will give it a go.
Naturally, there's indoor cricket right across Yorkshire in pockets, if you look for it.
In East Yorkshire, Joe Ashdown, (Cricket Development Officer for the Yorkshire Cricket Board) runs an indoor league in Hull with plans afoot for Beverley (the place, not the lass), Bridlington & the Goole/Selby area.
The indoor leagues in East Yorkshire are designed to provide current or lapsed players the option of playing a fast paced fully inclusive game throughout the cold winter months.
In truth, the numbers of those playing indoor cricket in Yorkshire compared to outdoor cricket in summer are small but that's not unexpected, particularly given the pull of other major sports like football.
The key is to provide the facilities locally whereby anyone can rock up and play without too much trouble.
In Hull, there are currently six teams participating, with the league re-launched after Christmas.
It's something the West Yorkshire leagues also tend to do to allow new players and teams chance to get involved – rather than join midway through an indoor season.
Meanwhile, the Hunters York & District Cricket League run indoor cricket each winter with the likes of Acomb, Sessay and Stillington taking on each other.
If you're looking for indoor cricket in South Yorkshire, Sheffield alone has a number of leagues to consider.
The Graham Solly Sports Development Centre at Bawtry Road is an impressive multi-million pound redevelopment, owned by Sheffield Hallam University, and includes a sports hall for leathering the ball about, when the mercury drops outside.
Sheffield Indoor League on Petre Street was opened in March 2012 and is another venue at which to show what you can do with a cricket bat or ball in your hands. They too run an indoor league so if you're in or around Sheffield, what are you waiting for?
Still in South Yorkshire, the All Saints Indoor League is going strong with clubs sides like Rossington Main, Barnby Dunn and Malby Miners Welfare playing each other at Rossington Community Sports Village near Doncaster.
A new league is intended to start in Barnsley and to be honest, wherever you live in Yorkshire, there's often going to be a convenient available sports hall not too far away with a league you can join (or set up yourself with minimal fuss) or just a space to play ad-hoc games.
Winter well and enjoy your cricket, wherever you end up playing.
GET INVOLVED…
If you'd like to play competitively, socially or enter a team into a future West Yorkshire league then contact Paul (Berry) to get the ball rolling via 07795 154444 or at [email protected].
Here are details of the leagues and venues through 365 Cricket:
Leeds – ECB Indoor Cricket Centre every Monday, Wednesday, Thursday and Sunday
Bradford – Woodlands Cricket Club and Zara Sports Centre every Sunday
Halifax – Park Lane High School every Sunday
Huddersfield – Huddersfield New College every Sunday
Wakefield – Lightwaves Sports Centre every Sunday
For the nearest indoor cricket in your area (those mentioned in this article are by no means the only venues and leagues taking place), it's best to contact your Cricket Development Manager for your area in North, South, West or East Yorkshire:
http://www.yorkshirecb.com/page/about/contacts/contacts-5396/
Latest posts by John Fuller
(see all)