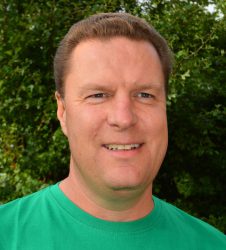 Latest posts by Andrew Gallon
(see all)
The tidy, scenic Alloe Field View ground, home since 1888 to Illingworth St Mary's Cricket Club, was described by a first-time visitor as the "crown jewels" of the village.
It is one of many stories told by Andrew Smith, 13th club president, former player and chairman, and author of a superb, 232-page club history, published in 2010, the year after the 125th anniversary of Illingworth St Mary's, founded in 1884.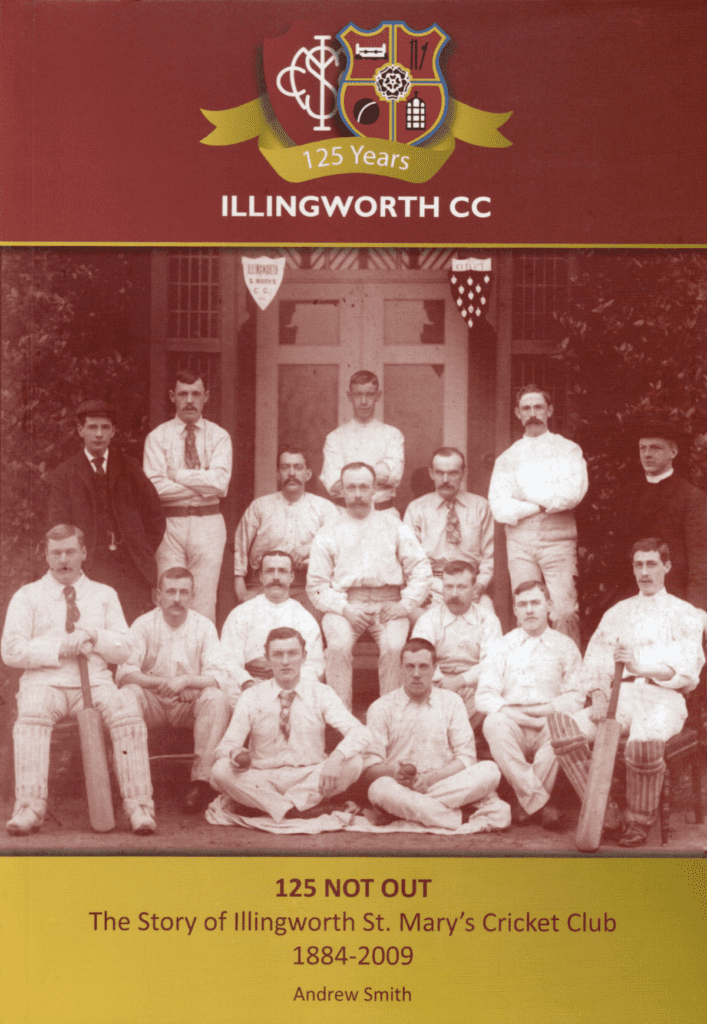 History – essentially, the individuals, often from a small group of families, who over the decades have driven the club forward – is celebrated with gusto at Illingworth St Mary's.
The name 'St Mary's' derives from the eponymous church, an eighteenth century structure, which still stands (albeit closed circa 2010 and destined, I gather, to become apartments) above a sharp bend in the A629 Halifax to Keighley main road.
---
Until 1950, the club were known as St Mary's Cricket Club Illingworth; an indication of how fundamental the church was to its creation and ongoing good health.
---
That same year, the site was purchased, from the Church Commissioners, for £500. Soon after, the club bought a half-acre plot, from Halifax Corporation, to enlarge the ground.
Alloe Field View's wrought iron entrance gates are dedicated to Maurice Lawton and Norman Tatham, generous benefactors.
The pavilion, opened in 1962, and improved in 1980 and 1982, then refurbished internally last winter, bears the name of Harry Hustwick, a former secretary and treasurer.
Four corners of the ground bear road sign-style nameplates, saluting the contributions of Messrs Brooksby, Lawton, Smith and Woodhead.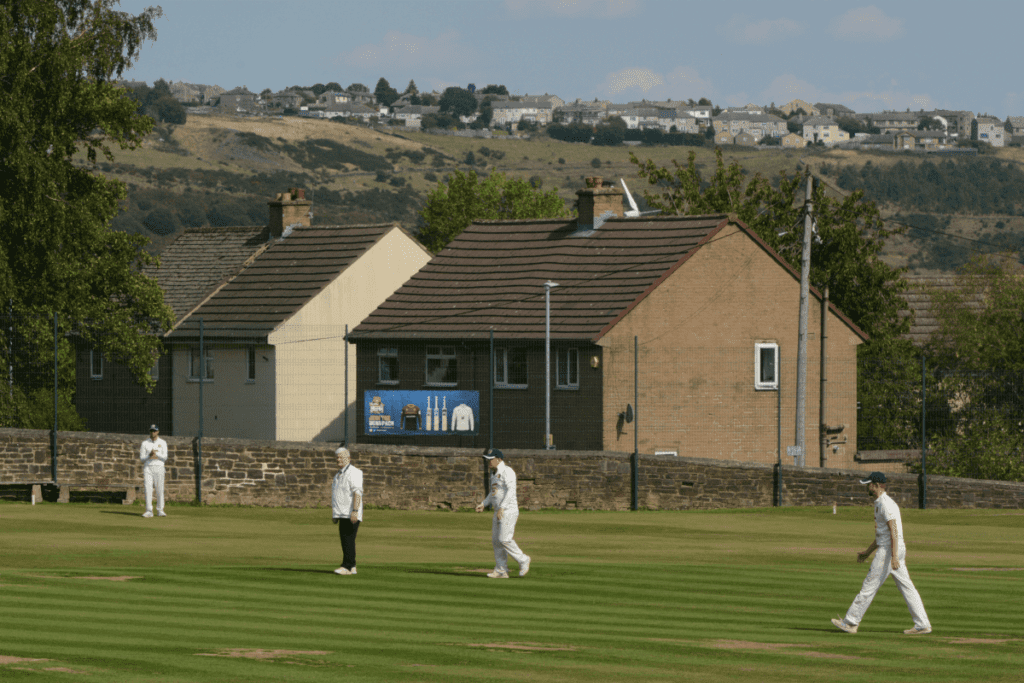 At the game I attended, a top-of-the-table Halifax Cricket League clash with Premier Division title rivals Copley, several elderly spectators sported maroon and gold caps.
Investigation revealed they are awarded to former St Mary's players. Each cap carries the player's unique heritage number and their initials.
Having access to something like 90 per cent of the club's scorebooks aided the research required.
J.P. (320), who had driven over from his Todmorden home to watch the game, was very chatty. His father had been the Alloe Field View groundsman in the Forties and Fifties.
---
The pavilion replaced a 1938 wooden tea hut. Inside, an eye-catching mural, depicting the ground and St Mary's Church, commissioned to mark the club's 1984 centenary, takes pride of place. In an adjacent corridor, information panels detail Illingworth's rich history.
---
Andrew, to whom I am indebted for the fascinating historical information in this piece, told me the pavilion revamp isn't quite finished. When it is, St Mary's have a great deal more memorabilia they would like to display.
The 2022 First XI are looking to secure their place amid the club's various on-field exploits.
After beating Copley, by 141 runs, Illingworth are now just two points off the pace. With three games of the season remaining, there is all to play for.
On an intermittently sunny, breezy afternoon, it was some cricket match.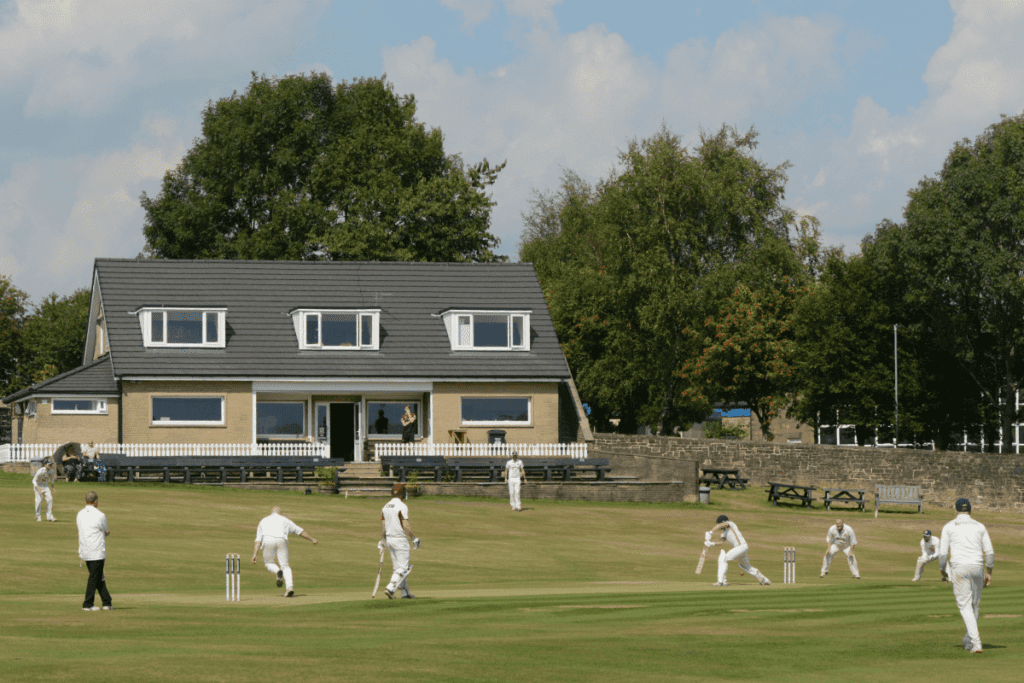 After winning the toss, the hosts elected to bat – and were soon in serious trouble.
When Copley, for whom talismanic captain Oliver Thorpe took 5-40, reduced St Mary's to 51-5, hopes of claiming the title appeared to be slipping away.
But when former Yorkshire player Gary Fellows is at the crease, nothing can be taken for granted.
---
Opener Fellows, well known to Bradford Premier Cricket League followers, but back this season at the club where his playing career began, struck a measured 86 (off 111 balls) to help steer Illingworth to a defendable 196-8 from their allotted 45 overs.
---
Fellows, one of two dismissals in a madcap final over, added 77 for the sixth wicket with Luke Brooksby (36 from 55) then 63 for the seventh with Ben Robertshaw (36 from 29).
As the home total rose, so the Copley fielders' frustration mounted. "C'mon, boys. Everybody here. Get on it. Make something happen. Keep chipping away."
When the players trooped off for tea, a home supporter said of the 196 total: "Ten times better than I thought. I didn't think we'd get 80."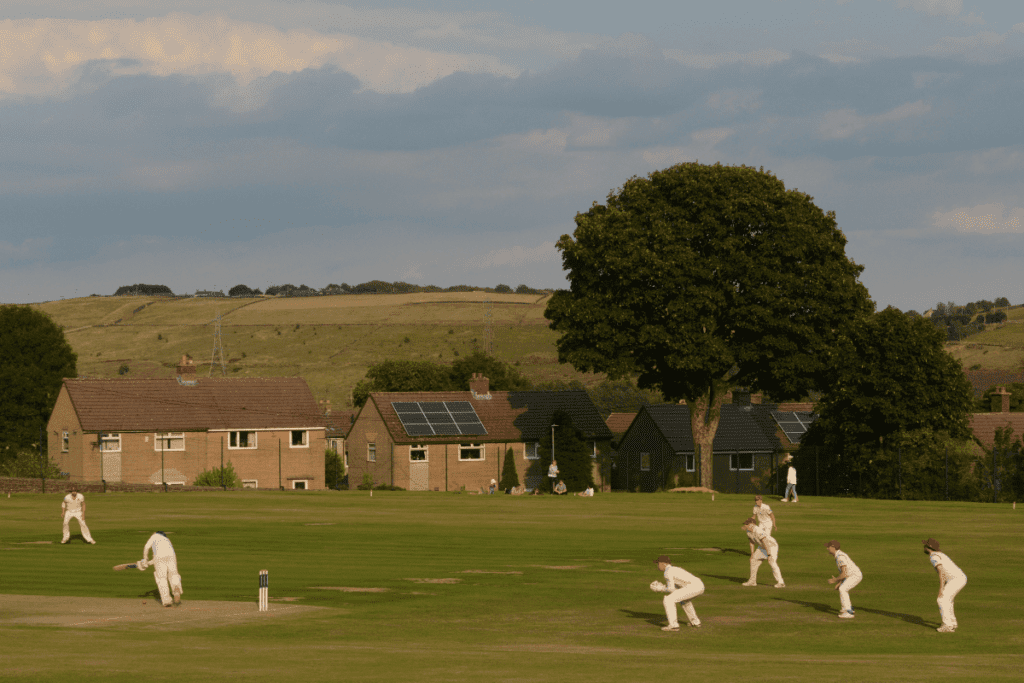 Another regular advised 250 is a par score at Alloe Field View, a sloping, middling-size pitch on which scoring boundaries is trickier than appears at first sight. Indeed, the experienced Fellows managed only four.
None of the home supporters were confident this must-win fixture could be won. "It's Copley's [game] to lose," observed one.
---
In the event, Copley were blown away. Matthew Smith (6-19), Robertshaw (2-4) and Jamie Moorhouse (2-26) skittled the leaders, 27-7 at one point, for just 55 in 31.5 overs.
---
First man out – a key wicket – was Thorpe, who two Saturdays previously had scored an unbeaten century at Great Horton Park Chapel.
A 12-points-to-two reward distribution was probably beyond Illingworth's wildest pre-match imaginings. It leaves the championship trophy's destination very much in the balance.
Spectacular Calderdale scenery seems to be almost a standard feature at Halifax Cricket League grounds.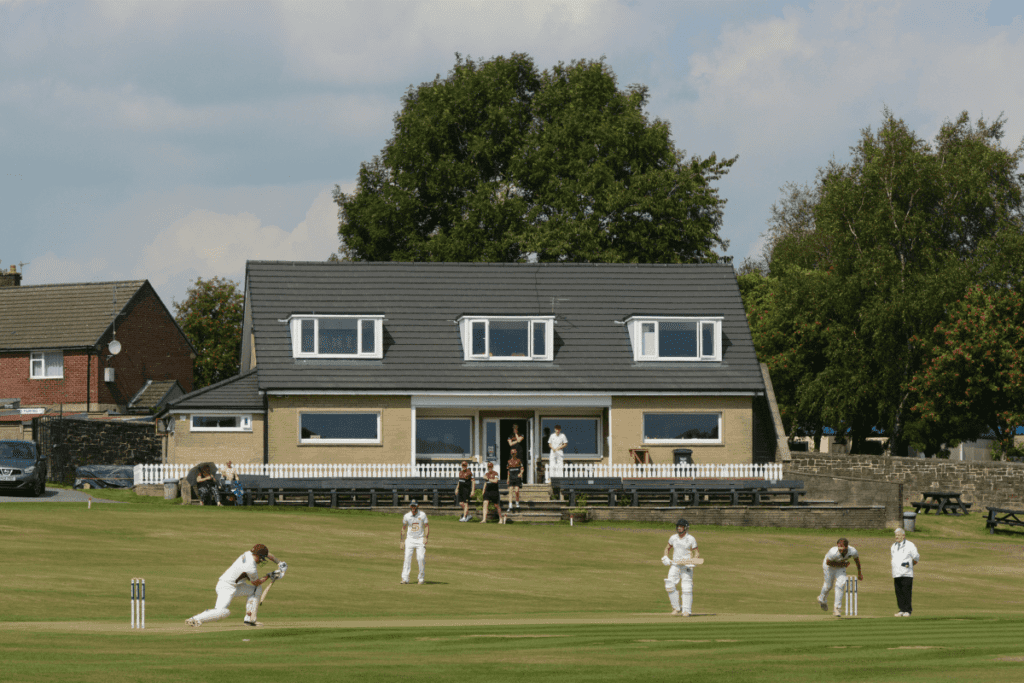 Alloe Field View, which must stand at something like 700 feet, offers fine views across the gorge-like Hebble Valley towards Mountain and Queensbury.
Sharp eyes will spot a waste heap, legacy of the awesome Queensbury Tunnel, part of an abandoned railway linking Halifax, Keighley and Bradford. The bore was last used in 1956.
Campaigners are striving to prevent the one-and-a-half-mile tunnel being filled in. They would prefer the money be spent on opening it to walkers, joggers and cyclists.
Alloe Field View's altitude, I was told, makes it particularly cold on inclement days. When thick cloud replaced the sun, halfway through the home innings, a boundary-circuiting Illingworth player, hands tucked into his sleeveless sweater, commented to a team-mate: "It was red hot at the start. It's freezing now."
---
Look south, from benches in front of a large wall on the ground's west side, and there is a glimpse of the high ground forming the Calder Valley, of which the Hebble is a tributary.
---
Illingworth's two-storey pavilion occupies the northwest corner. There are changing rooms, an appealing bar/lounge, a tearoom and loos.
The wicket seems to be the only truly level part of the pitch. Running at speed, when fielding, negotiating borrows, must take some getting used to.
Alloe Field View used to have a more pronounced slope. Levelling began in 1906. Fifteen years later, an article in the local Halifax newspaper praised the club for "the faith that removes mountains". Further levelling took place in 1937.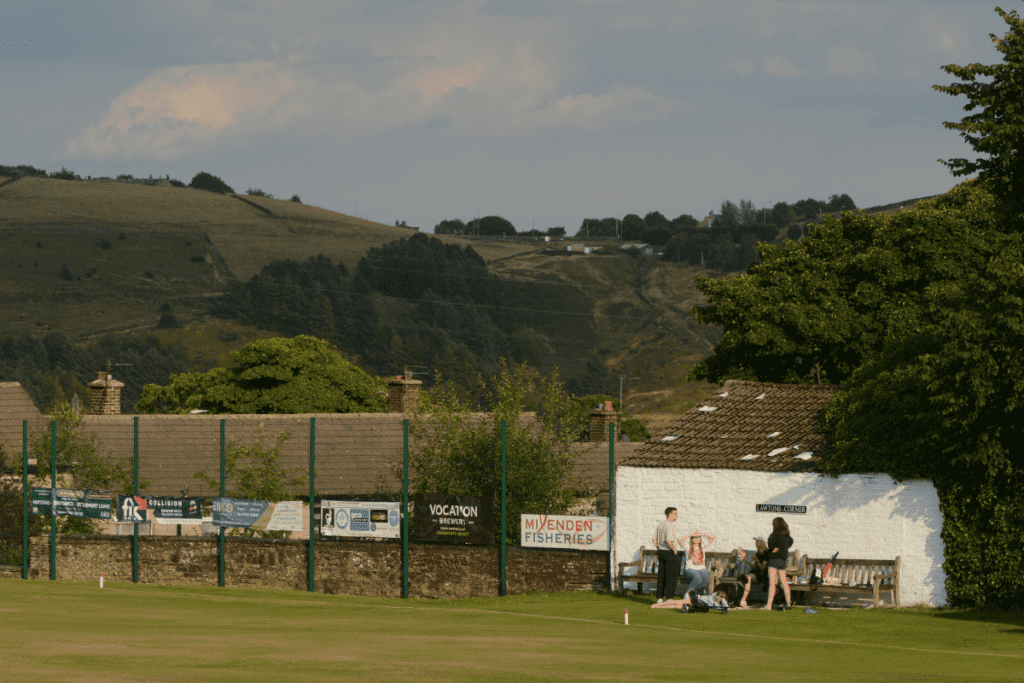 Despite the club investing a couple of grand in brown 'tourist' signs, the St Mary's ground isn't easily found. I needed two attempts.
---
It is hidden at the bottom of a short, single-track lane, off Alloe Field View, alongside lock-ups. Many Illingworth residents, apparently, have no idea where the cricket ground is.
---
The character of the ground, once in open grazing land, has changed radically since the Fifties, when local authority housing started surrounding it on three sides.
The advent of neighbours led to the provision of boundary walls. At the north end, the so-called Great Wall of Illingworth is eight feet high and more than a hundred yards long.
Of late, sporadic incidences of vandalism and intrusion have been eradicated by the erection of fencing, which helps also to protect homes and residents from flying cricket balls.
Andrew told me of a time when a large group of bored teenagers wrecked the pitch covers by treating them as trampolines.
More amusingly, he recalled a visit by a touring team of Indian teenagers ("lovely lads").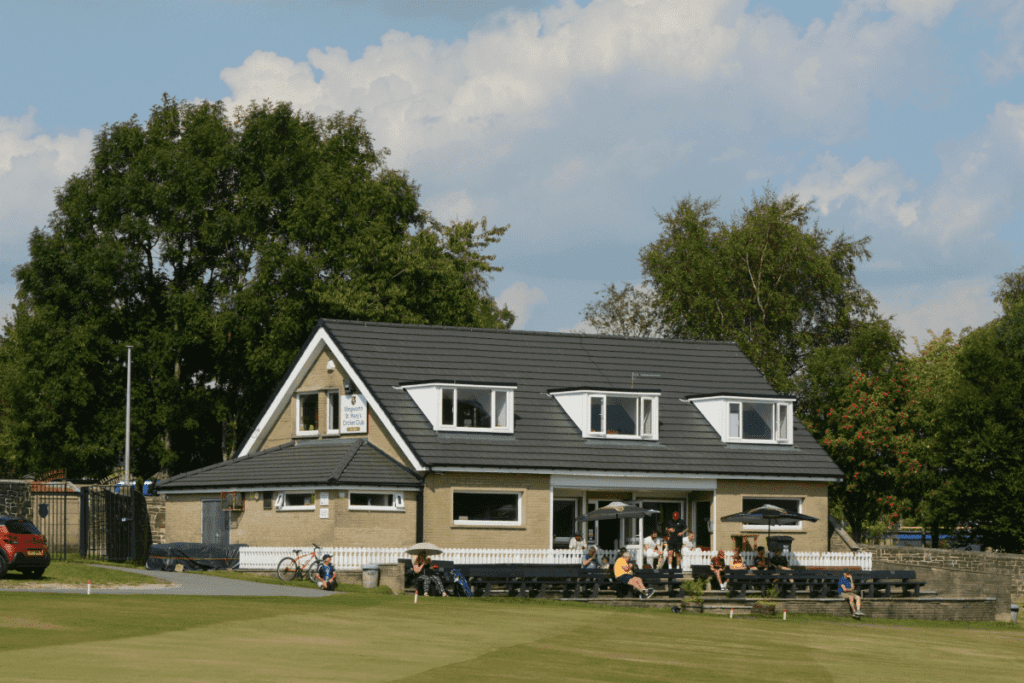 Operating on a shoestring budget, they asked to sleep in the pavilion as a way of saving money, only to add substantially to the club's telephone bill by ringing home!
During the game played at Alloe Field View, one of the tourists' muscular batters sent a towering six through a neighbouring homeowner's greenhouse.
Illingworth St Mary's have competed in the following cricket leagues: Ovenden & District, Halifax & District, Halifax Parish, Yorkshire Council (Bradford Section), Airedale & Wharfedale Senior and, finally, the Halifax.
For the first four years of their life, St Mary's played on a tiny ground at Pharaoh Lane, close to the church and the Keighley Road. Surprisingly, it was in use until the Sixties.
---
What became Alloe Field View was originally spare land behind St Mary's Georgian vicarage, which survives, partly obscured by mature trees, as a care home, Cedar Grange.
---
Early names for the ground were The Ainleys and Alloe Field. Alloe Field View is an access road constructed during the Fifties.
Recent developments include a scorebox (1975, refurbished in 2007), a double all-weather practice net (2001), entrance gates (2002), a north wing pavilion extension (2006) and a resurfacing of the drive and ground entrance (2008).
Writing in 2009, Andrew remarked: "Much progress has been made … and the hope is that succeeding generations will take their lead from what has gone on before.
"Many of the recent schemes would have been beyond the imagination of those early members, who struggled to level the ground under the light of their paraffin lamps, with their borrowed picks and shovels."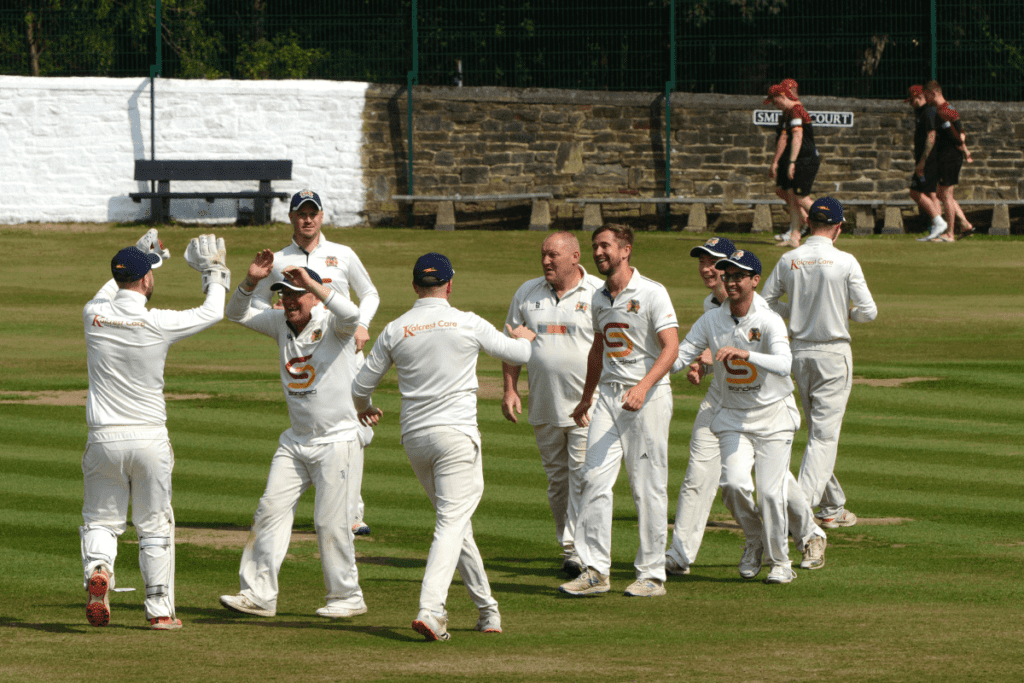 Should you want to know more about the super-friendly Illingworth St Mary's Cricket Club, copies of Andrew's lavishly illustrated, assiduously researched club history are still available. If you ask nicely, he'll sign your copy!
Highlights of the Copley match (above) can be viewed on Illingworth's YouTube channel.
Many thanks to Andrew whose club cricket series, Miles per Gallon, is on cricketyorkshire.com throughout the summer.