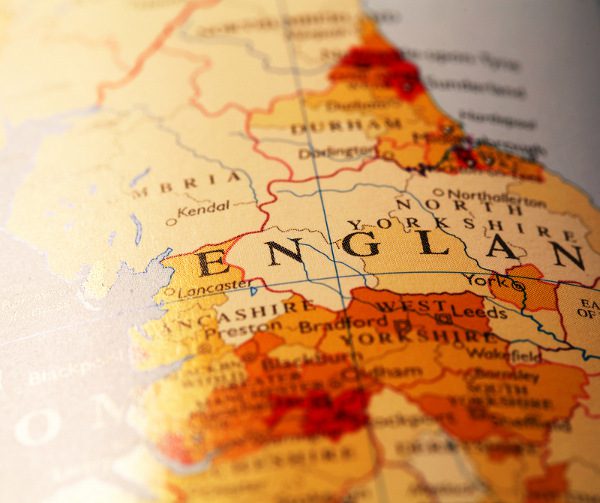 It's that time, people. The weights, nets, winter tours, trip to the desert and MCCU workout are all done and dusted.
Yorkshire play Worcestershire in their first LV=County Championship fixture of 2015 and for many who have yearned for the return of English domestic cricket, Sunday signals the start of summer.
So, how do Yorkshire begin to win the County Championship for a second season running?
Here's the Cricket Yorkshire guide:
Start innings with a flourish
Sure, Yorkshire are depleted – missing six matchwinners to England's West Indies tour in Ballance, Bairstow, Root, Lyth, Plunkett and Rashid.
But due to its strength in depth, the White Rose can cope and even thrive.
Will they feel the absence of those players? That goes without saying, particularly Lyth, Rashid and Bairstow, but it's an opportunity for fringe players to really step up and prove they can be indispensible.
What Yorkshire enjoyed when they were rolling over the opposition with relish in 2014 were two key components: An opening partnership that dominated and a relentless bowling attack.
Yorkshire have a puzzle to solve and their answer to that conundrum will become clearer after the eleven are chosen on Sunday morning at Worcester.
Will Rhodes opened the batting against Leeds Bradford MCCU but mustered just 20 runs across the match.
Will they back him? Or turn to someone else like Hodd (less likely due to added keeping responsibilities) or Leaning?
The absence of Adam Lyth will be felt the most; we all got used to him scoring at leisure with that artisan technique of his.
Alex Lees captains the side in the wake of Andrew Gale's absence; the final, spiteful footnote to incurring the ECB's wrath last year.
Lees celebrates his 22nd birthday on day three at Worcester; the captaincy shows how Yorkshire rate him and let's hope he fares better than Joe Root did down at Lord's last season.
What Yorkshire did time after time last season in four-day cricket was to bury the opposition in runs; hovering up bonus points as they sauntered to 400.
Wherever those runs come from – Pujara could well contribute more than a few – starting their innings and season with a bang is key.
Counties that go on to win the County Championship don't begin with turgid draws in the first month.
They find a way to win in spite of obstacles like fickle weather; obstinate opposition and the inevitable fluctuations in form.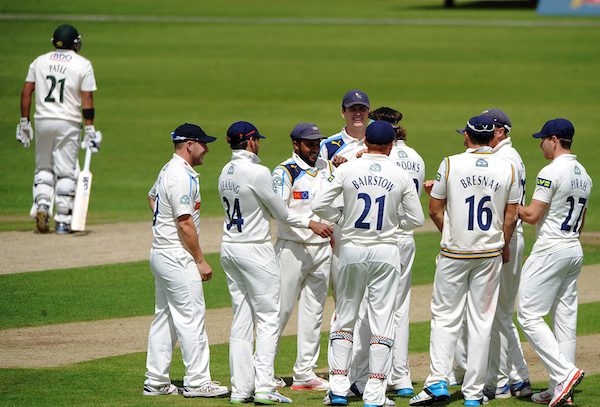 Snaffle those twenty wickets
You only have to cast your eye down the squad lists for each of the counties to make a snap judgement on their title-chasing credibility.
One question leaps out: who will bowl sides out twice?
Despite missing Liam Plunkett and Adil Rashid, Yorkshire have quality bowling coming out of their ears.
Bresnan, Patterson, Brooks, Sidebottom and Fisher all offer guile and mph in spades.
Will Rhodes and Rich Pyrah can take the pressure off the quicks and contribute wickets; if Yorkshire opt for a spin agenda, Karl Carver is inexperienced but has considerable potential.
Yorkshire's bowling, even allowing for international call-ups, injuries and the unexpected, should have enough about it for a sustained assault on the County Championship.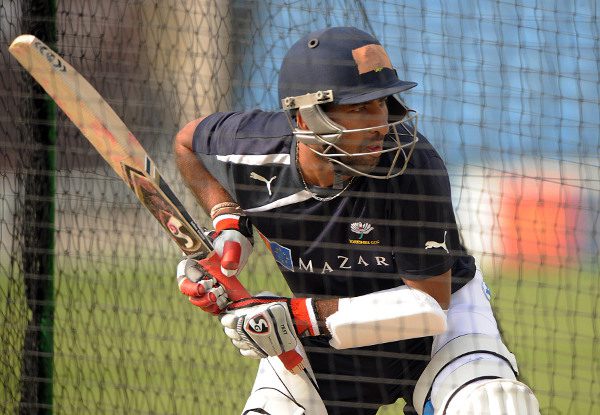 Overseas influence
Somehow, Yorkshire County Cricket Club have managed both quality and quantity when it comes to their overseas roster for 2015.
In terms of red-ball cricket, Pujara, Finch and Williamson are an enviable trio.
As just mentioned, Yorkshire clearly feel they have the home-grown firepower in the bowling department so instead the policy has been to pursue the signature of some of the world's most dominating, international batsmen.
Each will be expected to score a gazillion runs at breakneck speed so there will be little time to bed in quietly and slowly get the feel of English wickets and conditions over months.
It's a matter of record that counties who flourish and mount a strong title challenge invariably enjoy crushing performances from their overseas players.
There is no guarantee that Yorkshire's trio will live up to those expectations but they are all truly talented individuals who will create a buzz in the squad and add the ever-appreciated commodity of experience.
Leadership lessons
While Alex Lees takes the reins temporarily, privately, Andrew Gale may be feeling like he has a point to prove when he returns to captain.
Let's not stoke the fires of that shabbily-handled saga that saw him frozen out of trophy celebrations and given a ban many feel was disproportionate to what happened over his spat with Ashwell Prince.
Suffice it to say that 'Galeylad' needs no added incentive than how his 2014 season was prematurely cut short to lead from the front this season.
Gale's own form with the bat is under some scrutiny (562 runs in 2014 being some way short of his purple patch of 2013 where he passed a thousand Championship runs).
But a new season heralds a clean slate and while he'll be mindful he has to behave on the field, Gale has been a captain who has helped engineer Yorkshire's historic thirty-first Championship.
Backing Adil Rashid with long spells and chasing results are two examples of leadership that will once again will relied upon when the team find themselves backed into a corner.
Captaining Yorkshire in the cricket is an enormous job and every fan in the county lives and breathes the twists and turns and decisions he makes.
What Gale has brought over years is stability despite injuries, form and the odd headline-grabbing clash with the governing body.
They will need that nous and determination to win at (almost) all costs if the proverbial mountain is to be scaled once again.
Unearth a breakthough player
County challengers don't just have bankers, they have those unsung heroes or lesser-known cricketers who emerge like Spring flowers to score freely or rattle through the opposition batting.
Picking a breakthrough player before a ball has been bowled based on, what, winter class on foreign wickets is like sticking your arm into a tombola and plucking out a name.
But, hey, let's do it anyway.
Will Rhodes, Jack Leaning and Matthew Fisher would be my three cricketers to watch out for.
Will has been biding his time and impressed with England U19s; Jack illustrated his worth last season and in the absence of Lyth, is one of the most aesthetically pleasing batsmen for those who look out for such things.
Matthew Fisher faces a crucial year or two in which he might, just might, develop into one of the best fast bowlers in England.
That is unless he follows the path of many young cricketers in their teens and discovers the allure of win, women and song and the magnetic pull of distractions away from the game.
Any which way, you all know the star names in Yorkshire's squad but one of the lesser known lights will dazzle along the way; it's part of the charm of the game.
Finally….combat history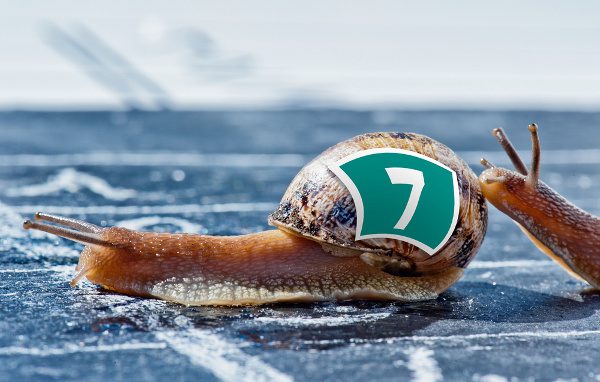 Have you noticed what tends to happen the year after a county wins a County Championship?
In recent years, they have followed it up by flirting with or fully embracing relegation.
Lancashire and Durham are cautionary tales to heed with the caveat that the rotations in coaching and staff are a circumstance unique to each county.
There is a fundamental step-change for Yorkshire. For years, they were beaten with the stick of their last Championship in 2001.
You could argue that there is added pressure with the crown of Champions sitting precariously but expect Yorkshire to lap that up with a steely glint in the eye.
The truth is that any number of counties can win the 2015 LV=County Championship.
Durham, Nottinghamshire, Warwickshire and Sussex all know what it takes to cross the four-day finishing line.
To stick my neck out, Nottinghamshire would be my pick, alongside Yorkshire, who look to have the depth, wickets and runs in them to go the distance.
Yorkshire have talked of creating a legacy and building an era of dominance.
Such boldness can be construed as arrogance but equally be interpreted as ambitious.
There's nothing wrong with aiming high but to act as party pooper for a moment and strike a note of warning.
These are starkly divergent times; compared to the era of Yorkshire's past glories, or even the eighties where counties would wrap up Championships like plucking shirts off a washing line.
That's still actually a promising example of a decade to reference given that both Essex and Worcestershire won back-to-back titles.
However, to return to the present, counties will be a year to the wise when it comes to sizing up Jason Gillespie's squad – but expect them to be there or thereabouts come the final few crunch games in September.
So, that's the mystic soothsaying over.
Enough of the talk…let battle commence….
Latest posts by John Fuller
(see all)