181 Tests, 13,968 runs, 37 100's and now 51 Test wins as Captain.
Joe Root and Michael Vaughan's combined England Test stats are certainly impressive to behold, especially when considering that both started their cricketing career at the same club – Sheffield Collegiate.
Will Slater asks: Is this mere coincidence, or is there something integral in Sheffield Collegiate's approach to fostering young cricketers which allowed both to reach their potential?
Embed from Getty Images
The environment in which 15-year-old Michael Vaughan found himself in 1990, when he made his second team debut for Sheffield Collegiate, was certainly conducive to a young cricketer with ambition.
Coincidently, 1990 was also a crucial year for Joe Root, being born on the 30th December, but we will get to him later.
The start of a new decade saw success for the club as the first team won the Yorkshire League with a 17-year-old Richard Kettleborough and a 23-year-old Kenny Benjamin in the impressive roster.
Both would go on to achieve cricketing fame, with Benjamin making his West Indies Test debut two years later, and Kettleborough playing for both Yorkshire and Middlesex, and now on the ICC elite umpires panel.
Kenny Benjamin at Sheffield Collegiate
Collegiate had a strong bowling line up, with Benjamin leading the attack alongside Simon Myles. It is undoubtedly the case that the club's talented players nurtured Vaughan's already blooming potential, with him facing the opening bowlers regularly in the nets.
Not that he would have much issue with this, being described by club legend Nick Gaywood, who first saw Vaughan as a 14-year-old, as "having
immaculate technique" appearing to have "all the time in the world."
The following year, Collegiate would go on to reach the national semi-finals with both Vaughan and Kettleborough featuring in the side.
However, as Vaughan became increasingly involved in the Yorkshire set-up, his place in the first team was taken by Matt Root, father of Joe (pictured below with Joe, Billy and Matt's father Don).
Embed from Getty Images
Collegiate is certainly a family club, and perhaps this is one of the secrets to nurturing cricketers at the top of their game.
Both Root and Vaughan went through junior cricket with strong cohorts, including their brothers Billy and David respectively.
Playing alongside a talented brother pushed each other to constantly better
themselves, providing each other with an ever-willing training partner.
Those lucky enough to witness Joe's development as a youngster reminisce about the Root brothers' absolute dedication, often netting with each other for hours on end.
Both rose through Collegiate's ranks as a duo, making their first-team debuts just a year apart.
Perhaps one of the club's most successful achievements is their integration of junior cricketers into the adult sides, allowing them to not only perform, but enjoy their cricket at a higher level.
As club stalwart, Dave Jones, explains, "Collegiate allowed both Joe and Michael to bat with no pressure, placing the responsibility of winning games on senior players."
The importance of allowing impressive young cricketers to play in adult teams should not be overstated. As Ben Fielding, who was part of the Root brothers' cohort explains: "Joe was always technically good as a junior but that didn't always win games."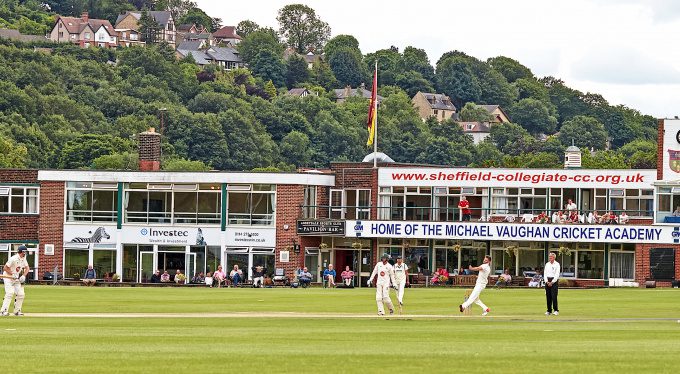 Root was more fitted to the longer game, and he was given the opportunity to partake in longer formats earlier than other clubs, having five adult teams to progress through, a process which he began as early as 12 years-old in the fifth team.
Playing adult cricket, he could fully focus on perfecting his technique, not
having the same pressure to score that came with the junior 20-over format.
So, was it a coincidence that both of these exceptionally talented players were produced by the same club in a short space of time, or was it due to the atmosphere provided by Collegiate?
The answer is an amalgamation of the two. The club was extremely lucky to have two cricketers rise through the ranks, both showing the level of dedication and love for cricket that is needed for those wanting to reach the apex of the game.
However, the club was in prime position to nurture them both. Providing a smooth transition for juniors aspiring to play adult cricket, integrating them among the seniors, with Vaughan facing top-quality bowlers such as Benjamin regularly in the nets.
Embed from Getty Images
Furthermore, the club facilities at Abbeydale were available 24/7, allowing Root to turn it into his personal training ground, often seen during the summer holidays going down at 10 am and still being there by 8 at night.
With England's latest Test win in Galle, Root has now lead England to 25
victories, just one behind Vaughan, England's most successful captain.
England have a busy year ahead in the longest format.
Coming up are nine Tests against India, a two-match clash with new Zealand then the Ashes, providing Root with plenty of opportunity to claim Vaughan's title.
Thanks to Will Slater for this article and to Martin Slater for his contribution. You can find out all the latest from Sheffield Collegiate on their website.
Do you / your cricket club want to find sponsors, fundraise successfully and grow your membership?
Learn simple, step-by-step methods to create incredible value for members, sponsors and funders.
Our Make Money For Your Cricket Club e-course is an enjoyable way to learn at your own pace.
It covers 4 modules with short video lessons:
Membership
Events & Fundraising
Sponsorship
Grants & Funding
Latest posts by Cricket Yorkshire
(see all)