Cricket clubs might face an uncertain year but there are ways for them to sign more sponsors, improve their finances and make a difference in their communities.

In the webinar with SNAP Sponsorship (below), we heard how cricket clubs can build a profile on their platform, find sponsors and use the integrated social media to promote opportunities they have to sell.
For good measure, clubs can also use SNAP's online tools to manage partnerships, keep track of renewals and even create contracts.
SNAP's Founder Mark Covington recommended looking at other types of online platforms including easyfundraising and crowdfunding – both of which we've covered here on Cricket Yorkshire.

He also flagged up the case of Dyce RFC who used the SNAP portal cleverly to attract sponsors in the past year. (Jump to Dyce RFC in Webinar).
#LocalGarages would also make great partners to benefit from the value we can offer..
Imagine the increase in #revenue from our club members getting their MOTs and services thru your business. Lets talk@CgeGarageDyce, @NewmacharMotors, @LawrenceKemnay #DyceRFC #BusinessBoosters https://t.co/FMy8kpAxk8

— Dyce RFC (@dyce_rfc) July 8, 2020
The name of the game is to reach out to sponsors who offers products and services that all of (or many of) your members already use. Think haircuts or in the example above, garages for MOTs.

Tag them in on social media and invite them to check out your sponsorship profile. Explain the opportunities and revenue boost, like Dyce did.

Chris Froggett at Wakefield Thornes also spoke on the webinar about why they joined SNAP; the Yorkshire Cricket Southern Premier Cricket League club are looking to earn more and do things a little differently with sponsorship.

As part of the webinar, Mark gave an overview of how cricket clubs can promote all they sell. Part of that included showing how it replaces the printed catalogue with
Manage your assets (could be pitch furniture) and opportunities (sightscreen or covers) easily online; everything in one place, for sale, sold or coming up for renewal.
The social sharing functionality is neat as it auto-fills what's for sale with example text and image to save volunteers time on Twitter or Facebook.
**Cricket Yorkshire Offer**
👍 Use PROMO CODE: CRICKETYORKSHIRE and enjoy 12 months support for the price of 11 on the SNAP platform. Just £8.25 per month and keep 100% of your club's sponsorship: http://www.snapsponsorship.com​.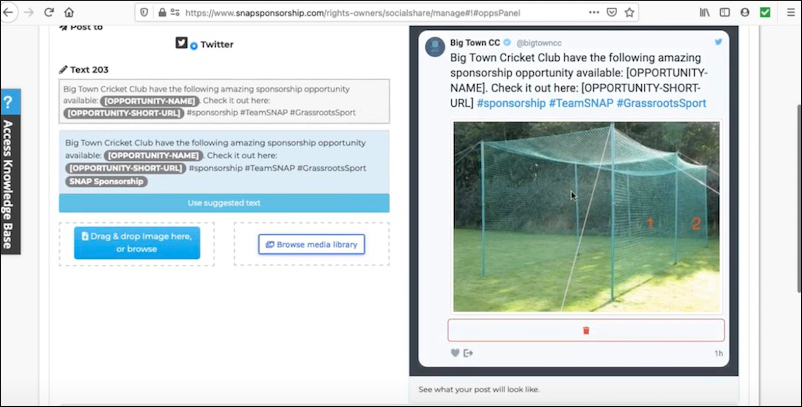 Webinar chapters

Dyce RFC

Wakefield Thornes

Social sharing

Want to read more?
If your club wants advice on easyfundraising or crowdfunding then check out these Cricket Yorkshire articles as they're designed to help clubs and give them ideas.
If you think a cricket club could be interested in this sponsorship feature, please share it via the Twitter or Facebook buttons. Thanks for reading.
Latest posts by John Fuller
(see all)