Floodlights are here at Headingley as Yorkshire County Cricket Club puts more of the infrastructure in place that it believes will safeguard its future as an international venue for years to come.
The 56-metre floodlights situated in the four corners of the venue will be ready for the new season and hats off to the lighting company Abacus Limited, who have brought some creative flair to the project.
Each head frame will resemble the Yorkshire White Rose and it'll be quite a sight to witness four, blazing beacons of light transforming Leeds skyline when the cricket gets underway.
With the fanfare of the World Cup, six Yorkshiremen in the England Test tour party to the West Indies and world-class overseas signings, it would be easy to gloss over something as seemingly unexciting as floodlights.
But away from slip catches, yorkers and switch hits, maintaining the viability of Headingley as a future Test hub and World Cup host ground by installing obligatory permanent floodlights is a sign of the literal nuts and bolts efforts going on.
It will offer a whole new lease of life; transforming the potential of Headingley and opening all sorts of events and opportunities that will benefit the coffers and spectators.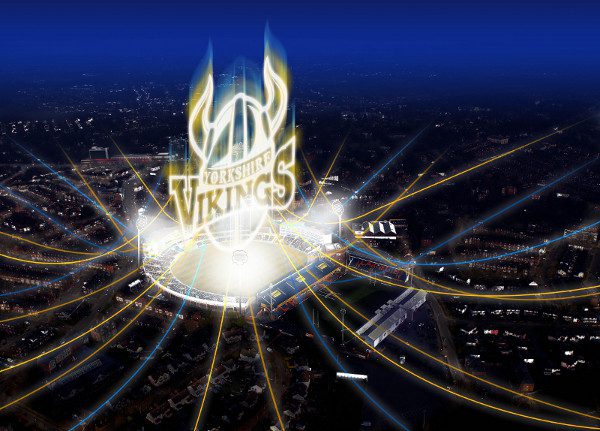 FINCH AND MAXWELL FIREWORKS AT 7PM…
The significant benefit centres round pushing back game start times for NatWest T20 Blast fixtures to 7pm.
This'll ensure it's much easier for cricket fans to attend games after work and there are understandably high hopes for a boost in crowd numbers for what is already a popular part of the cricketing calendar.
Yorkshire County Cricket Club have pulled out all the stops to secure the services of two of the very best T20 cricketers on the world stage today.
Aaron Finch returns as a Yorkshire Viking to bring his devastating, swashbuckling batting to Headingley while dynamic Australian allrounder Glenn Maxwell adds flair and the ability to hit a cricket ball to all parts.
Friday nights under the floodlights at Headingley promises to be hotly anticipated but the future possibilities don't stop there.
Anyone for day-night Test cricket? There's also the viability of more concerts that have seen Madness booked to play in September.
That won't please everyone – the Headingley wicket and outfield are sacred after all – but the reality is that a cricket venue needs to pay for itself during a full year and not just the six months of a county season.
Floodlights at Headingley represent a welcome development that ensures Yorkshire aren't left behind when bidding for international fixtures against a competitive list of grounds across England and Wales.

The first scheduled match under the new lights will be Yorkshire Vikings' first NatWest T20 Blast match of the season against Derbyshire Falcons on Friday May 15 (7.00pm start).
The county's £70 Season Ticket for all seven home T20 matches in the NatWest T20 Blast is a great deal if you enjoy the the helter-skelter, colour and passion of the format. Here's the individual matches on offer. Hope to see you at a game and a trophy in the cabinet come September…
Latest posts by John Fuller
(see all)