Sunday got off to an inauspicious start.
I made a grumbling noise of disapproval, like a wave crashing onto a beach, at the cost of a rail ticket to Church Fenton to watch Wetherby Wrinklies take on Bolton Villas in the over 50s competition, the Grey Fox Trophy.
Ow much?!
"It's nearly at York," said the lady serving me by way of explanation.
"IS IT?!" I spluttered with disbelief. Sometimes, reflex politeness is the better part of valour.
As if to conclude proceedings and speed things along, a man behind me in the queue piped up confidently: "Aye, it is!"
I resisted the urge to thrust Google Maps up their noses. Church Fenton is nowhere near York. The clue is it has a Leeds postcode and is closer to Selby.
By way of grudging concession, it is the stop before the train swings north and chugs to the city of the Vikings and both tickets costs almost the same in the pluck-a-figure-out-of-thin-air world of rail pricing.
Well, so now you know….but as we eased our way out of Leeds and countryside views were rolled out, any residual angst dissolved. The prospect of cricket does that…
In a broader national context, the atrocities in London, Manchester and now London again renders these small things that irk us as utterly meaningless.
I arrived at Church Fenton – a village of around 1,300 – to note its railway station has more platforms than Bradford Forster Square.
A trivial, fascinating thought that arrived moments after not so much disembarking as throwing myself off the train after missing a step.
Lunch was a glamorous affair of a bag of Monster Munch in the Fenton Flyer pub as they don't serve food on a Sunday.
Just up the road from the pub is a gap in the hedge and beyond lies Church Fenton Cricket Club who have been going since 1895.
On the nearest side of the ground is a raised grassy bank in front of which are benches for spectators to park themselves and catch the action.
A sumptuous straight six from the pavilion end would land in the adjoining field where horses graze and occasionally wander over to the fence to chat to the cricketers.
Groundsman Chris Horbury had prepared a square and outfield fit for kings; there were no half-measures for this Grey Fox Trophy match and I'm sure both teams appreciated the efforts made by the club on all fronts to welcome them.
Church Fenton's firsts had managed 250 here in their Division Two Wetherby League fixture with Crossgates the day before with James Davison's 126 for the home side one of the top league innings of the past week.
Chris spared the time to give an overview of all things Church Fenton including its position as a host ground for Yorkshire girls U17s as well as schools finals. There is cricket pretty much every day to cater for two senior sides, midweek social XI on Thursdays and five junior teams.
Stu, Secretary, 2nd XI captain and various other hats, explained that the club is in a good place with 40 juniors down this Sunday morning and the community able to appreciate the fruits of the labour that went with building the new clubhouse that is barely a year old.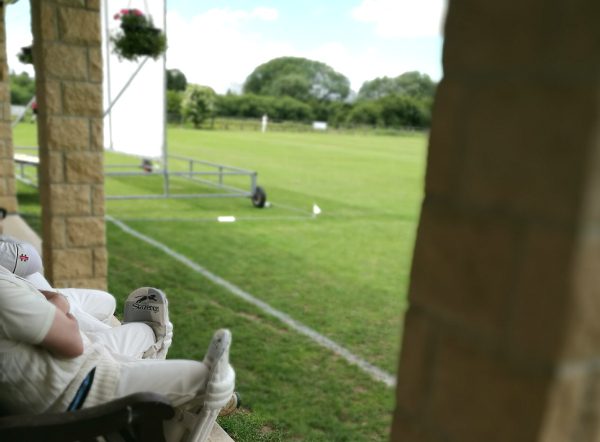 It's a well-thought through HQ too.
Kitchenette, separate bar, space for cricket teas and a sofa where you can sit and watch the Champions Trophy on Sky Sports while simultaneously opening the doors out and get a perfect view of the game outside from behind the bowler's arm.
I got talking to one of Bolton Villas' players, Devon, who doesn't normally play anymore (preferring football) so this was his first game of the season.
Devon's best bowling return was a nine wicket haul, snapped up on the very same day another Devon (Malcolm) was terrorising South Africa ("You guys are history") en route to 9-57 at The Oval. Small world…
Bolton Villas Cricket Club play in the Aire Wharfe League on All Alone Road between Bradford and Shipley and began a side in the Grey Fox Trophy as a way of bringing together older players, friends and teammates.
BVCC got to the finals at Scarborough's North Marine Road ground in 2015 and talking to players on both sides, the incentive of not one but two county grounds (Headingley hosts the semi-finals) in a season certainly catches the attention.
Over at the scorer's table, cricketers walk over to give their age – not because there is a forensic examination to ensure no-one is playing fast and loose with the rules but as there are bonus runs available for those of a higher age bracket.
It must make selection a strategic minefield.
Do you pack your middle order with eighty year-olds who may not be too nimble with reverse sweeps into the paddock (but glean you bonus runs) or opt for wily fifty somethings still very much immersed in league cricket?
Wetherby Wrinklies (their actual, tongue-in-cheek name in case you thought I was being disparaging) are an over 50s side representing the Wetherby League.
Zai Ali is their captain and Sicklinghall Cricket Club's Chairman who was another willing to answer my curious questions and talk about the league.
There's lots to like about the Grey Fox Trophy. It starts at 2pm and is 30 overs a side with a lengthy mid-innings pause for refuelling at the tea break.
The first final played at Headingley in September 2011 saw a combined age of the teams exceed 1,100 years and the Grey Fox Trophy could well be my favourite as it's a glass cake.
I hear there is also a 'Comb-over Trophy' kicking about, a cricket ball with a couple of errant strands of hair, given to the oldest player in the competition.
Javed Iqbal, captain of the Bradford 'Bhuddays' ('old men' in Junjabi) lifted the inaugural Grey Fox Trophy when The Bhuddays beat Fishlake CC over 50s – though the Bradford side aren't in it this year.
Anyhow, back to today's cricket…
Bolton Villas bat first in the afternoon sun and set themselves up for a handsome score as a couple of players retire on 30 (they are able to return at the end of the innings if everyone else is out).
These are no bumbling, decrepit cricketers whose knees require liberal application of deep heat spray just to keep moving (that last bit might be true – it certainly is for me) though there are plenty of self-deprecating gags flying around during the day.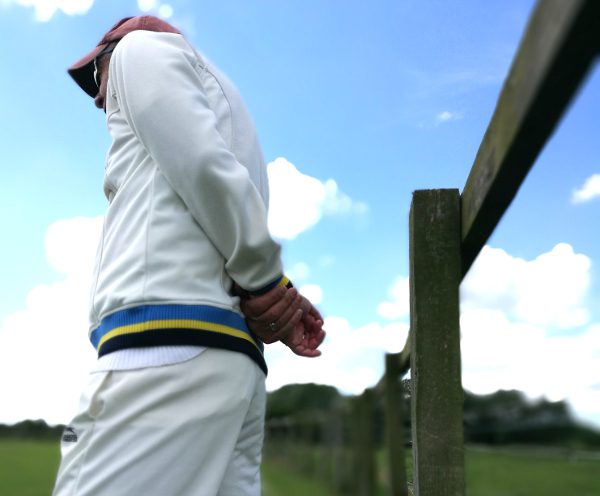 Closer to the truth is that for a number of Wetherby Wrinklies (and I'm assuming the same for the visitors), this was their second game of the weekend as they are still involved with league cricket each weekend – so my respect for these gentlemen in the autumn of their careers knows no bounds.
I could manage two matches a weekend when I was 20 but even then I would spend the following week with wrought-iron hamstrings, walking around like John Wayne tiptoeing across broken glass.

Meanwhile, a Wetherby Wrinklies fielder on the boundary chats to a spectator and is rarely still for a moment, encouraging his team:
"This is good lads, let's bore them to death!"
It's the conversations that warrant occasional shameless earwigging.
A discussion of "cricket as it used to be" leads to a personal aside about "chicken how it used to be…" that draws a few wry smiles.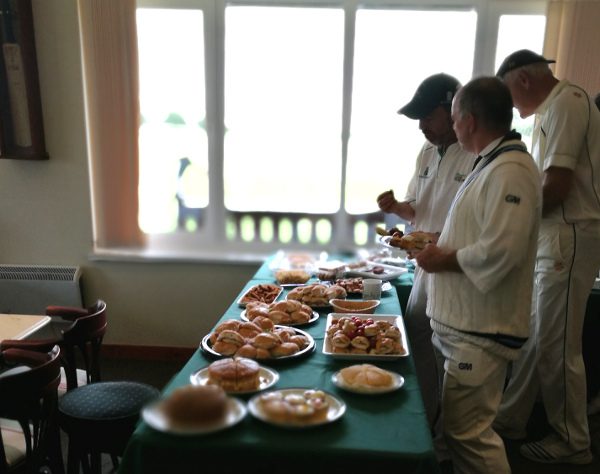 Bolton Villas rack up the very competitive total of 168 (if memory serves) as everyone piles inside to lay waste to the jam sponge and sausage rolls.
The tea is generous in every sense (I always pay more my way at clubs but today Chris insisted I get stuck in on the house).
On reflection, this competition has the best of both worlds.
It's competitive (with a trophy and a final at Scarborough Cricket Club to focus on) but played in the spirit of social cricket without histrionics or any drama whatsoever.
I left Church Fenton buoyed by the visit to a new ground; the welcome and the standard of cricket on show.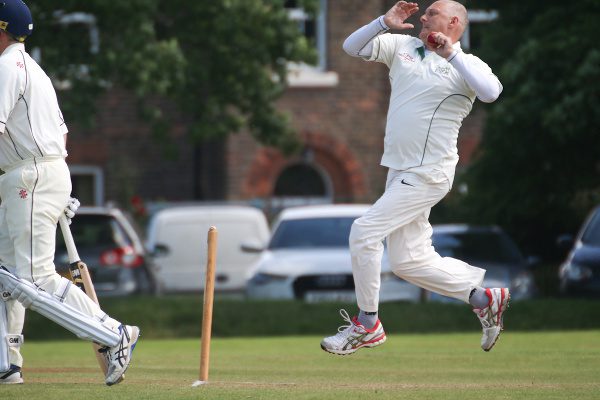 This is not a group of old men who should be clutching zimmer frames rather than cricket bats.
Sixes sailed over the clubhouse and fielders threw themselves about to cut off boundaries when they might have just watched the ball on its merry way.
For those curious, finding out when fixtures are is a little like diving down a rabbit warren but it's worth the time investment (the competition is run by the Yorkshire Cricket Foundation).
To help you out: Hall Park Templars face Bowling Old Lane this Sunday (11 June) at Hall Park's Horsforth Ground or Cottingham Old Boys are in action on Sunday 18 June at their Willerby home ground (HU10 6EF with a 2pm start).

Visit the Yorkshire Cricket Foundation's website for Grey Fox Trophy reports and good luck to all the teams in this year's competition.
Now…have a look below for match photography from the Grey Fox fixture at Church Fenton…
HERE'S CRICKET YORKSHIRE'S EXCLUSIVE MATCH PHOTOS
You can view a selection of match photos by Cricket Yorkshire of Wetherby Wrinklies vs Bolton Villas – we ask for your email as way of a payment in kind – some websites hide content behind a paywall and others ask you to do a Google survey…
Joining the Cricket Yorkshire newsletter to keep up-to-speed on competitions and the very latest at CYHQ doesn't sound so bad, eh?!
**If you think this article and photos added to your day's enjoyment, any and all article shares on Facebook and Twitter by the buttons below are always appreciated. Helps spread the word about Cricket Yorkshire far and wide…thanks a million!
Latest posts by John Fuller
(see all)