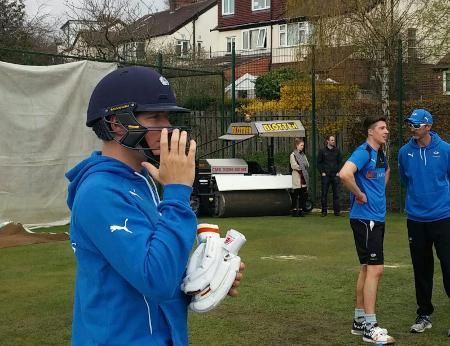 Well, well…
Yorkshire County Cricket Club's captaincy roll of honour now officially spans from Lord Hawke to Gary Ballance.
Ballance has become Yorkshire County Cricket Club captain across all three formats after being approached by new First XI Coach Andrew Gale.
The 27-year-old England batsman described the Yorkshire captaincy as "impossible to turn down" and should bring the same calm efficiency to the role that permeates his batting.
The Yorkshire club captaincy represents a positive end to a difficult year with Ballance failing to cement a place in England's middle-order and ultimately being dropped.
He averaged 27.85 over the summer Tests and then scratched his way to 24 across four innings in Chittagong and Dhaka during October's tour of Bangladesh.
Dropped for the Test series in India, Ballance was set for a lengthy spell back in county cricket; his wavering international form ironically a factor that made him a plausible candidate for Yorkshire's vacant captaincy.
Is it over with England?
So, what happens if England come calling again down the road? Well, the county will cross that bridge as and when – it will only happen as a result of a torrent of runs that Yorkshire are banking on anyway.
In the Specsavers County Championship, Yorkshire's top six were short of prolific and to have Ballance with (c) next to his name on the team sheet in 2017 will be a comfort to fans anxious about the batting depth.
Obdurate, craggy…these are the adjectives associated with Yorkshire's new captain that reflect a batting style worlds away from the artisan blade of someone like Adam Lyth but none can argue with 8,198 first-class runs at an average of 47.38.
With that trigger movement across his stumps to shovel and club the ball through midwicket, Gary Ballance has had his technique picked over and critiqued but it should continue to serve him well in county cricket.
We can all expect marathon stints at the crease, sometimes for an entire month, all with those pursed lips of concentration and eyes squinting like a gunslinger out of the Wild West.
Now a month into his new post as 1st XI Coach, Andrew Gale has opted for a sense of continuity and someone he feels will lead by example:
"Gary is respected on and off the field, has a good cricket brain and knows the direction that we would like to take the team in. He has led from the front for many years with the bat and his experience speaks for itself."
Tellingly, when Gale missed out at Scarborough in August against Nottinghamshire due to a back injury, it was Ballance who deputised and made quite the impression as well as striking 101 not out to set up the declaration.
It's a testament to the longevity of Gale as captain (longest-serving since Geoffrey Boycott from 1971 to 1978) that few others have had the opportunity to lead Yorkshire.
It's an observation rather than a criticism that neither Gary Ballance nor Joe Root have much captaincy experience to date and yet they may end up leading county and country respectively in the next year.
Will captaining in all three formats work?
Some may raise eyebrows at the decision to take the one-day captaincy off Alex Lees after one season and let Ballance assume the helm for County Championship, Royal London One Day Cup and NatWest T20 Blast.
Lees averaged 14 in list-A cricket and 22 in Twenty20 cricket last season as captain so in stark numerical terms, that responsibility adversely quashed his form at the top of the order.
Time will tell if the three-pronged captaincy workload impacts on Ballance's batting prowess, it may inspire unprecedented heroics, but it's telling that Yorkshire have chosen to revert to a strategy around one leader.
Director of Cricket Martyn Moxon said: "Galey feels, and I agree, that one captain is the way to go."
Moxon continued: "It is an opportunity for Alex (Lees) to concentrate on his batting and make sure that he is the best batsman that he can be. That is important for his development, and for the team, if he is stacking the runs up."
Gary Ballance represents a safe pair of hands in every sense; a nod to those bucket-sized mitts that have snaffled over a century of catches in Yorkshire's slip cordon but also that any headlines are liable to centre around the cricket unless he whips his shirt off post-victory and races down Otley Road.
As a journalist, it will be fascinating to watch his communication style and how he approaches media commitments. Let's see if Cricket Yorkshire can grab an interview…
I use Twitter all the time as @cricketyorks and both Andrew Gale's and Jason Gillespie's updates on social media have been appreciated by fans and journalists for added colour and context.
Unless he's a Dublin-based wrestler or re-named himself Barney Rubble, Ballance currently shuns the verbal tides of Twitter but we won't hold that against him.
He has come a long way in his career since I first interviewed him as a shy, young cricketer fresh into the first-team offering terse, truncated responses while casting his eyes down suspiciously at the recording device.
You could argue that the selection battles Ballance has faced over the years gives him further insight as he embarks on this latest chapter.
But, what of a leadership style? 'Gazza' will captain through centuries and a quiet word with the assurance gleaned from 311 appearances for Yorkshire or England.
Ballance now knows his own game but don't expect him to launch into Shakespearean sonnets to motivate the troops:
"I'm experienced now, I have played a bit of cricket over the years, so I have seen how different captains work. I think that I am a calm person and like to think that I have a decent cricket brain."
"I'm not a massive speaker, but I will be looking to lead by example on the field and get the lads to follow me."
Follow him they will as the deposed county champions plan their renaissance under a new coach and now a new captain.
Latest posts by John Fuller
(see all)