Having been shaken, rattled and rolled as we drove from Leeds to the village of Flixton, (between Scarborough and Bridlington) along the abomination that is the A64, we found we had time to kill.
This National Village Cup tie between Folkton and Flixton and Broadbottom had originally been scheduled for 1pm but pushed back until 2pm so we sat about in the sun, watching the groundsman James Brown water the parched outfield.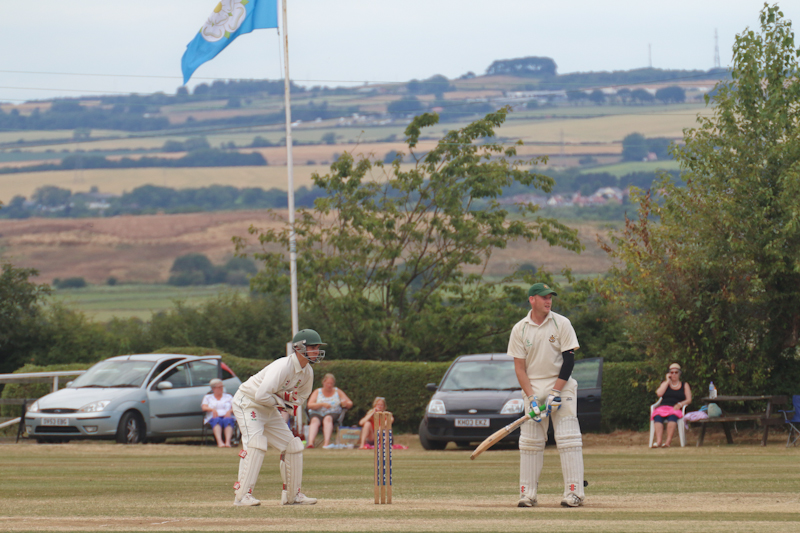 At some point, the opposition coach carrying Broadbottom's squad and many supporters arrived and you immediately began to get the feeling that this mattered.
While the Broadbottomonian fans congregated around the clubhouse, a number with a Folkton & Flixton allegiance set up shop, as they had done for each round of this competition; a multi-coloured sign draped across the cricket nets revealed that 'Benidorm Corner' was now up and running.
Folkton & Flixton ran through the obligatory football drills then loosened their limbs with some fielding sets too.
As the Yorkshire flag fluttered in the breeze, the home skipper Will Norman won the toss and opted to chase which bemused the opposition who saw their batting as their ace in the pack.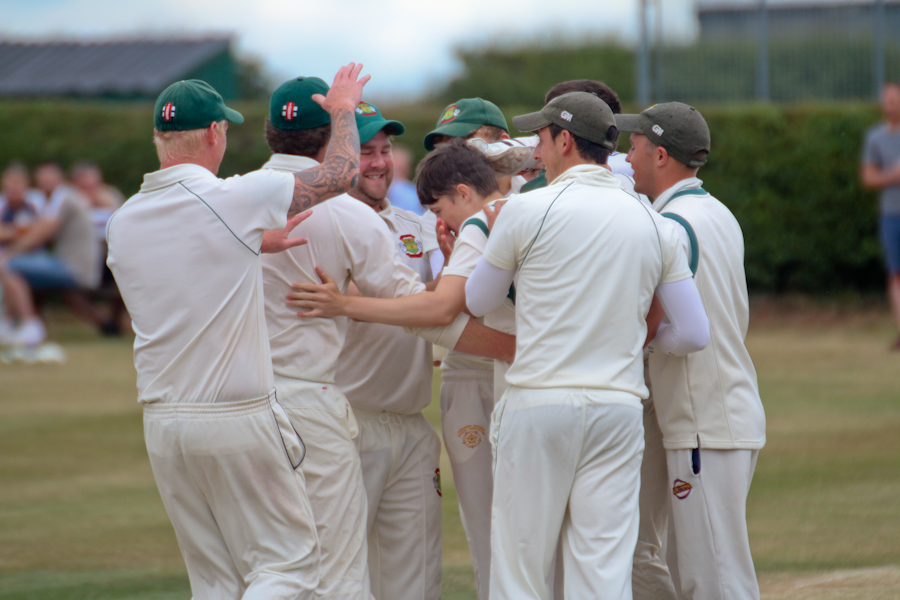 First blood came through a sharp piece of fielding with a run out effected in satisfying fashion as the stumps were splayed like a scarecrow's teeth. Dangerman Ryan Welsh back in the hutch without troubling the scorers too much.
It was something of a false dawn with opener Aaron Walsh cashing in on a life squandered in the slips to storm his way to a century; forming the backbone of their 266 for 9 off 40 overs.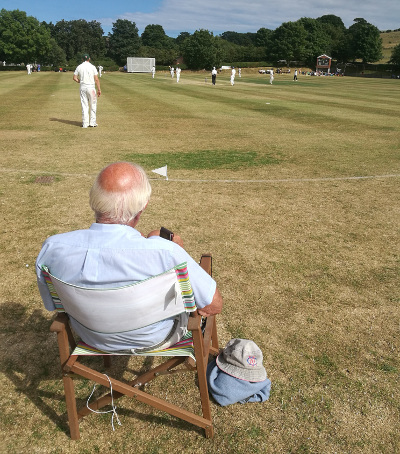 While the two sides tore into each other with York Senior League up against Derbyshire & Cheshire Cricket League, those lounged out on the banks or comfortably embedded into deckchairs took advantage of temperatures more Nairobi than North Yorkshire.
The National Village Cup continues to have a cachet about it; a prestige borne from its history, the way sides from across the country explore new grounds and village cricket is in the spotlight.
Interviewing both captains for The Cricketer Magazine was to be left in no doubt that the Willy Wonka Golden Ticket of a Lord's final was on everybody's minds.
We were in last 16 territory with villages having got through the regional rounds and flexed their cricketing muscles against opposition further afield, in the case of these two, from the North Group.
Folkton & Flixton were several steps on from they'd been for quite some time, having beaten last year's Finalists Sessay in the Yorkshire Regional Final.
The prospect of trying to repeat and eclipse two semi-final National Village Cup appearances was something Folkton & Flixton chairman Mel Brown clearly cared about, as we sat and talked through the cricket club's transformation from a farmer's field.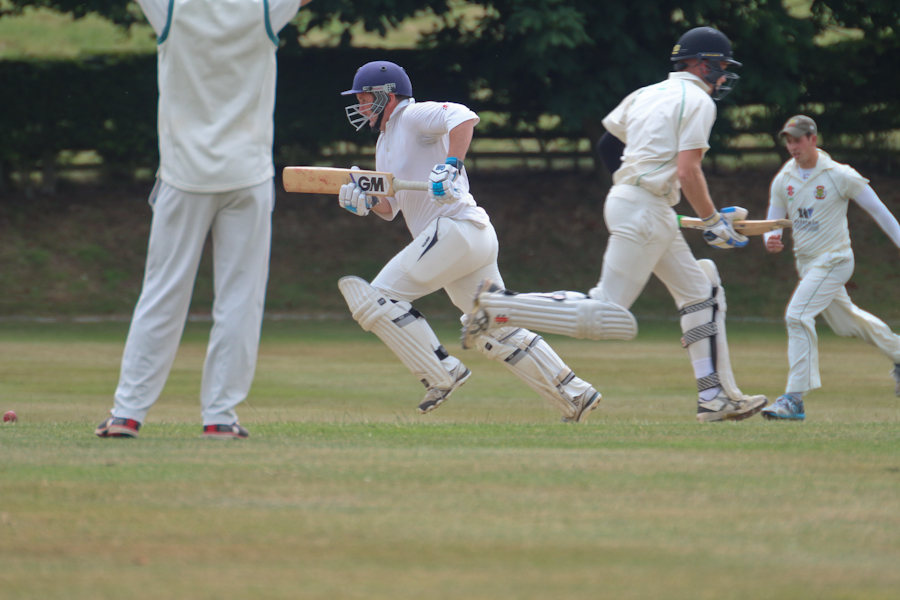 In fact, we had reached an intriguing point of the Cup in that both previous finalists were out and none of the remaining clubs had won it before (I'm sure someone will point out the historical flaw if there is one but I will half-heartedly cling to my convictions for now).
This wouldn't be a Cricket Yorkshire article without mention of those ladies who feed an army in whites on a weekly basis and Mrs Brown (Linda) and other volunteers put on a feast. The hospitality was generous and there was a real warmth to all those I met from both clubs.
I imagine it's a chance to show off your patch to a club from another part of the country and on that account, Folkton & Flixton did Yorkshire proud.
The cricket lived up to the occasion with the home side squeaking by Broadbottom by one wicket thus booking a trip to Scotland to face Falkland on Sunday 22 July at 1pm.
To their credit, Falkland have already cranked up their promotional machine and unleashed a National Village Cup poster with Mel Gibson of Braveheart now sporting a studious pair of specs.
Promotion poster for @TheCricketerMag #NVC18 Quarter Final ? @FandFCC

Sunday 22nd July | 1pm ????????? #FCCFamily #Carefree pic.twitter.com/J6JiG97hSf

— Falkland CC (@FCC1860) July 12, 2018
NATIONAL VILLAGE CUP MATCH PHOTOS
Check out Cricket Yorkshire's match photos from Folkton & Flixton vs Broadbottom below (click photos for slideshow) and all the best to Folkton & Flixton who represent Yorkshire in the great battle of the North for a place in the semi-finals.[/vc_column_text][vc_media_grid style="lazy" initial_loading_animation="none" grid_id="vc_gid:1531849837915-910296d7-656e-9″ include="9873,9872,9871,9869,9868,9867,9866,9865,9862,9861,9860,9857,9856,9855,9854,9853″][vc_column_text]
Like this article? Support Cricket Yorkshire journalism!

I'm asking those who think what I do is important and has a value to consider supporting it by buying me a ko-fi; it's a donation or a financial thumbs-up with whatever you can afford.
It can be a one-off or whenever you enjoyed a particular article.
All you need to do is click the gold banner to visit ko-fi where you can buy me a coffee (we'll pretend it's a Yorkshire Tea) and donate sums of £3 – and leave a message so I know what article you read and what you liked.[/vc_column_text][/vc_column][/vc_row]
Latest posts by John Fuller
(see all)