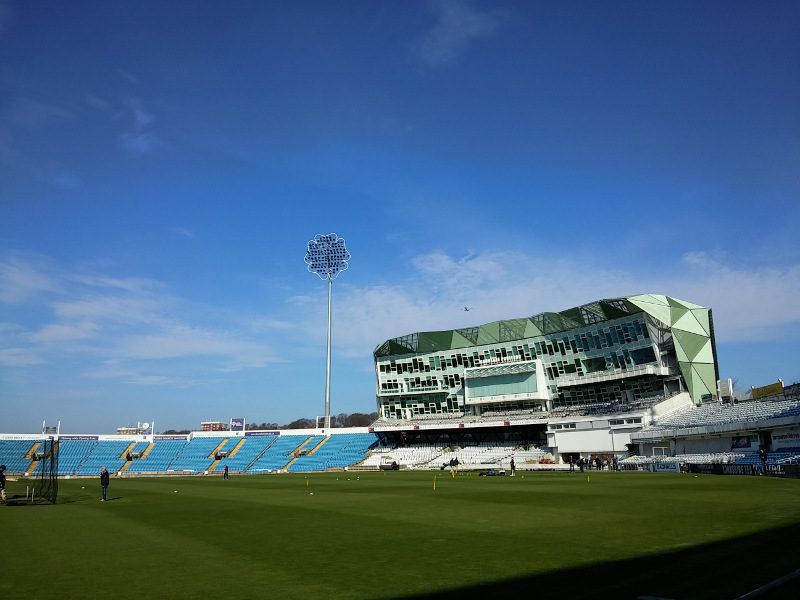 I was meant to be at the Sunday of England's Test match battle with the West Indies at Headingley.
I'd been looking forward to it for months as Test cricket in Yorkshire is a carnival party and when the eyes of the cricketing world lock on our wonderful county.
As it turned out, life dealt me something out of the blue to make it a devastating week and the notion of cricket utterly irrelevant.
Yet, I happened to catch the Channel 5 Highlights on Sunday night and was both heartened and saddened by that hour of summation from a day that left England clinging on to the notion of an unlikely victory.
To watch Jason Holder unveil a miserly and intelligent spell, at the pace he bowls, on a Headingley track the colour of thatch was to revel in the flickering renaissance of the West Indies.
After losing in three days in Birmingham, we all hankered for a Caribbean response to light a fuse under this series and the tourists have delivered.
They may go on to lose this Test match if their batting proves brittle and James Anderson gets the Dukes ball bending round corners but it was a flashback to the cricket of my childhood when lithe West Indian bowlers floated in to dominate.
Shannon Gabriel is a world removed from Walsh, Ambrose & Patterson stock; short, muscular and unpoetic in his approach but blissfully fast and brutally effective.
It was incongruous to be quietly rooting for the West Indies to puff out their chests and put the horror of Lord's behind them even if it was temporarily at the expense of England.
So much work goes on behind the scenes to get to the starting line of a Test match for a county that it was also a relief, on behalf of all of those at Yorkshire County Cricket Club, to witness a dry and sunny block of days.
Parts of July have been drearily wet and cold but batsmen of both allegiances could apply themselves on this baked Headingley road.
Some did through gutsy fortitude and luck; others let the wispy thread of opportunity slip through their fingers with lapses in technique and concentration.
I've dipped into rather than gorged on this Test match; able only to let its drama lap at the fringes of my consciousness but its competitiveness, intensity and joyful grind is another nudge in the ribs that five days of Test cricket are worth a thousand T20s.
So, to the moment that gave pause for thought and jarred profoundly: the beer snake.
It came up on the TV highlights as a wobbly line of plastic pint glasses stretching across an entire stand with Michael Vaughan, in man-of-the-people mode on commentary, egging them on to stretch it further.
Even in my current mood, I am not a curmudgeonly killjoy. A pint or ten at the cricket? Crack on then. But the instinctive reaction was a flash of…well, what was it? Anger? Defensiveness?
Close your eyes and summon up what embodies Test cricket at Headingley? For many, stacking plastic pots together in some sort of alcoholic totem pole is part of that picture and particularly in the context of this invigorating Test, that felt galling.
Was the cricket itself not enough to keep the attention?
I know what you're thinking. Where's the harm? It's just a bit of fun, self-contained to one stand, and has been going on for decades. All true.
Yet, what does the beer snake actually represent? An ability to drink prolifically. Congratulations. I might start stacking teacups to launch a counter revolution.
It grates that when the Sky Sports cameras are rolling here in Yorkshire that this plastic cameo takes up even a second of airtime because it reinforces a boozy stereotype and cements that behaviour as representative of the county.
If you're reading this, I guess you want to hear what I think – whether you agree or not – and I appreciate the beer snake is viewed positively by many as part of a lively form of self-expression.
Let's be honest, it's not going to change. The tiresome notion of 'feeding the snake' will live on though I find it grotesque.
But that shouldn't be the final word…
As I sit in the office and mull over whether this article is overly grumpy, the fate of this Test match is dancing back and forth.
First, Malan reaches his half-century in a dogged occupation of the crease over many hours and Ben Stokes revels in an abrasive 58 that is snuffed out all too quickly.
Next, Jonny's fatal reverse-sweep…well, less said about that the better though it indicates a muddled mind and the saturated pressure of the Test arena. Actually, it was the subsequent angry swish of his Adidas bat that nearly did for wicketkeeper Dowrich.

It's nearly 4pm on Bank Holiday Monday as I fumble for adjectives and this Test match could go in any direction with England having hauled themselves out of the mire by their fingernails and scrapped for a lead that is inching towards 200.
In the hours that follow, Moeen Ali's 84 means a lead of 321 and an attacking declaration few would have credited as England were shot out for 258.
Tuesday will bring a conclusion to this sporting theatre and it is one of the nuances of Test cricket that when it coincides with a return to work then sometimes only a smattering witness the thrilling final act in person.
Yorkshire County Cricket Club have consistently dropped prices during this Test and it is now just £10 for adults, a fiver for students and seniors and under sixteens are free.
With so much still to come and all results still possible, that represents terrific value. Can England do it? You know what? I think they just might…
Latest posts by John Fuller
(see all)