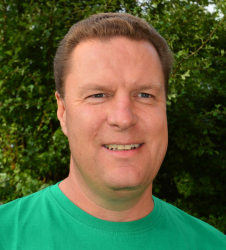 Latest posts by Andrew Gallon
(see all)
Andrew Gallon heads to East Leeds Cricket Club who welcomed Windhill & Daisy Hill in this Jack Hampshire Cup first round tie.
I'm not far off watching a game at every ground in the Bradford Premier Cricket League.
It's a brilliant competition, as most reading this will know, although a 2016 expansion to four divisions, after merging with the Central Yorkshire League, doubled the number of member clubs. Just when I felt I was making progress!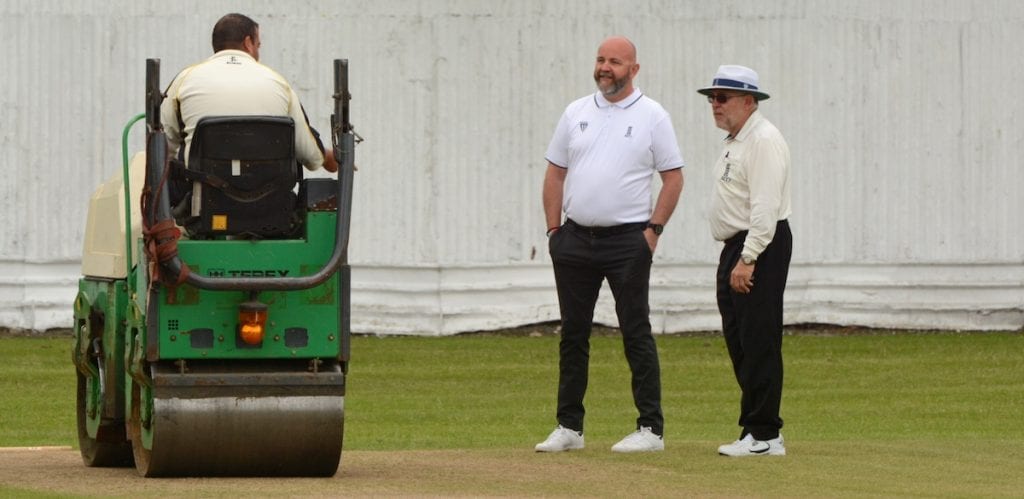 East Leeds Cricket Club, who play in the league's Third Division, the bottom tier, have been on my 'to do' list for some time. I had hoped to visit during the COVID affected 2020 season but problems with the ground meant East Leeds couldn't play any games there.
The outfield, immediately in front of the clubhouse, was the issue. Construction of a radio transmitter, for a major telecoms company, on the far side of the clubhouse necessitated the laying of metal sheets, ostensibly to prevent heavy machinery damaging the pitch.
Unfortunately, the cover merely denied the grass access to light, water and air. By the time the work finished, the outfield simply wasn't fit for cricket. "A bumpy, rubbly mess," an East Leeds player recalled.
Thanks to the cooperation of the Bradford Premier Cricket League, and opposition clubs, East Leeds were able to salvage the 2020 season by playing every match as an away fixture.
Fast forward to 2021, however, and the outfield is back to tip-top condition. East Leeds, clearly benefiting from 'going home', have started the league season well.
Heading into a Jack Hampshire Cup first-round tie against Windhill & Daisy Hill, East Leeds stood fourth in the Third Division.
Their visitors propped up the table. Still, it's early days. I should explain the Jack Hampshire Cup is a 40-over, Sunday afternoon knockout competition for clubs in the Bradford Premier Cricket League's third and fourth tiers.
The East Leeds ground is in Richmond Hill, a district with more than its share of industrial premises, commercial units and railway lines. I'd been here before, to watch East Leeds Amateur Rugby League Club, who in recent years have used three separate grounds.
Unsure what to expect of a cricket ground in a resolutely urban neighbourhood, I was pleasantly surprised.
Yes, the adjacent A63 – Pontefract Lane – was reasonably busy, even on a Sunday, whilst the main rail access to Leeds from the east, out of sight beyond the ground's north flank, produced periodic horn blasts and the squealing of wheels negotiating curves and points.
But – and here's the thing – the presence of tall, mature trees along the north side and at the east end lends this compact arena a semi-rural atmosphere.
I picked a shady spot, looking down the wicket, in the northwest corner. "Best seat in the house," observed a Windhill supporter. Behind me, an array of colourful, fragrant wildflowers, alive with bees, brought to mind country grounds. Is central Leeds really so close? Pink, purple, white and yellow blooms. I must brush up on my flora recognition.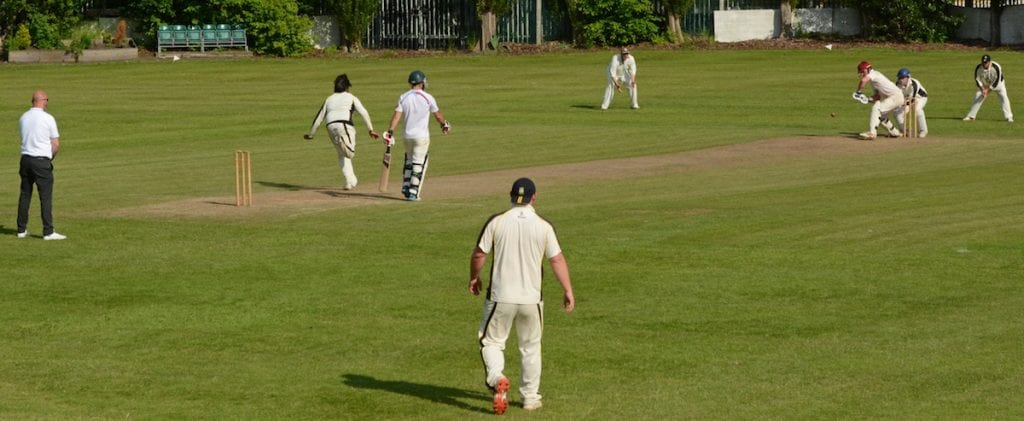 Late in the game, the sun finally separated itself from persistent cloud. Bathed in mellow light, foliage a glossy green, the East Leeds ground looked superb.
Its pitch is very much on the small side. I prefer tight, little grounds, principally because, as a spectator, one is so close to the action.
The previous day, driving home from a week's break in South Ayrshire, I'd watched Dumfries play Poloc in the Premier Division of the Western District Cricket Union.
Lush facilities, without question, at Dumfries's manicured Nunholm ground. But such a vast playing area, possibly encompassing a couple of postcodes, meant binoculars would've come in handy.
The East Leeds clubhouse – dressing rooms abutting – is at the west end. Looking down on and across the pitch, decking accessible from the bar is a splendid, popular vantage point.
By the time I got to Richmond Hill, East Leeds's car park was almost at capacity. Unlike one of the pale blue-capped Windhill fielders, I managed to avoid blocking anyone in.
'Typical BMW driver'
The game had barely started when a shout came from the clubhouse decking, requesting a BMW be moved. The aforementioned fielder, sheepish in the glare of an unwelcome spotlight, slunk off the field. "Typical BMW driver," smirked a team-mate.
East Leeds elected to bat. "I can't believe it," grimaced a Windhill player, reflecting on early-season ill-luck with the coin. "We've lost the toss every time."
Best to give a back-to-front description of a see-saw contest.
East Leeds quick Ben Wilkinson (4-38) struck three times early on to leave Windhill, chasing 219, floundering on 11-3. From my seat, I had an excellent view of how Wilkinson got two deliveries to nip back and shatter the stumps.
"It's going to be a short game, at this rate," commented a Windhill batter-in-waiting, as he strode past to join his wife on the boundary edge.
But Byron Greenwood (48) figured in solid partnerships, 60, 37 and 23 respectively, with Chris Heald (19), Adam Swaine (41) and Parwinder Singh (35) to turn the game on its head.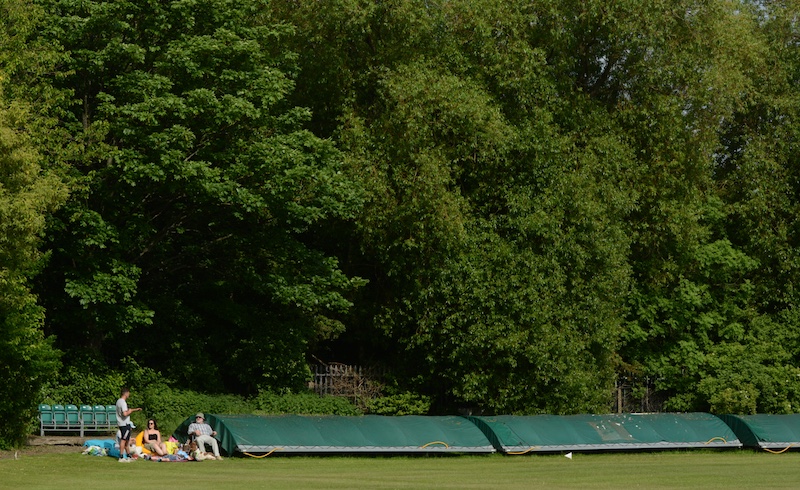 Unfortunately, Windhill had little batting after Parwinder's departure, denying spectators an exciting finish. The visitors' last four wickets garnered nine runs as they let slip a promising position.
Dismissed for 180 in the 38th over, Windhill had been ahead 'on countback' for much of their innings. Pravin Chahande finished with 4-16, Shamoon Mushtaq 2-24.
Earlier, wicketkeeper Dean Atkinson (58 from 59 balls) and Kavan Patel (12) put on 72 for the first East Leeds wicket. Both went in quick succession before James Watling (36) and the big-hitting Kirti Tandel (61) featured in a stand for the third worth 79.
The home team later lost three wickets for the addition of four runs. The influential Parwinder (5-50), cheered from the field by team-mates, and Matthew Marshall (2-30) had the lion's share of the wickets.
Crucially, Windhill put down three catches. None were straightforward, mind. East Leeds got through their allotted 40 overs, posting 218-8.
Opposing Indian players Kavan, from Gujarat, and Parwinder, from Punjab, are first-year students at Leeds Beckett University. Each is part of the same intake.
I had an informative chat with Kavan, who linked up with East Leeds Cricket Club via social media and was taken on after impressing at a trial. At university, he is working towards an MSc in sports event management. His first degree, obtained at home, is in agriculture.
Kavan told of India's climate allowing year-round cricket. He seemed bemused by the necessity of shoehorning a season into the months between April and September. In his native Ahmedabad, playing cricket in temperatures well over 100 degrees is commonplace.
"It was minus four when I arrived in the UK," he smiled.
"India lives for cricket," Kavan told me. Back home, he said, cricketers are queuing up to join clubs thereby getting a foot on a ladder leading potentially to celebrity and superstardom.
Here, by contrast, cricket clubs are engaged constantly in initiatives merely to get people playing the game.
"Have you been to India?" asked Kavan, keen to stay in the UK after completing his course. I haven't – not sure about that heat! – but revealed a long-held ambition to cross the country by train, as Michael Palin did in his TV travelogue, Around the World in Eighty Days.
Kavan's alarmed expression spoke volumes. Train travel in India is not, it appears, a safe activity.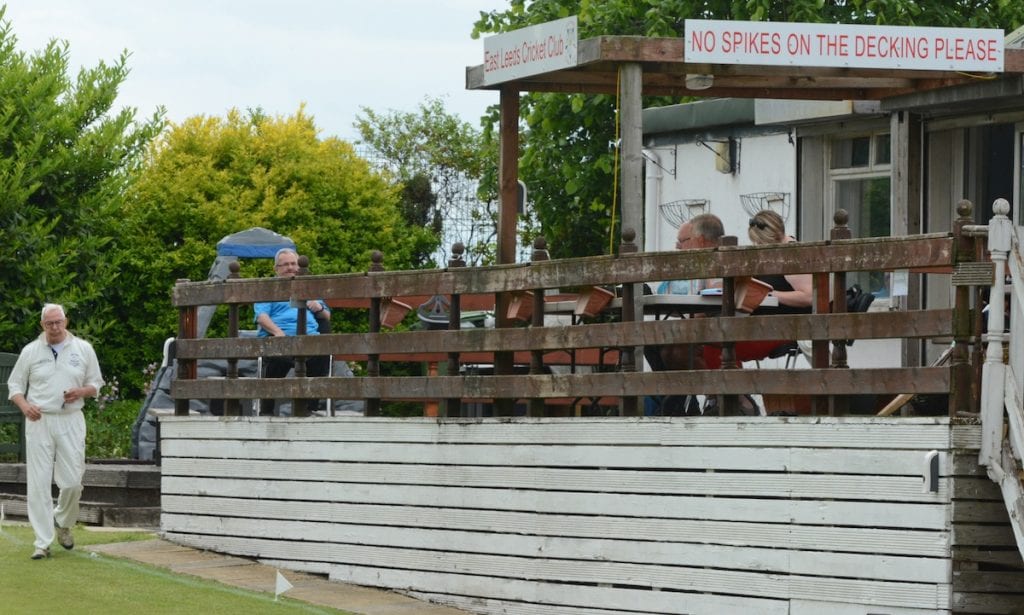 Of the teams East Leeds have played this season, Bradford Premier Cricket League newcomers Crossflatts impressed Kavan most.
The East Leeds-Windhill & Daisy Hill tie was postponed owing to rain and played on its reserve date. It means the second round is on Sunday. East Leeds host Second Division Bowling Old Lane, the 2018 competition winners.
As I made for the car park, the moment bloated drops of rain began falling from a rapidly darkening sky, one of the match umpires told me he'd had Bowling Old Lane the previous day. He predicted a comfortable Bowling Old Lane victory this weekend. We'll see!
Many thanks to Andrew and you can read his club cricket series, Miles per Gallon, on the website throughout the summer.