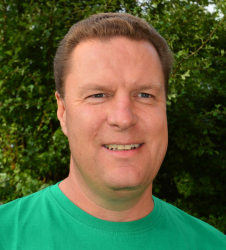 Latest posts by Andrew Gallon
(see all)
Andrew Gallon heads to Lepton Highlanders, for this semi-final of the Huddersfield Cricket League's T20 Shield, against Clayton West.
"It was always going to be close," remarked one of the match umpires, as he stowed broad-brimmed hat and white coat in the boot of his car.
He'd just witnessed, at enviably closer quarters than our party of three, Lepton Highlanders pip, with two balls to spare, visitors Clayton West in a semi-final of the Huddersfield Cricket League's T20 Shield.
An exciting contest, which Lepton won by five wickets, took three hours to complete. Now the summer solstice is long behind us (aren't those nights drawing in!), it meant the tension, late in the match, was cranked up by rapidly fading light.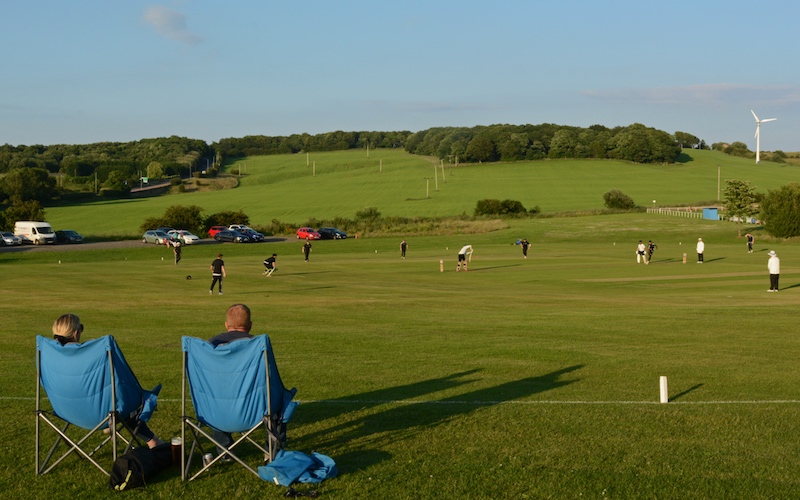 Needing 20 runs off three overs, 16 off two then 11 from six balls, Lepton held their nerve.
Rehan Khan struck a down-the-ground six before adding the winning run, taking his score to 29 not out (off 27 balls), as the home team replied to Clayton West's 131-6 with 132-5.
---
Lepton, pushing strongly this season for promotion from the Huddersfield Cricket League's third tier Conference division, are now looking forward to their first appearance, on July 25, at T20 Finals Day.
---
They face Skelmanthorpe, like Clayton West, a Championship division club.
With a wet, cricket-free weekend behind me, and another in prospect, I was determined to make the most of a sunny midweek interlude by watching this Thursday evening cup-tie.
En route to Lepton Highlanders Sports & Social Club, from the Calder Grove junction of the M1, we diverted via Emley to view the landmark Emley Moor transmitting station, which now consists of the original concrete tower and a guyed mast.
My wife, who grew up in Surrey and has lived in Yorkshire for 16 years, hadn't seen them up close. Omission rectified.
Let nobody suggest I don't know how to show a girl a good time!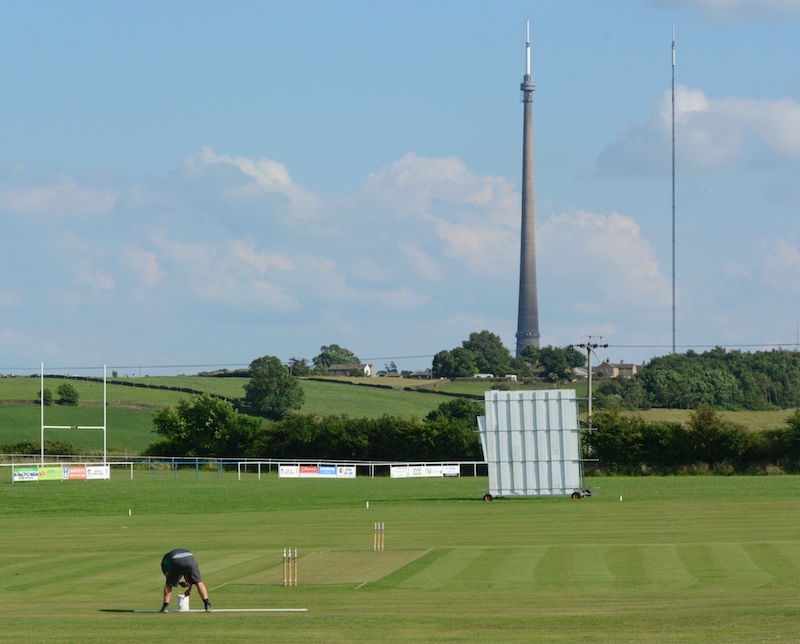 Tower and mast, each over a thousand feet tall, dominate the view south from benches in front of the smart, single-storey clubhouse at Lepton Highlanders Sports & Social Club, whose bar was trading briskly.
Held in trust for the sporting use of the Lepton community, this spacious, elevated, roughly bowl-shaped site, next to the A642 (Wakefield Road), accommodates amateur rugby league and football, as well as cricket.
I was told cricket remains the "main focus". Lepton Highlanders Cricket Club, who have played at this lofty location for 160 years, run six teams: two senior, four junior (under-nines, under-11s, under-13s and under-15s).
---
160 not out: Lepton Highlanders
---
Accepted into the Huddersfield Cricket League as recently as 2000, Lepton Highlanders began life in the Huddersfield & District Cricket Association before playing in the Huddersfield Central Cricket League.
Lepton Highlanders Football Club arrived at the sports & social club about half-a-century ago. Newly promoted members of the Yorkshire Amateur League's third tier Championship division, their sloping pitch overlaps the cricket club's playing area. The football club's junior section is huge, apparently – and growing.
I do like football, always have, but I fear, one day, this voracious leviathan will swallow every other sport. Not, I'm hoping, in my lifetime.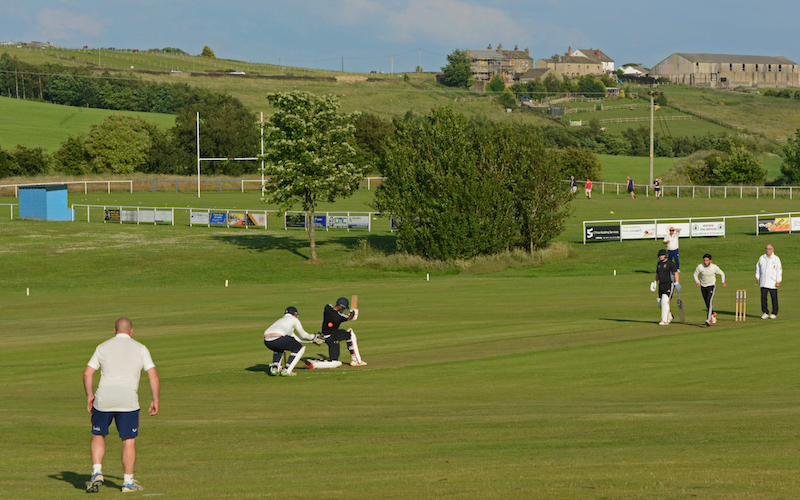 Kirkburton Cougars Amateur Rugby League Club, who play in Division Four of the Yorkshire League, have been at Lepton Highlanders Sports & Social Club only since 2019.
Cougars lost their own ground, in nearby Kirkburton, but now have use of a separate, railed pitch on the Emley side of the cricket square. It even has permanent dugouts.
For those interested in such things, the set-up would have no trouble meeting the minimum requirements of amateur rugby league's flagship National Conference League competition.
Alongside the shared clubhouse are two-lane cricket nets. Very smart, state-of-the-art and, I'm sure, well patronised by those dedicated to honing technique.
---
For an evening game at Lepton Highlanders, spectators cannot do better than find a spot along the west side boundary.
---
From here, the pitch falls away to the square, so you're looking down on the play. Handily, the scoreboard, a traditional, reassuring 'clunker', is over one's right shoulder.
Beyond the pitch, looking east, in the Wakefield direction, tree-topped fields rise steadily towards the back road linking Emley with the A642. A mellowing sun cast a picturesque Pennine scene in a flattering light.
Having lost the toss, Clayton West, wearing a cool, all-black strip, were asked to bat.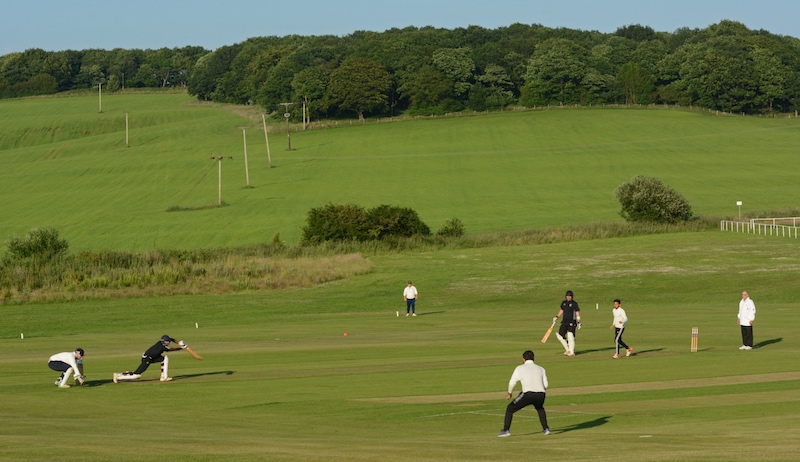 Their star performer turned out to be the husband – professional Ashay Palkar – of a well-spoken young woman, complete with rug and pooch, I'd got chatting to before the game.
She, too, had headed for the shade cast by trees fringing the south end.
Palkar, from Mumbai, is playing in England for the first time this summer. Happy, according to his personable other half, to be avoiding monsoon season back home. Judging by the support received from visiting fans, Palkar is a popular figure at Clayton West Cricket Club.
Coming in at No 3, Palkar scored an unbeaten 78 off 52 balls. His knock included five sixes and five fours.
As in Clayton West's similarly thrilling quarter-final victory at Edgerton & Dalton, secured also with two deliveries to spare, Palkar's impressive innings enabled the visitors to post a respectable total. At Edgerton & Dalton, Palkar contributed 131 not out.
From 56-6 in the Lepton Highlanders tie, Palkar teamed up with David Swann (10) to add 48 for the sixth wicket.
---
I don't imagine T20 run-fests are all that much fun for bowlers therefore Sayed Salman had every right to be pleased with four-over figures of 3-21.
---
Lepton's reply, at 24-3, was soon in a spot of bother. But Shyne Abde (56 off 46 balls) shifted the balance of power away from Clayton West by putting on 40 for the fourth wicket with Salman (10) then 45 for the fifth with Khan.
Just as it seemed Lepton would cruise to victory, Abde was bowled by Mark Hinchliffe (1-25). With his team 109-5, the departing batter's frustration was obvious.
The unbeaten Khan, however, kept a cool head, when one or two around him were losing theirs, to disappoint Clayton West.
It was hard to not feel sorry for the influential Palkar, whose lively medium pace garnered 2-22 from four overs.
Great game to watch. Congratulations to both teams.
Many thanks to Andrew and you can read his club cricket series, Miles per Gallon, on the website throughout the summer.