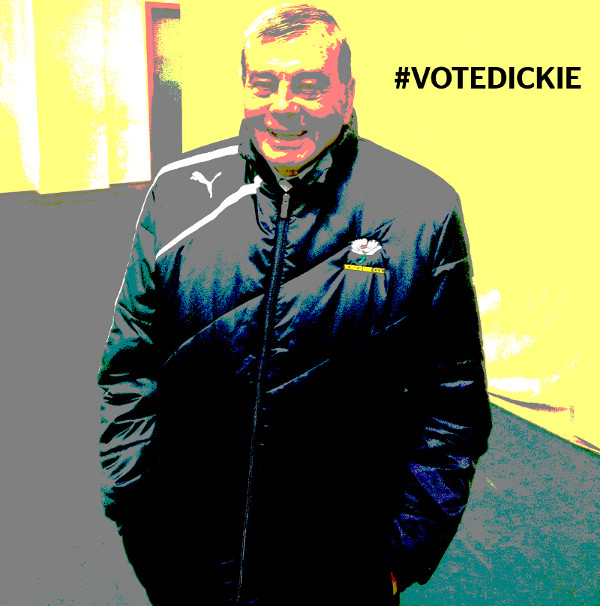 Harold 'Dickie' Bird, announced this morning, in a world-exclusive for CricketYorkshire.com that he has decided to campaign for the job of Prime Minister.
The current President of Yorkshire County Cricket Club showed his people power when he was recently re-elected for a second term of office at Headingley and as the current MP for cricket in Yorkshire, it was felt the time was right for the 81-year-old from Barnsley to run for PM too:
"Ee, John lad…about time someone ran this country properly. In my day, there'd be none of this switch-hitting. It's just not cricket."
A spokeswoman for Yorkshire County Cricket Club, April Fools, said Dickie had more than enough energy to balance the twin, demanding roles of running the country and watching Yorkshire Academy at Weetwood:
"Dickie will shake things up. He is a pocket rocket and superb ambassador for Yorkshire. Vote Dickie on 7 May."
It is understood Dickie Bird will campaign just about cricket. We have seen a sheet of A4 with several key pledges that political pundits will probably call the 'Birdifesto':
Free-to-air, live cricket back on terrestrial TV

Test cricket to be played at Barnsley Cricket Club

Umpires to get first choice of the cakes at cricket teas
Early indications show that he will hoover up support across the UK but particularly in Yorkshire with one poll giving him 110% of the vote.

**We think it's the best possible news for cricket and for Yorkshire so Use #votedickie on Twitter or Facebook to show your support…
Latest posts by John Fuller
(see all)