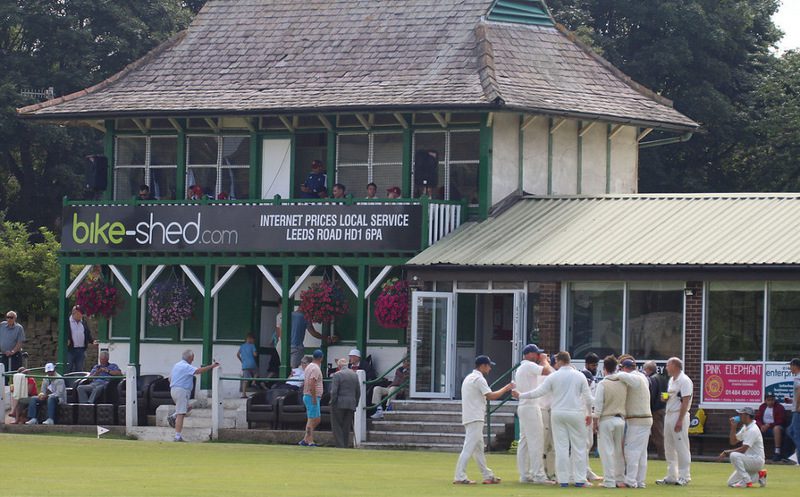 Last Sunday was all about Huddersfield cup cricket.
Ok, so we got a little lost on the drive over from Leeds but the bonus was a stunning drive through the countryside around Meltham before dropping down into the village of Honley.
The Sykes Cup final saw favourites Delph and Dobcross, who had already beaten Broad Oak by eight wickets to claim the T20 silverware and were unbeaten in the Drakes Premiership, up against Shepley.
Having paid our three quid entry including a match programme that was professionally produced (hats off to whoever did that), the deckchairs were plonked just beyond the boundary, deep mid-on to a right-hander.
My travelling companion Brian got stuck into his now legendary sandwiches that crop up in many an article on this website as well as my debut cricket book on club cricket (sneaky plug there).
First impressions? Well, Honley was a ground definitely on the radar for its distinctive pavilion with more than a nod to a pagoda the shade of a bottle bank.
We weren't too late beyond the start time but already Shepley, who lost the toss and were asked to bat first, were in a pickle at 22-3. The crowd, numbering a few hundred at a guess, were packed in and hunkered down for a feast of cricket.
No sooner had we parked ourselves, the couple next to us had the fright of their lives as a Delph fielder, the Lancashire offspinning-allrounder Arron Lilley (above) chased down a shot to the boundary and put in a foot-first dive with studs showing that Roy Keane would have been proud of.
While Brian lay waste to the edible accoutrements carefully packed at home, I took myself and the digital SLR camera off in search of calories and a brew.
The lady serving teas in the pavilion (I forget her name but she had a smile that lit up the afternoon) offered up a cuppa and a strawberry-laden scone and I stretched out contentedly in the leather armchairs outside the pavilion watching Delph & Dobcross put Shepley through a trial by spin.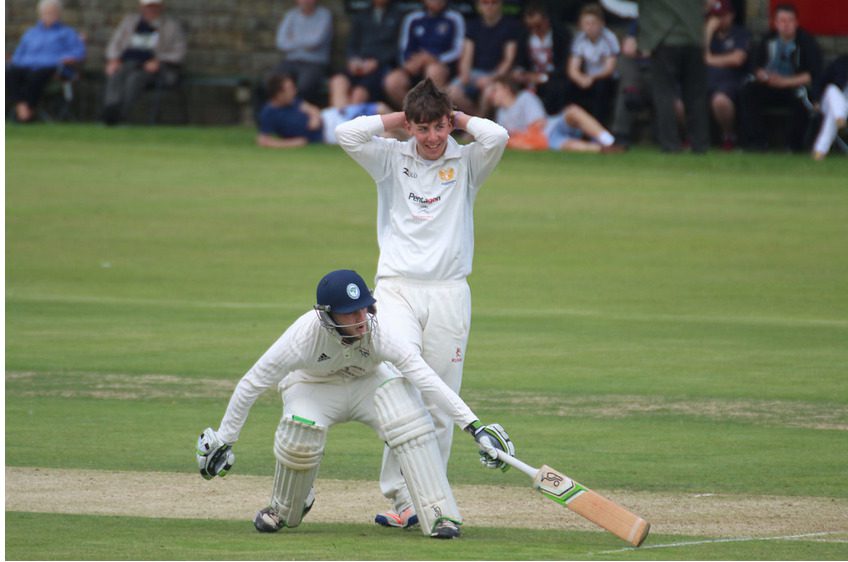 Incredibly, this was my introduction to Huddersfield cricket; I'd heard so much about its quality and eye-catching grounds and it did not disappoint.
Currently the Drakes Huddersfield Cricket League is outside the new ECB Premier Leagues system with its feeder leagues but on this evidence, they have players who would fit right in.
During several circuits, particularly tricky on the far side opposite the pavilion where a phalanx of fans were parked on chairs or sat in groups right next to the boundary, Shepley struggled to get going, their eventual dismissal for 108 feeling way, way under par.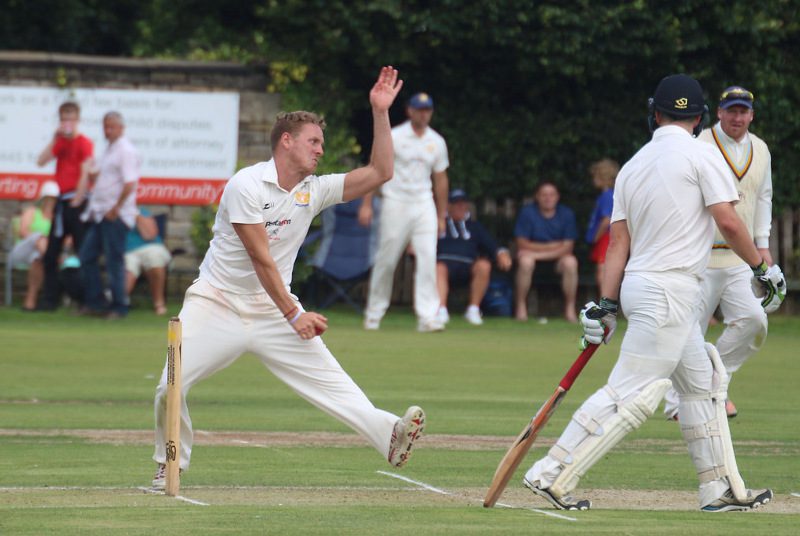 The Delph bowling was dominated by three spinners with Nathan Jones bagging four wickets off the back of a five-fer the day before in the league.
Anyone who cares about rectifying the glacial over rates in the county and Test arena will have been heartened by Delph and Dobcross here whose slow bowling arsenal meant they rocketed between overs, building pressure on Shepley.
The mid-match pause between innings saw the players and guests retire to the pagoda with the umpires, in their window seat, happily tucking into the tea and sandwiches.
As the umpires David Haikings and John Wood walked out to the middle, Shepley formed a huddle and discussed a gameplan: presumably – strike early and often with no gimmies and field your socks off.
Brian and I saw the first few overs of the run chase where Shepley bowlers beat the edge and caused some problems but didn't break through.
On a whim, we opted to head over to Flockton to catch some of the Tinker Cup Final with Mount trying to retain the trophy, this time against Holmbridge CC.
Delph and Dobcross lost two wickets en route to glory but the partnership of Chris Laker (69 not out) along with Bengali IPL cricketer Shreevats Goswami (23 not out) closed out the match.
As we departed, the Sykes Cup was being photographed by the local press on top of a car so it also got papped from over the wall by Cricket Yorkshire.
Congratulations to Delph and all the best to both finalists for the remainder of their league season.
A word too for Honley Cricket Club – it's highly recommended if you can find an opportunity to watch some cricket there.
Now check out the match photos below….

CLICK FOR MATCH PHOTOS: DELPH & DOBCROSS VS SHEPLEY
Here's where you can click through match photography from the Sykes Cup. Heroics, celebrations, the crowds and much more…
**With all Cricket Yorkshire photo albums, you'll be asked for your email and will be added to the mailing list. We don't spam you with offers, just occasional cricket writing.
There's generally a top-quality Cricket Yorkshire newsletter (SAMPLE) every fortnight or so (tends to be a Friday) and if you decide it's not for you, you can easily unsubscribe at any point but most people don't.
Enjoy the photos of Huddersfield cup cricket!
Latest posts by John Fuller
(see all)