The advent of day-night County Championship cricket with a pink ball. What would Fred Trueman have made of it all?
It was tempting to suggest the historic part of this experiment was not the floodlights or late start times but the presence of all of the England players for their counties.
Seeing Jonny Bairstow playing for either Yorkshire or England has its novelty value for sure.
It won't be long before he starts putting out an ad in The Yorkshire Post asking clubs in Yorkshire if they have any availability on a Saturday.
Not for the first time, the County Championship is being used as a playground; in this case so the squad can get some practice prior to England's inaugural day-night Test match in Birmingham in August.
Do fans mind? They're probably curious and grateful to see their long-lost England stars back in county colours.
This round of County Championship matches has begun at 2pm, with 'lunch' at 4pm then 'tea' at 6.40pm or so.
It involves a pink Dukes cricket ball expected to be tougher to shine than its red counterpart but liable to spring back into life as the sun dips.
For Gary Ballance, Yorkshire's home game with Surrey was expected to be a brief, technicolour affair.
He was mulling over wearing specs made especially by optician Simon Falk to try to accommodate his colour blindness that makes batting against a pink ball especially tricky.
At it turns out, the black stitching on these pink balls made it easier for Ballance to distinguish it against the green backdrop of the cricket field but he opted to do without in the end.
On day three, Ballance is then handing over the captaincy armband to Tim Bresnan and heading off to captain England Lions against South Africa – which is gets my heckles up on several fronts.
No England or county players should be able to play half a county fixture before being substituted, it utterly devalues the County Championship. Is this the premier competition in England and Wales or not? It's the kind of thing you'd expect to see in a pub match.
As it happens, Surrey chose to bat but had they not…let's play out an extreme scenario to press the point.
Gary Ballance is 501 not out overnight on the second day and his replacement (Harry Brook) would walk out to attempt to score the run that makes Gary/Harry the highest run-scorer in Championship history.
Who gets in the record books then? Record-breaking heroics or not, it's still all a bit farcical.
Then, we have the debate over whether GB should be playing for England Lions…it's usually a petri dish for those in the fledgling stage of their careers aiming to show what they can do before flying the coop with England.
Gary Ballance has excelled this season in first-class cricket and averages nearly 40 in 21 Tests.
But England feel facing international opposition in Morkel and Rabada will be the final exam to convince them he is ready for another comeback.
Well, Iet's hope he scores a shed-load of runs for the Lions and gets back in an England shirt, he's done the graft on the road to redemption.
Grumbling aside, it was time to step away from behind the computer and hop on the train to Burley Park and see if the evening session of this encounter had attracted the wow factor, more fans and was a suitable advert for four-day cricket.
It's worth noting Yorkshire are offering a reduction in prices for those that rock up at Headingley after 4.40pm to see the conclusion of each day's play until 9pm.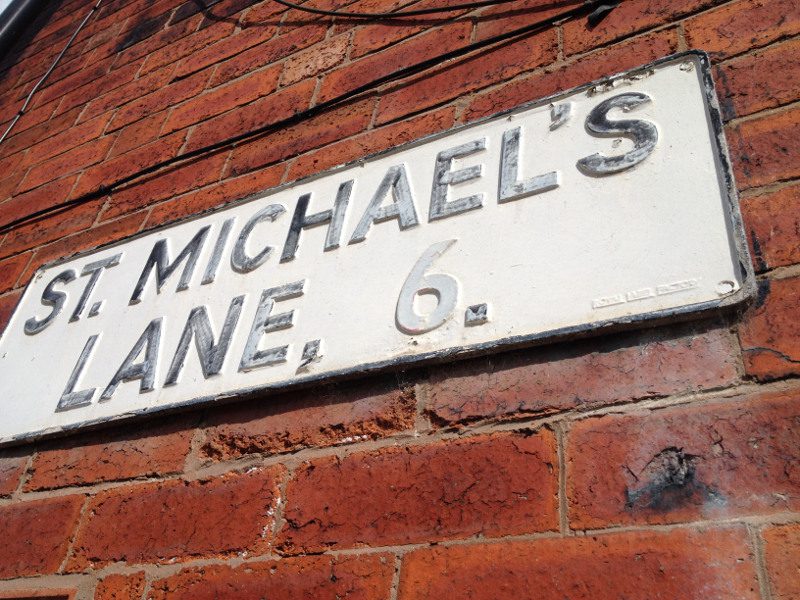 It's 4.30pm. The steward on the gate at St Michael's Lane peers at my press pass in mock suspicion.
"Alright, I'll let yer in…" with a raise of the eyebrows and the beginnings of a smile.
I wander over to the edge of the East Stand and absorb a few overs of Yorkshire's bowlers huffing and puffing but not yet blowing the door down.
Surrey's batsmen look comfortable with Jason Roy (87) battling his way back into form.
Looks like there are more in than usual but given Root, Bairstow, Rashid, Roy and Sangakkara, that's not too surprising.
A final attendance of 2,595 (that falls in the final couple of hours) is promising but not, I suspect, because of the day-night aspect.
For now, the topic of the pink ball and whether anyone can actually see it (quite important for players, spectators and media alike) bubbles away.
You don't have to be colourblind to struggle to pick it up.
I frequently lose its path as Surrey thud it into the advertising hoardings – but any more than the red or white ball? Hmmm, not sure…
I visit the Long Room to listen to the thoughts of the Yorkshire members and one wryly notes: "Our average age is 69…we'll want to go home at 6.30!"
He has a point. Is this experiment for England's cricketers or is it for the benefit of fans?
Converting people to four-day cricket after work is going to be a slow-burn.
The bulk of the crowd are members; creatures of habit who deserve as much consideration as any newcomers.
There isn't much appetite or kind words to be said about day-night cricket here in the Long Room.
They've turned up, as they always do, for the County Championship but more fool anyone that gets between a Yorkshireman and his supper.
Or should that be tea?
I pass a member tucking into a pie and ask him to give marks out of ten.
He gives a 'so-so' gesture and mutters '6 out of ten' which, thinking about it, is actually quite the compliment.
In defence of Headingley's pies, a steward confided in me that he has a perpetual hankering for the cheese and potato pastry pots; reinforcing that in life, cricket and pies, you'll always find opposing views.
As Surrey progress serenely, a gentleman walks briskly past, pausing to share this gem in reference to Yorkshire's semi-final cup defeat to Surrey recently:
"It's bloody de-ja vu all over again…"
That comment alone was worth coming to Headingley for the day.
I notice the floodlights have come on after a brief interlude to grab a bite to eat on Otley Road.
It's about 7.30pm but still the light is reasonable (so says the pub cricketer who has a proud record in evening T20 thrashes for club and pub down the years without floodlights).
The crowd has noticeably thinned out since 6pm – because they are predominantly going to be Yorkshire members who have their routines and are also not enamoured with mild hypothermia as the sun sets.
494 people came through the turnstiles after 4.40pm when ticket prices were reduced – not a rampaging success but not to be sniffed at either when attendance is up by a fifth.
As Kumar Sangakkara puts on another batting masterclass, a cluster of Surrey fans (or maybe just one bloke with vocal chords to die for) belt out: "Suuuuuuurrey!" again and again.
Far from sounding supportive, it floats over the field as an elongated, forlorn apology as a wagtail hurries about, dipping and bobbing.
A young supporter – under ten at a guess – waits nervously to ask Jack Brooks to sign his cricket bat.
He takes a few overs to summon up the courage, chewing on his lip, but is rewarded when the fast bowler offers up his signature during the embers of a tiring day of chasing flashes of pink.
Surrey end the day on 374 for 6 off 96 overs. More than the colour of the ball or the time of day, the cricket has spoken for itself.
Nearly 400 in a day is value for money and personally, whether it's 11am or 8pm, I would pitch up to watch Sangakkara bat.
His head was perfectly still with oodles of time while lacing cuts or punching straight drives down the ground.
There was solace for Yorkshire late on with Ben Coad inducing an over-eager drive to Handscomb by Ben Foakes before Patterson accounted for Sam Curran's quick-fire knock with a few overs to go.
I have every digit crossed the prediction of heavy rain for the next few days doesn't ruin what was shaping up as a tidy duel.
Yorkshire's batting dynamism of Root, Ballance and Bairstow may end up kicking their heels for a few days but of more concern was the fact that Gary Ballance seemed to be frequently clutching and flexing his knee.
As I waited on the Burley Park platform being eaten alive by midges, between choice language and swishing my head like a fiesty colt, I had time to consider this: had evening first-class cricket with a pink ball under floodlights won me round?
I expected more of a sense of history but it felt like any other County Championship game until that last half hour when the light had sufficiently dropped that the Yorkshire fielders' shirts glowed under the lights; appearing as firebugs floating over a green chessboard.
As the train juddered its way into Leeds, a couple of cricket fans discussed the relative merits of boiled eggs.
I guess dinner, supper or tea was long overdue but it had been the conversations during the evening that had stood out.
I'm all for innovation but if this is to be a feature in the County Championship in future, administrators need to ensure it doesn't alienate those county fans who already feel that four-day cricket is being tinkered with and eroded.
Latest posts by John Fuller
(see all)