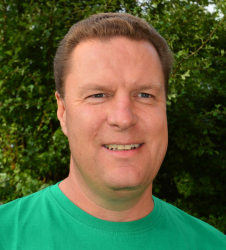 Latest posts by Andrew Gallon
(see all)
Andrew Gallon watches Crossflatts get the better of Rodley at home as the Bradford Premier League newcomers impress.
I – along with many others, no doubt – have been interested to see how Crossflatts Cricket Club perform during 2021, their debut season in the Bradford Premier Cricket League.
The ambitious Airedale club, whose Ryshworth Park ground boasts excellent and constantly improving facilities, stepped up after 15 or so successful years in the Craven & District Cricket League. The move crowned a period of sustained progress, on and off the field.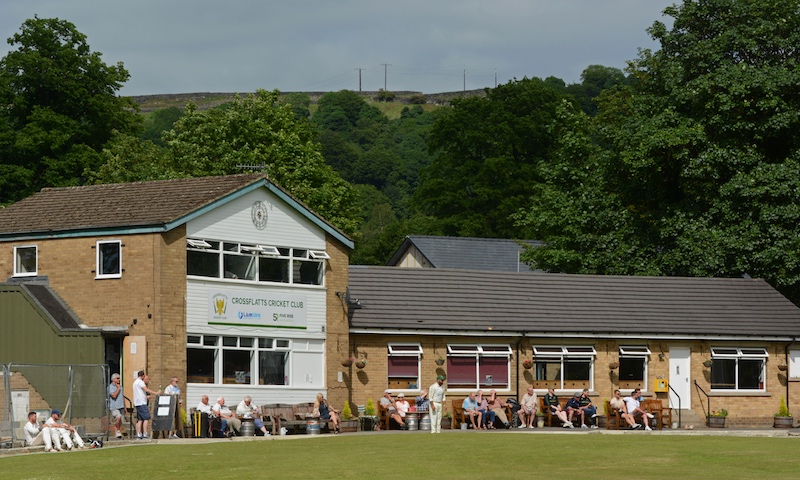 I'd seen Crossflatts, almost 12 months previously, play in an early round of the 2020 National Village Cup. Not their finest hour, I imagine. They arrived with only 10 players at Houghton Main Cricket Club, members of what is now known as the Yorkshire Southern Cricket League. The story was the missing man couldn't find anybody to mind his dog! Such are the trials and tribulations nowadays of getting a team out on Sundays.
Probably best to gloss over Crossflatts' performance that cloudy afternoon in former coal mining country. Suffice to say, they went down by 10 wickets.
Promising at Ryshworth Park
Fast forward the thick end of a year, however, and things look promising at Ryshworth Park. Going into a Jack Hampshire Cup second-round tie with Rodley, Crossflatts stood second in the Bradford Premier Cricket League's Third Division.
We drove over the scenic, high-level Dick Hudson's road – always a pleasure – in the knowledge Crossflatts were firm favourites to beat opposition six places below them.
To our surprise, the Keighley side of Ryshworth Park was dominated by a building site. Access off Keighley Road was via a winding, unmade track, lined with temporary fencing. Several houses are being constructed, some very close to the cricket field's boundary.
"Who'd want to live near a cricket ground?" asked one of the Crossflatts players during the home team's choreographed warm-up.
For cricket enthusiasts, of course, that would be a dream come true. Sadly, neighbours of cricket clubs usually find the proximity irksome, at best. In most cases, the cricket field was laid out long before construction of the houses that abut them. Buyer beware!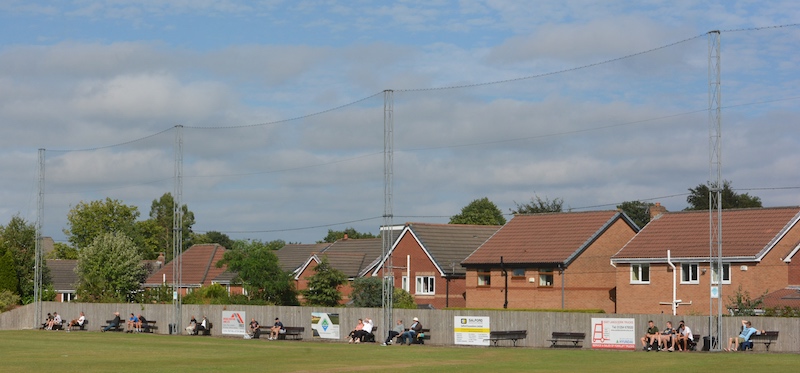 The Crossflatts player revealed there has been talk of erecting a 25-metre catch fence, to protect the new dwellings from big hits. He reckoned the developer/residents would foot the bill. "It's a bit of a problem. Who will pay for the upkeep?" he queried, before trotting off to continue stretching and throwing.
The tallest catch fence I've seen is at Clifton Cricket Club, members of the Greater Manchester Cricket League. Erected along the east side of their ground, after complaints from residents of new houses built on the site of a factory, it must be 20 metres high.
Inevitably, it adds nothing to the Clifton ground's aesthetics. If something similar is added to the Ryshworth Park scene, I imagine the same will apply.
Good fences make good neighbours
Still, as American poet Robert Frost observed: "Good fences make good neighbours." Well, one can hope.
Ryshworth Park is a good-size ground, with a gently sloping pitch, at a location where the dale floor is broad enough to accommodate all sorts of stuff, including the Aire Valley Trunk Road (the dual carriageway A650) and the rather older Leeds-Skipton railway line.
Owing to the presence of a four-floor office block, provided originally for the defunct Bradford & Bingley Building Society, each transport artery is heard rather than seen. Though ugly, the office block has a useful car park. Large, free and popular!
Opposite is Crossflatts' smart, modern clubhouse. The dressing rooms, on the upper storey, likely offer the best view of the action. Behind, the wooded flank of Airedale looms impressively.
Away to the right, beyond a horrible palisade fence (have you noticed they're everywhere now?) is the more severely sloping pitch of Keighley Albion Amateur Rugby League Club. A couple of well attended youth games overlapped with the first innings of the cricket.
We stationed ourselves beneath overhanging trees at the 'railway end'. Opposite, through the clubhouse's open windows, we could hear cheers and groans from those who had booked in advance to secure tables.
England's footballers were kicking off their (so-called) Euro 2020 campaign. No mistaking the roar that greeted Raheem Sterling's winning goal against Croatia at Wembley.
Outside, in a much quieter environment, Rodley were invited to field. One of their bowlers, recuperating on the boundary between energetic overs, said he would've preferred a morning start to the Jack Hampshire Cup tie. Clearly, he was keen to get to 'half-time' in the cricket before the football finished. "Fifteen minutes to bowl seven overs."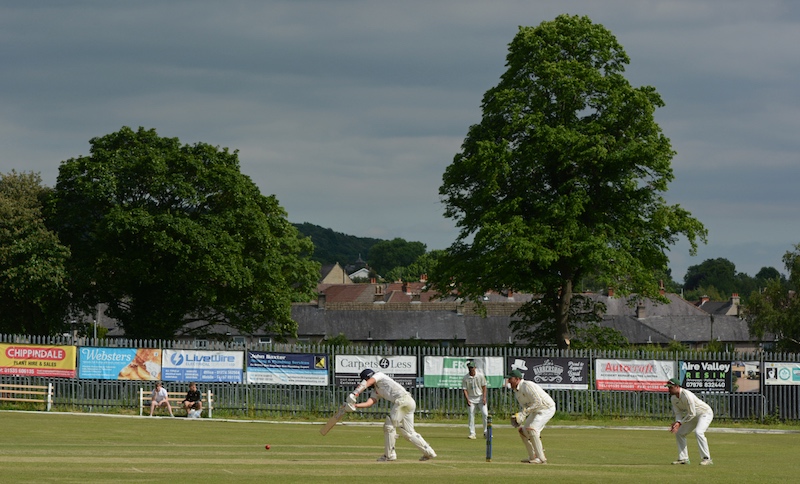 "Do you want us to tell you what's happening?" we enquired. "Oh, yes," he said, "although we'll know from the noise if England score."
Beneath a resolutely overcast sky, tailenders Mayank Singh (53) and Jim O'Hara (31 not out) played a key role in Crossflatts posting a defendable total, 251-8 off the allotted 40 overs. Capitalising on wayward bowling, the pair put on 74 for the eighth wicket. The hard-hitting Mayank was bowled off the last ball of the innings.

Before the duo came together, Crossflatts were 177-7 having been 104-3. No 3 Harris Hussain scored 37, skipper Dominic Bennett 27 and opener Joe Hicks 23. Gary Sagar (3-31), of colourful but unmentionable nickname, was the most successful Rodley bowler.

The absence, reportedly through injury, of Mohammed Shahnawaz, the Bradford Premier Cricket League Third Division's leading wicket-taker, didn't appear to blunt the Crossflatts attack. Sagar (31) and Bailey Wilson (25) set off at a fair rate, reaching 40 off five overs.
But Rodley faltered to 77-5. Tom Wharton (42) and Ben Whitaker (22) put on 51 for the seventh wicket to raise hopes of a close finish, only for the tail to surrender cheaply. The visitors were dismissed for 169 in the 31st over. Wasim Hussain had 4-23, Joe Hicks 2-37.
So, Crossflatts' successful start to life in their new surroundings continues. In the Jack Hampshire Cup quarter-finals, on June 27, 'Flatts' have been handed another home tie. Second Division Bowling Old Lane, winners of the competition in 2018, will be the visitors – and I would think provide their toughest test to date.
The odds on the two clubs meeting as equals in next season's Bradford Premier Cricket League third tier must be fairly short. I'd venture the Craven League's loss has been the Bradford League's gain.
Many thanks to Andrew and you can read his club cricket series, Miles per Gallon, on the website throughout the summer.