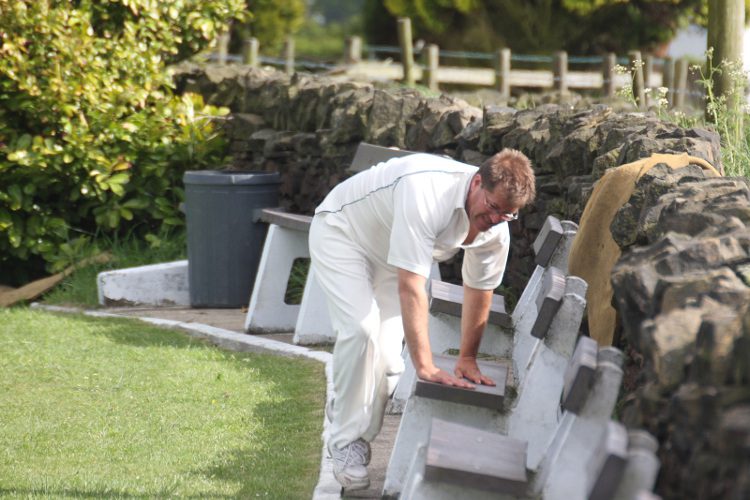 Our travelling club cricket correspondent Bill Marshall has rounded up a selection of news from a number of cricket leagues in West Yorkshire. Cricket Yorkshire will aim to feature more leagues from across the region in the next month. If you'd like to summarise what's been going on in a particular league (or perhaps a couple in a geographic area such as York, Scarborough or Sheffield) then GET IN TOUCH.
I am interested in correspondents covering league and club cricket news for North Yorkshire, South Yorkshire and East Yorkshire (By and large, we've got West Yorkshire wrapped up).
For now, over to Bill….
After several difficult seasons, the Bradford Mutual Sunday School League are hoping to bounce back in 2019.
They have lost three clubs to the Dales Council League since the end of the 2017 season – Mayfield and Muff Field in 2018 and Interlink this season – but the Mutual Sunday School League are confident that they can stabilise.
Hafeez Ur-Rehman, who has replaced Sara Butterfield as secretary of the Mutual League, says: "We have 30 teams in three divisions, some of whom are private clubs, some of whom who are part-private clubs and some of whom play on council grounds.
"We have lost teams to the Dales Council League, but we want our league to become part of the Yorkshire Cricket Board's pyramid system and are waiting for talks with Alan Birkinshaw. We have also been in talks with the Yorkshire Cricket Board's Steve Archer."
Ur-Rehman, who is secretary of prominent Mutual League club Salem Athletic as well as being treasurer of the Quaid-e-Azam League, added: "We will be playing some of our Mutual cup rounds (Sir James Roberts Cup and H Broadbent Trophy) on Saturdays, thus avoiding clashes with grounds and players who are involved in the Quaid-e-Azam League and West Riding Sunday Council."
The Mutual League have their pre-season meeting on Tuesday, March 19 (7.30pm), with the Karmand Community Centre the likely venue.
Clubs in the Spenser Wilson Halifax Cricket League are being given more time to implement computerised scoring.
League secretary Tim Helliwell told the latest league meeting at Pellon Social Club: "We asked clubs to ensure that there is power near the scorebox for our computerised scoring, but some clubs have said that this will cause them issues, so we are not going to enforce that. But we will make it happen in time, so we ask clubs to bring it into being."
The league arranged three website and scoring workshops at Blackley, Copley and Great Horton Park Chapel in February and March, as well as a free umpires' refresher course at Pellon Social Club.
Meanwhile, Helliwell also said that the restrictions on Saturday first-team players featuring in the Sunday League could also be relaxed.
He said: "Clubs will be voting electronically to allow 14 to 15 year olds to play Halifax Sunday League cricket in order to develop their games."
Newcomers to the Sunday League for 2019 are: Sowerby St Peters, Blackley, Mount and Golcar, with Norden, Luddendenfoot, Bridgeholme and Mytholmroyd dropping out.

Dales Council League Cup Draws
Holders Leeds Sikh have been drawn at home to Farsley in the first round of the Dales Council League's Pool Paper Mills Cup on Sunday, May 12.
Meanwhile, 2018 runners-up Leeds Caribbean are at New Wortley.
There is a Bradford derby between Halifax Direct, who play at the Karmand Centre, against Thornbury, while Drighlington have a home tie against Bradford Moor, and Baildon host Woodhouse.
Former Bradford Mutual Sunday School League teams Mayfield and Muff Field are at Adel and Cookridge respectively.
Pool Paper Mills Cup first-round draw: Leeds Sikh v Farsley, Baildon v Woodhouse, Adel v Mayfield, Halifax Direct v Thornbury, Crompark v Pudsey St Lawrence, New Wortley v Leeds Caribbean, Cookridge v Muff Field, Drighlington v Bradford Moor. Matches to be played on Sunday, May 12.
In the Cawthorne Cup for second teams, 2018 winners Thornbury B entertain Leeds Caribbean B on Sunday, May 19, while Tong Park Esholt, beaten by Thornbury B in the final, will receive Rodley, whose third team are back in the league.
Newcomers Interlink, also from the Mutual Sunday School League, will be at home to Drighlington B, while Shipley Providence host One Stop in a repeat of a 2018 first-round tie.
Cawthorne Cup first-round draw: Leeds Sikh B v Muff Field B, St Chads Broomfield v Morley, Mayfield B v Cookridge B, Thornbury B v Leeds Caribbean B, Halifax Direct B v Pudsey Congs, Interlink v Drighlington B, Tong Park Esholt v Rodley, Shipley Providence v One Stop. Matches to be played on Sunday, May 19.
Morley will host the Pool Paper Mills Cup final on Sunday, August 4, with Tong Park Esholt staging the Cawthorne Cup final on Sunday, July 21.
Latest posts by John Fuller
(see all)