Northern Rail's wheezing bone-rattler from Leeds unceremoniously deposits me at Castleford station; a bleak cul-de-sac with a car park and The Station pub that straddles the corner between Welbeck Street and Enterprise Way.
Castleford Cricket Club, today's destination of choice, play at Savile Park which involves a meandering walk past unlikely offices such as Burberry before a left at the roundabout and up the hill on Albion Street or if you're listening out for sat-nav, the A655.
It's a blustery but otherwise sunshine-dappled day to watch a game of cricket in the ECB Yorkshire Premier League where an inexperienced Castleford eleven are taking on leaders, Yorkshire Academy.
It's the day after the night before. The slightly apocalyptic BBC weather forecast was on the money and the remnants of Hurricane Bertha caused flash flooding which wreaked havoc in the town as streets became surging, violent impromptu rivers.
There is a quite unbelievable YouTube video taken underneath the Station Road railway bridge with a car all but submerged as onlookers stand around gawping.
So, prospects of play at Savile Park could be dubious at best but it's not occurred to phone ahead and check so armed with DSLR camera, zoom lens and a determination to catch some Saturday cricket, it's a short walk to the ground.
It's easy to miss it – as I nearly do – as the unassuming car park and back of the red-brick pavilion with its bright blue doors hides its cricketing hub but I catch sight of the white-washed scorebox with a new scoreboard and it's off to investigate.
I'm fashionably early for a change; aware that ECB Yorkshire League games are a mammoth fifty-five overs and begin at midday. First impressions are of an imposing, spectacular cricket ground.
You walk up the left-hand side of the pavilion from the car park and the oval Savile Park ground demands that you pause; take it all in and perhaps even feel a pang of jealousy at those who get to play here.
The outfield either side of the wicket is a vast, open savannah – the widest ground I've seen in club cricket and comfortably larger than some in county cricket – where batsmen with keen fitness should be able to scamper threes or even fours with aplomb.
Castleford Cricket Club's grounds are maintained by Wakefield Council and less than a day after the flooding, the ground is looking an absolute picture, framed with its white fencing and wall of tall poplar trees at the far end.
Castleford's red-brick pavilion is at its boisterous best in the morning sunshine; a grande dame who still stands proudly despite the arsonists whose mindless actions gutted the building in 2004 and threatened the existence of the Club.
The steep steps up to the pavilion have bright blue wooden seating and the scorers; Harold Galley for the Academy and home number cruncher Susan Philips are hunched over their scorebooks, quietly setting up for the match.
The Club have had a new scoreboard installed by Durant Cricket and Susan has the remote control at hand and is testing it; part of the modern paraphernalia of cricket scorers nowadays. In addition to the usual printed scorebook, each has a laptop open and are plugging in data for the Total Cricket Scorer software, which will show live scores online during the day.
The scorebox itself in one corner of the ground is a bit of beast and apparently the mechanism for working the old scoreboard involved these mighty, six foot wheels which needed a not insignificant amount of muscle to operate so the committee decided to upgrade.
Funding came from The Coalfields Regeneration Trust and Wakefield Council who awarded Castleford CC grants towards the project and so the Club who as members of one of Yorkshire strongest Leagues (depending on whom you talk to) were able to add a digital scoreboard to existing facilities including splendid-looking dome-shaped cricket covers.
Facilities at the upper echelons of league cricket in Yorkshire are a world away from clubs in lower leagues where a tarpaulin hurriedly pinned across the square – or no covers at all are the norm – but in theory, it's an open market, so to speak.
No club, however big or small, is exempt from applying for various pots of money to improve facilities but the reality is that grants certain criteria, often needing a junior set-up, are the bare minimum.
In Castleford's case, junior cricket is thriving with teams competing in the Pontefract and District Junior Cricket League across various age groups. It's an essential source of future senior players and Castleford also field a number of youngsters in the ECB Yorkshire League.
They're a club with a proud history that includes ten players who have gone on to county cricket including Chris Silverwood, Tim Bresnan and most recently, David Wainwright who still plays for Derbyshire but turns out for 'Cas' when he can.
A chat with Castleford's Secretary, Mick Bourke, reveals that they don't have the funds – nor the desire – to pay players; a contentious subject that usually sends ripples across grassroots cricket in the county. As a consequence, the best of their young cricketers in their teens are being given a
Today's game sees the sides at opposite ends of the League table with Castleford languishing towards the foot without a win all season. Perhaps today will be the day although on paper, it could be a tough day at the office, despite a number of Yorkshire Academy players missing to play for England under-nineteens against South Africa.
The game itself begins with the early wicket of Elliot Callis who has been one of the Academy's form players this summer but Ben Ainsley (different spelling – and age – from the Olympics sailor in case you're wondering) shared a spirited but painfully slow stand of 79 in what feels like several lifetimes.
It's easy to pass judgement from the sidelines but until the latter stages of the innings, the run rate staggers along at two an over. Not a great advert for fifty-five overs cricket. Why on earth they play this unnecessary amount is anyone's guess. I suspect the answer is 'because we always have…'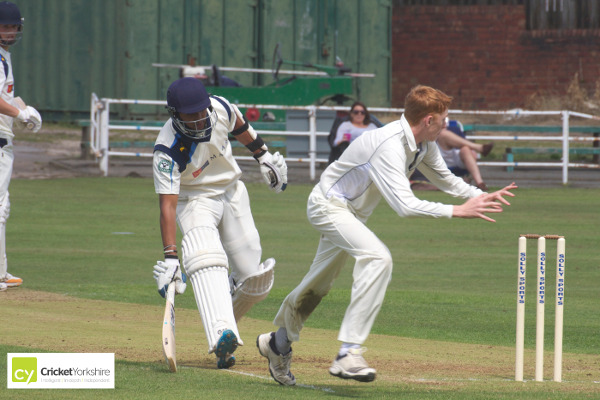 The Academy only had 102 on the board in the 44th over which takes the philosophy of 'digging in' to its extremes although credit to Castleford's bowlers who fought every inch.
It was a day for the trundler and twirler in Savile Park. Winstanley's medium-pace bagged him three wickets while two young Castleford spin bowlers, Jack Shutt and Edward Morrison, impressed with their bag of tricks.
Castleford's wicketkeeper Shelton, who looked even younger than Yorkshire's Barney Gibson did when he made his first-class debut, aged 15, against Durham MCCU in 2011, was extremely sharp behind the sticks and made a right nuisance of himself.
A score of 159-8 felt very achievable. It was a wicket that took spin for sure and the Academy had two players with first-class county experience in eagle-eyed stumper Gibson and left-arm off-spinner Karl Carver.
Nonetheless, surely confidence coursed through Castleford's committee during the tea break? Well, no, actually…the wise old heads had seen too many batting collapses this season to be willing to predict an outright win so early.
Mick kindly invited me down below ground where tea was eagerly being hoovered and offered up a plate and a steaming mug of tea. There's a no-frills, honest, earnest approach to life at Castleford Cricket Club that's easy to warm to but as a cake connoisseur, the cricket tea rally was something else.
Those who follow me on Twitter (@cricketyorks) know that the relative merits of a fine cricket tea rank very highly on any match-day experience and a shoutout to Susan who did the superb Castleford teas.
At the risk of sounding like a judge on the BBC's Great British Bake Off, her scones deserve acclaim across the country. Who knew a crispier scone base with an organic vanilla cream topping was the way forward? Get yourselves to Castleford and buy a cricket tea is the best advice you'll get this year.
The comfort of a cricket tea allowed time to chew over some pressing issues; not least the future of Castleford Cricket Club itself. To the impartial observer, it has its challenges.
Castleford's a rugby league town first and foremost. From the moment you step off the train, there's a sign to the ground and everywhere you go, there's signs of replica kit and people talking about how the Tigers are going to do against Widnes Vikings in the Challenge Cup Semi on Sunday.
When rugby league's Super League moved to being a summer sport back in 1996, the impact for cricket communities across Yorkshire was not necessarily immediate but the game suddenly had genuine competition and felt the squeeze.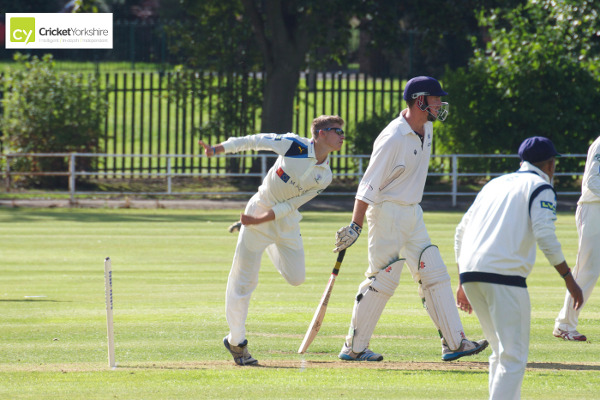 There are not exactly thousands at Savile Park to watch how Castleford will go about chasing 159 but as an attractive public park that's well looked after, a smattering of spectators are in place around the ground.
As it happens, fans of local cricket are spoilt for choice in and around Castleford with three clubs in three separate leagues all within close proximity. Just south of Castleford on the Leeds Road, Glasshoughton play in the Pontefract League while Townville actually do battle in the Central Yorkshire League.
For Castleford, that local club competition, along with the town's clear loyalty towards rugby league keeps them on their toes. Apart from being a really friendly, welcoming club, what they currently have in their favour is the ability to offer players ECB Yorkshire League cricket.
With discussions underway and likely to continue well into the winter months and beyond about the future structure of club cricket in Yorkshire, there will be winners and losers along the way.
In its broadest terms (because nothing has been decided), the hope is for leagues to feed into a pyramid system as opposed to the current scenario with a number of very strong, well organised and funded leagues kind of doing their own thing.
The fear at Castleford is that they will end up being relegated and lose their way down the leagues with the allure of the ground rather lost on potential players who will no longer have the appeal of top-level cricket.
The other worry remains the responsibility for the ground, which currently resides with Wakefield Council but might be handed over to them one day, with its significant associated costs.
For today though, there's the prospect of a home win and as the players and umpires trot out to the middle after the Ian Jackson Bell chimes for start of play, it's time to
It's always good value to sit down and spend some time chatting to those club cricket stalwarts who come and watch their local side, week in, week out. They invariably have a cricketing knowledge that far surpasses any Wisden and there's the colourful humour to go with it.
When I remark on the warm weather, one observer with the beginnings of a smile chips up with: "It's always like this here at Cas-Vegas…"
Cas-Vegas and 'Scarbados might be US-Yorkshire mash-ups but there's no denying the wicket is drying out nicely and after a few more leisurely circuits of the ground photographing the action, it's time to fold away the tripod and wave a fond farewell.
Hopefully Castleford will stick it out to record a rare win – a scroll of the scores back home later that evening showing they did indeed wrap up a much-needed five-wicket victory.
It's been a treat to see this Savile Park ground which once famously hosted a List A limited overs match in May 1967. Yorkshire welcomed Cambridgeshire in the Gillette Cup but due to rain, the planned sixty overs were slashed to just ten overs a side.
In the ensuing chaos of half a modern T20, Cambridgeshire managed 43-8 and Yorkshire snuck home by six wickets. It's a ground that has graced everyone from Trueman to Bresnan and long may it continue to be a vibrant part of Yorkshire cricket.
There are challenges ahead no doubt for Castleford but judging by those at the heart of the club's day-to-day running, it's in very safe hands.
*CLICK ON THE FLICKR ALBUM BELOW TO SEE THE FULL SELECTION OF MATCH-DAY PHOTOS:
Latest posts by John Fuller
(see all)