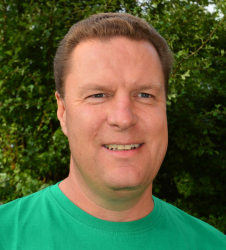 Latest posts by Andrew Gallon
(see all)
I am not one for soaking up the sun, hour after hour – whilst watching cricket or doing anything else. Acquiring a tan? Two weeks comatose on a beach? No, thank you.
It means cricket grounds lacking shade, to the south and/or the west, must wait for a cloudy day before I'll visit.
Digital satellite maps (another boon!) indicated Birstall Cricket Club's Leeds Road ground doesn't have many places to escape the sun. Perfect, then, for the sort of overcast afternoon predicted for 2022's third Saturday in May.
Birstall were hosting Baildon (then Morley, the following afternoon). With both teams occupying mid-table, seventh and sixth respectively, in the First Division of the Bradford Premier Cricket League, a close game seemed likely. For a neutral, ideal.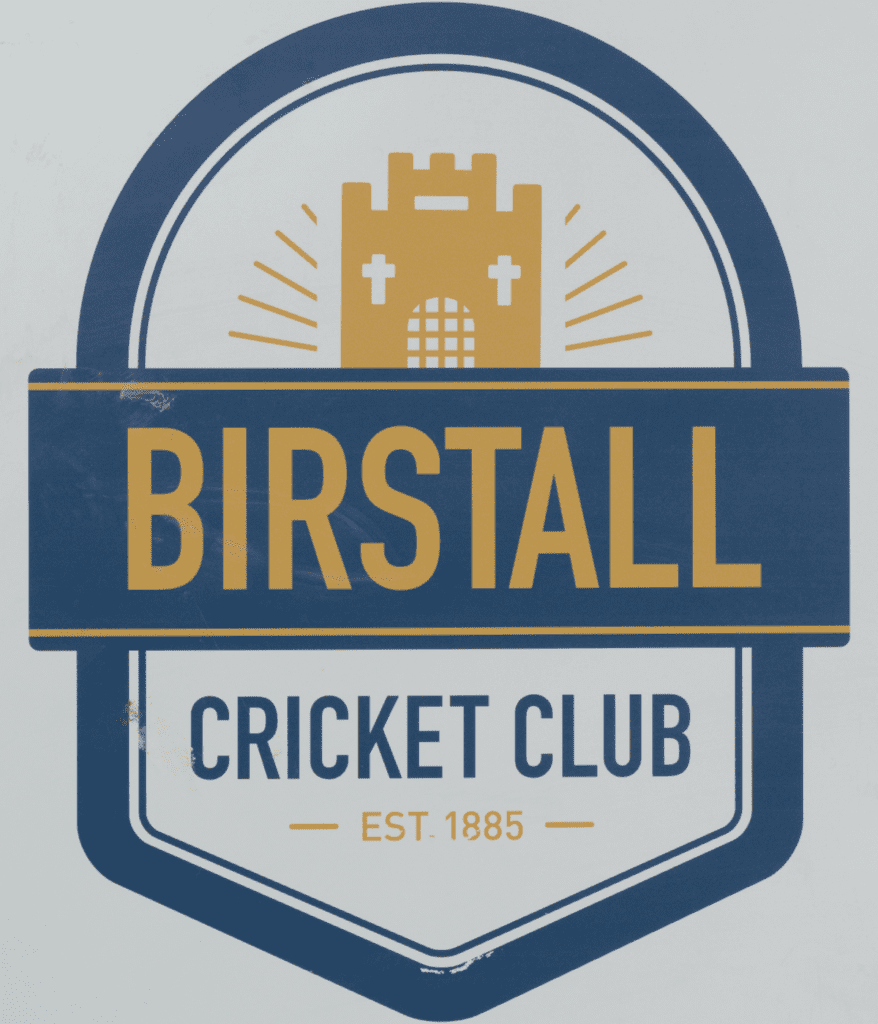 I hadn't expected Birstall's ground to be so high up. I don't know why, because I've been to the Batley district numerous times, therefore am familiar with its topography.
Perhaps no coincidence that the discoverer of oxygen, Joseph Priestley, hailed from Birstall. I daresay slogging up and down the district's hills, as a lad, focused his thoughts.
From traffic lights on the A62, ignoring a right turn into Birstall's centre, I climbed steadily towards a plateau. I'm thinking I'm not the first to miss the hard-to-spot cricket ground entrance. A quick U-turn, however, and I was in.
---
Inside the tidy tearoom, next to the entrance, spread out over a series of boards, is a smashing display of Birstall Cricket Club memorabilia. It outlines the club's rich history.
---
Put together, it appeared, for a Huddersfield University project, the display is very similar to the one in the clubhouse at nearby Batley Cricket Club. Same project, I daresay.
Fascinating facts include: the Leeds Road ground stands at 456 feet (which, ranked by height, puts it in the top third of Kirklees cricket venues); over the years, the village of Birstall has had no fewer than 17 separate cricket clubs. Remarkable.
Birstall Cricket Club's formation date is 1885. It features on the club badge, along with a castellated stone tower. Enquiries revealed this to be Brass Castle, a lost landmark whose site is close to the ground. The name, I was told, is kept alive by a bus stop.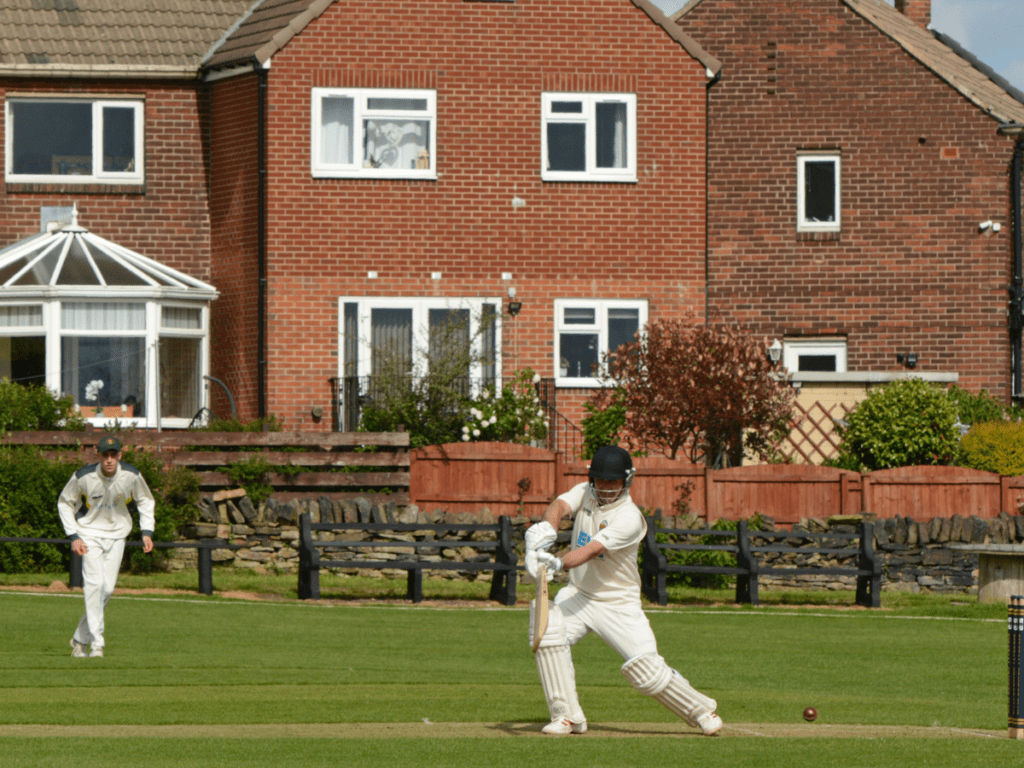 The 'castle' was a Roman watch tower, located on a ridge to command views over Birstall and Morley. The course of Tong Street, not far away, is a former Roman road. 'Brass' derives from 'brae' ('the top of a hill'). Where there's muck, there's brae. Maybe.
The Bradford Premier Cricket League's excellent website reveals cricket was first played in Birstall during the 1850s. Birstall Albert Cricket Club were the pioneers. They soon changed their name to Birstall Victoria, relocating to Leeds Road in 1870.
An 1883 merger with Birstall Rugby Club followed. I assume this is the modern Birstall Victoria Amateur Rugby League Club, who play in the Yorkshire League. Whether there is a direct connection, I don't know.
When the cricket and rugby sections decided, two years later, to go their separate ways, Birstall Cricket Club came into being.
Birstall joined the Bradford League in 2016, ending a long association with the Central Yorkshire League. Prior to that, Birstall were, for decades, members of the Heavy Woollen League and, for one season, 1936, the Leeds League.
---
Up to and including 1954, Birstall won the Heavy Woollen Cup on seven occasions. The first two were in 1885 and 1886. Their victim, each time, was the sadly defunct Dewsbury & Savile Cricket Club.
---
The impressive historical survey in Birstall's tearoom refers to Leeds Road as a "hidden" cricket ground. It's apt.
Positioned several feet higher than Leeds Road (the A643), overlooked only by the houses hemming it in on all four sides, the ground isn't easily seen or found.
Unlike the gritstone used down in town, brick is the building material for the adjacent homes. Not many years ago, the ground must have been isolated, splendidly, amid fields.
On a cold, windy afternoon, spectating (and playing and umpiring, of course) must be a bracing experience.
Fortunately, the breeze didn't amount to much. Neither, as forecast, did the sun. It couldn't have escaped cloud's embrace for more than eight overs, spread across the afternoon.
Birstall's pavilion/clubhouse occupies the northwest corner. Doubtless, on the basis if you cannot move, you improve, it has been extended.
The original, two-storey, brick pavilion – dressing rooms upstairs – has a flat-roofed clubhouse tacked on to the front. Beyond that is a small area of covered seats, set aside for players. The benches commemorate Paul Brook, Claire Gilman and Eddie Wood.
As is so often the case, the clubhouse is much more appealing inside than out. It's modern and smart. A lot, including a bar and a stage, has been packed into the available space.
There is a superb collection of yesteryear team photographs, along with a lengthy tribute to club stalwart Paul 'Brooky' Brook (as above), who died in 2018.
More striking, architecturally, is the cream-washed tearoom/scoreboard combo in the northeast corner. The scoreboard is dedicated to Eric Austin, a Birstall Cricket Club legend.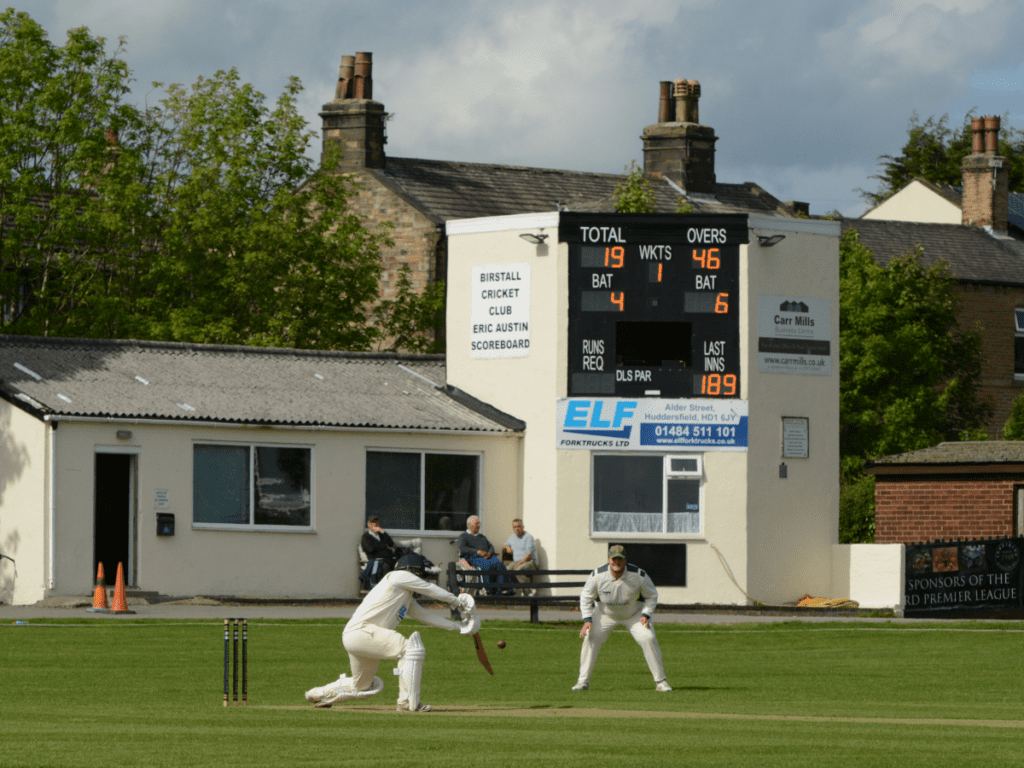 New Zealander Eric arrived at Birstall in 1998, as a 24-year-old. Birstall took a chance on a player who had just started playing first-class cricket back home.
The gamble paid off handsomely. Eric went on to pile up run after run (almost 600, last season, in the league) whilst sporting the blue and amber. Three years or so ago, Eric, I was told, returned to New Zealand, with his wife. They couldn't settle and returned to Birstall.
During his brief absence, Birstall had erected a sign, dedicating their scorebox to Eric, who re-joined the club upon his 'second coming'.
Eric opened the batting against Baildon. Not, unfortunately, one of his better days. Having survived a couple of leg before shouts, he was bowled for six. Even legends are fallible.
Pitchside parking is available, on grass, at the south end, towards which the sloping pitch descends. One or two concerned drivers returned to move cars in the attempt to avoid the sound of breaking glass.
Intercepting a down-the-ground drive, the sight screen spared me either a shattered windscreen or a ball-shaped indentation.
A handy tip I picked up from a chap present to watch his teenage son, Sam Holmes, an A-Level student, making his first-team debut for Baildon: park with your windscreen facing the pitch.
If broken, it's cheaper to replace than the rear window, which contains the costly electrics responsible for clearing condensation. Good to know!
Also at this end, shoehorned between boundary rope and back gardens, are permanent nets, with an all-weather surface. National Lottery funding helped pay for them.
Prior to the start, a Birstall club official drained water from the stowed covers' gutters. "Is that from last night? asked a local. "Yes. They said showers but it really came down."
---
Towards the end of the game, as a six-wicket defeat became inevitable, a Baildon fielder remarked: "We should've got 240. It's a nice wicket to bat on."
---
The visitors, who elected to bat, were dismissed for 189 in the 49th over.
I was looking forward to watching Kevin McDermott, who had hit 122 the previous Saturday against East Bierley. A team-mate advised: "He'll be out for a duck or he'll get a lot."
As it transpired, McDermott defied convention by falling between two stools: he made 43. Baildon's top scorer, mind. A circuiting team-mate told me: "Kev's out. You can go now!"
Baildon, whose innings faded after a bright start, had no answer to the fast-medium pace bowling of Jaymish Patel, who finished with 6-56 off 13.1 overs.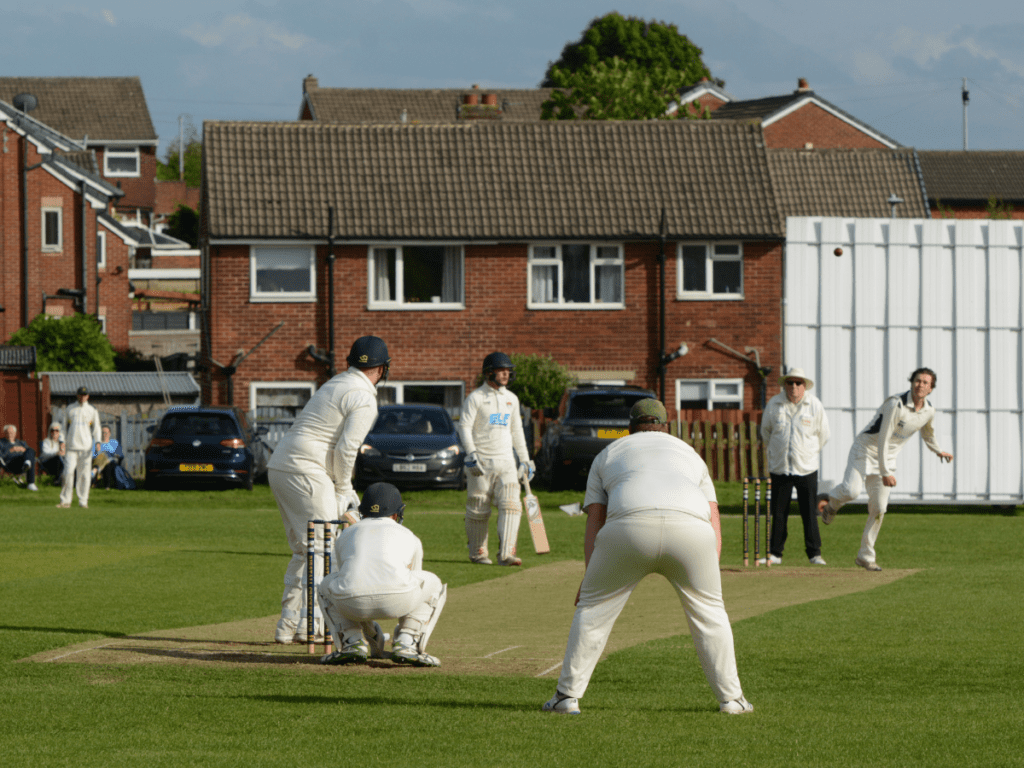 Birstall, on the case from the first delivery, fielded impressively. The only catch they spilled was a very difficult chance.
A foot race beneath the falling missile, a full-length dive and the ball went down. "He's quick, him," observed a team-mate, as I expressed admiration.
Supporting McDermott, Jonny Reynolds, in at number three, contributed 38 and fifth batter Will Kelly 30.
Baildon were buoyed by the early departures of Austin and fellow opener Andrew Robertson. It left Birstall 44-2.
---
While the economical McDermott was bowling, the visitors had every chance. His 1-26 off 15 overs included eight maidens. Either side of drinks, Baildon kept it tight.
---
But, in the end, Matthew Dyson (81 not out, with four sixes, off 110 balls) and Brandon Silverwood (48 from 52) saw Birstall to victory.
Once McDermott, bowled out, was removed from the Baildon attack, it was a different game. A flurry of boundaries ensued.
Silverwood and Dyson put on 50 for the third wicket then Dyson, with captain and wicketkeeper Nick Kaye (24 not out), added 69 for the unbroken fifth. 191-4 in 43.3 overs. A Dyson cut to the boundary, garnering four, clinched the win. Abdullah Khan took 2-45.
Thankfully, an increasingly heavy shower, jettisoned by a huge black cloud, a little over halfway through the Birstall reply, was short-lived.
One of a group of kids, mucking about beyond the west side boundary, shouted: "It's raining, it's pouring, the old man is snoring." Good to hear this sort of stuff gets passed along, from generation to generation.
In case you're wondering, next day, Birstall beat Morley by five wickets.
The weekend's accrued points took the Leeds Road men, so close to promotion in 2021, to 100 for the season and advanced them to third place, behind leaders Jer Lane and Carlton, second.

Many thanks to Andrew whose club cricket series, Miles per Gallon, is on cricketyorkshire.com throughout the summer.