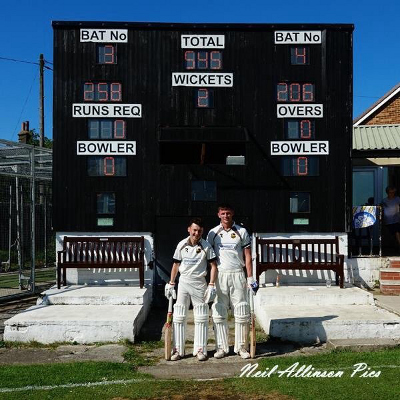 Pudsey St Lawrence's record-breaking 2nd XI Priestley Shield home tie with Brighouse will go down in history for any number of reasons.
The Toft Road crowd saw their team go from 66-2 to 525-3 as Jack Allman hit 258 off 141 balls and Harry Cullingford was unbeaten on 206 before a curious declaration three balls from their full 50 over quota.
Allman's historic double-hundred is the highest individual score ever compiled in the Bradford Premier League, eclipsing Alex Lees' 227 not out for Lightcliffe back in May.
The third-wicket stand of 459 between Allman and Cullingford is a record partnership for the league and you would do very well to see it surpassed anywhere in the country.
As you'd expect, the Brighouse bowling figures are brutal on what must have been a punishing afternoon for them with the weather as unforgiving as the batting.
I have been in sides where the collective bowling is being flayed and heads inevitably drop as tempers fray.
No-one likes to be on the wrong end of a drubbing.
However, what they did next was even more unexpected as Brighouse declared after just one delivery of their innings to forfeit the match.
The Bradford League Management Committee are in the process of studying the report of match umpires Brian Atkinson and Dave Parker so there may well be twists and turns yet to this story.
What is at stake is whether the spirit of cricket is deemed to have been infringed and did Brighouse – or Pudsey St Lawrence – bring the game into disrepute?
There's plenty to cogitate on this one.
HOW MANY RUNS IS ENOUGH?
Did Pudsey St Lawrence need to score as many as they did? Are we impressed or appalled?
It brought to mind the Mumbai 15 year-old who scored 1,009 not out back in 2016.
Some marvelled that anyone could reach 1000+ runs in a single innings but others highlighted the pointlessness of such a one-sided encounter and the fact that some of the bowlers from that day are now three foot shorter.
It wasn't that extreme in Pudsey but needless to say, Brighouse didn't take too kindly to going for 500+ but Pudsey St Lawrence were entitled to bat their overs.
Why did Brighouse not go out, swing the bat and have some fun rather than giving up so prematurely?
You'll read both sides as I've also interviewed Nick Patefield, Brighouse 2nd XI captain, later on.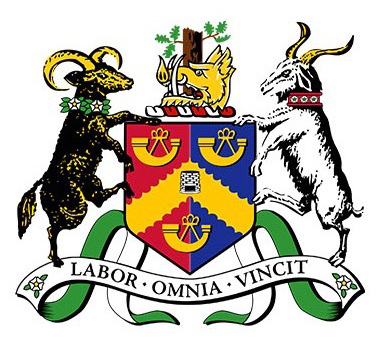 Could this threaten the batting feats in official records?
By not completing the match, I don't know if the fixture's performances will be declared null and void.
In turn, the home support certainly didn't like this tactic and words were exchanged, if I can put it more delicately than what actually transpired on the day.
The cup tie on the face of it was already a mismatch between PSL, who are mid-table in the Premier Division for Second Elevens and Brighouse, bottom of Championship 2.
But let's leave the controversy for a moment and dwell instead on two outstanding feats of endurance, concentration and technique.
These were young cricketers who must have been tempted to have injudicious heaves after they'd notched personal bests and the sun was oven baking them.
Instead, they remorselessly went about their business. It takes a certain single-mindedness to tell yourself that a 100 or 150 is still not enough.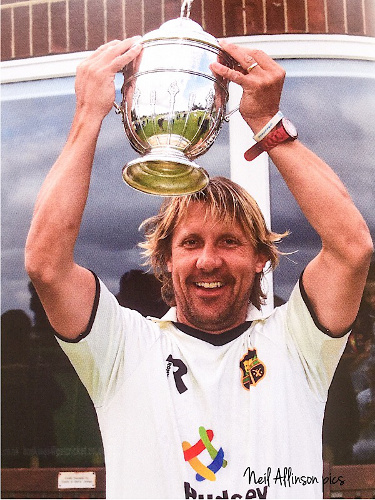 Iain Priestley, captain when Pudsey St Lawrence second-team won the league and cup double in 2015, was able to give his insight into both cricketers.
Wicketkeeper batsman Jack Allman has been at Tofts Road since his early teens and Iain summed him up as: "quite aggressive, only a little chap, plays well off the back foot."
Allman was integral during the 2015 club double, had a quiet year last season but scored more runs in 49.3 overs last Saturday than he did in the whole of 2016 – so it's fair to say he's regained his touch!
A bit older than Jack, Harry Cullingford has been at Pudsey St Lawrence right the way through the age groups from under-9s.
Priestley describes them both as having "first-team potential" but a lack of junior cricket as they outgrew the age groups counted against them.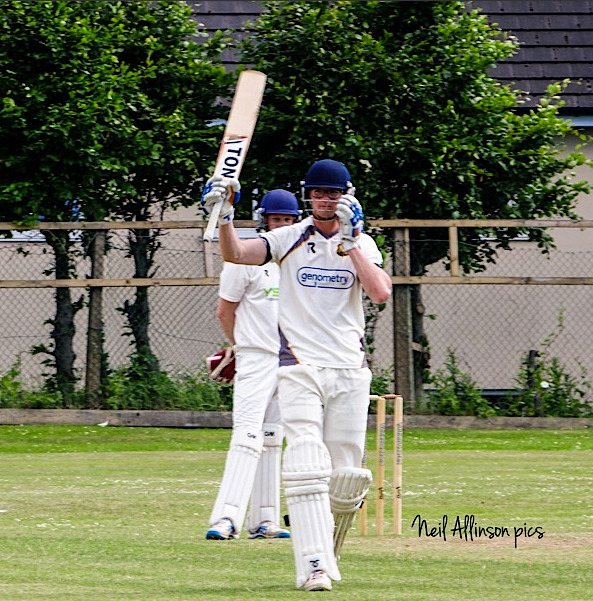 Cullingford is a tall, powerful middle-order batsman who hits the ball hard but what surprised even Priestley is that both cricketers sustained that level of performance for so long:
"They're good players, we've played on some green ones recently but this was a really good pitch. It's not the biggest of grounds so they've filled their boots."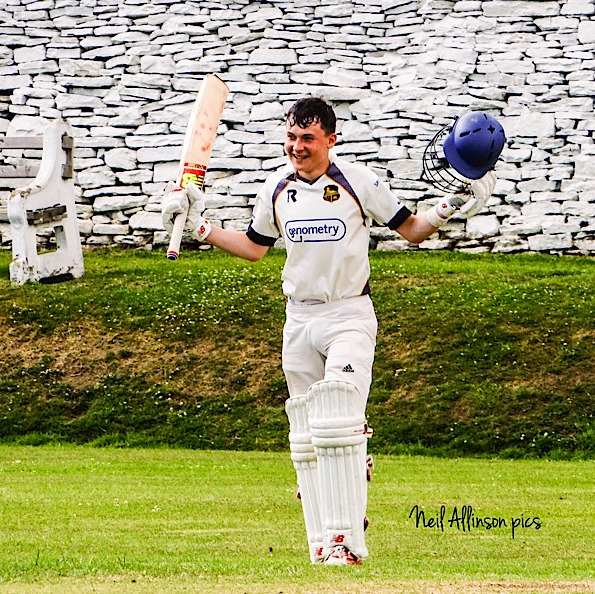 At Tuesday night practice, Cricket Yorkshire caught up with record-breaker Jack Allman (above) to find out if the fact that his was the highest innings in Bradford League history had sunk in:
"Not really! When I got to a hundred, I didn't expect to go on but nice conditions to bat. It were a good day, really enjoyed it."
At no point did Jack boast, disrespect the opposition or get carried away in our interview.
If anything, he played down his achievement despite his previous highest knock being 88!
Apparently, the reason Pudsey St Lawrence declared just three balls from the close was that there was no-one padded up.
Curtis Hardaker had been waiting to bat for about 40 overs then was out after a few balls and that threw everyone.
Was this disrespectful to the opposition? I'll let you mull that over…I wonder what other captains would have done?
So what next for Jack? First-team action remains the goal but he never wanted this particular record-breaking match to end:
"As soon as we finished batting on the Sunday, I wanted to go back and play again. I want to push for a place in the first-team and hopefully more innings like that can prove a point."
Jack was dropped on the boundary on 114 and again when he'd reached 250 and then in the second last over, he was finally out – stumped – trying to hit the ball into Leeds city centre.
At the other end, Harry Cullingford's 206 off 112 balls was, so those that were there tell me, a chanceless knock and on any other day would have stolen the headlines on his own.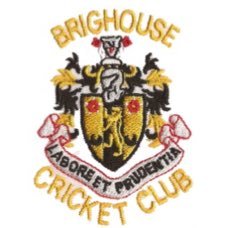 THE BRIGHOUSE VIEW
I talked to Nick Patefield, Brighouse 2nd XI captain, to get his view of this controversy and why he conceded in the manner he did.
By their own admission, Brighouse have been struggling to get a team out each week and according to him, were only in the Priestley Shield as other clubs weren't included in the 2017 draw as punishment for not fielding sides last year.
Editor's note: David Young, Chairman of the Bradford Premier League, has since emailed Cricket Yorkshire to clarify the Priestley Shield is an optional competition for all clubs except premier teams. Brighouse chose to enter this competition and were in no way compelled to do so. 
Brighouse only had nine men on one of the hottest days of the year. I've not seen this mentioned anywhere else.
"We did our best…not taking away anything from the two lads..they batted really well.

We had five lads practicing Ramadan so they couldn't take any water on board so they were really struggling in the heat."

Nick Patefield, Brighouse 2nd XI captain.
At the last drinks break, Nick talked to Pudsey St Lawrence captain Jordon Moore with the score on 390-2 and asked if they were going to declare which was rebuffed.
Patefield admits (and who can blame him) that Brighouse had "lost all interest by that time but we carried on as best we could and acknowledged the 100s, the 150s and 200s."
Nick's side of the story (and I can't verify this) is that the fielding side were getting comments from the spectators which won't have helped.
Cup rules mean it's ten overs per bowler so that meant players who don't normally bowl had to fill overs and they were given more punishment by the batting side.
But what Nick describes as "the final insult" and "another kick in the teeth" was when Pudsey St Lawrence declared with three balls to go because no-one had bothered to pad up.
Nick discussed it with his players and his take is that the umpires couldn't believe the batsmen had carried on but couldn't intervene. He then asked the umpires if Brighouse could declare and were told there were no rules against it.
Brighouse didn't want to suffer further embarrassment, as Nick puts it, and risk being rolled over for 25 because they were all knackered.
"We just felt we were taken advantage of, we were laughed at and it was all for self-gain. I know people mention records but in the last 20 overs, we were just throwing them the ball…there was no competition."
The Brighouse captain on the day went on to say:
"It shocked a lot of people. It's something I didn't want to do but I just felt I had to stand up for myself and my players. I'd do it again tomorrow if I was put in that same position."
So, are Brighouse reeling from this? Has it affected cricketers' enthusiasm for the game? Far from it, they had the biggest turnout at nets for their second team this week for two years.
Where do you stand? Brighouse didn't walk off the field. Everyone to a man stuck at it and lasted the whole innings.
That has to count for something. I've played league cricket for twenty years and seen my fair share of pulled hamstrings and mystery illnesses when the going got tough.
Much is talked about the spirit of cricket but that cuts both ways.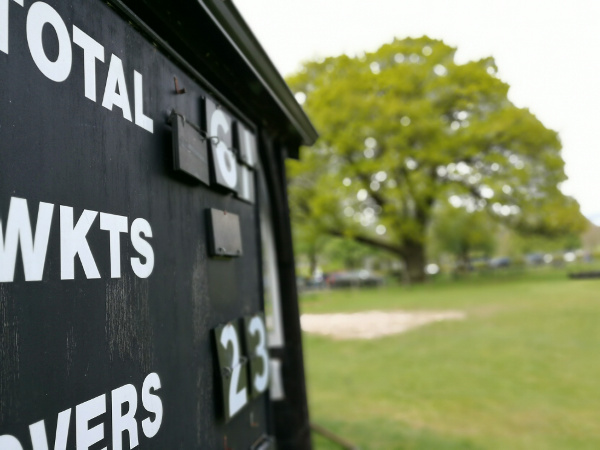 SO, WHAT DO YOU THINK?
Given all you now know, what should have happened?
In any event, congratulations to Harry and Jack for an extraordinary feat that should stand in the record books.
But equally, Brighouse fielded with nine men in the sun and despite a humiliating score, they didn't give up during their fielding and deserve equal praise for that.
Here's that extraordinary scorecard: https://www.crichq.com/matches/532581/1st_innings and do share this article and give your view on social media.
Editor's note: Thanks go to Alan Birkinshaw, Iain Priestley, Jack Allman and Nick Patefield who all contributed with contacts or interviews.
Photo credit: Neil Allinson (Neil has been involved with Pudsey St Lawrence for 60 years and was on hand to capture the historic moment).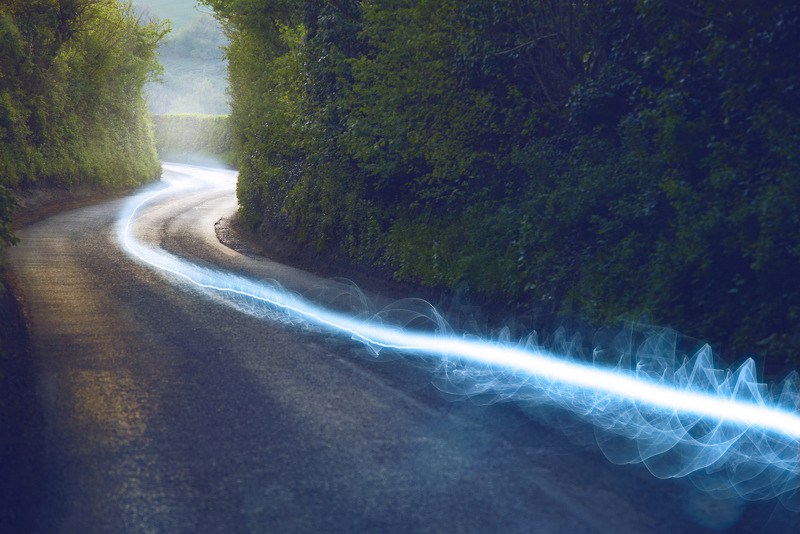 PLEASE SHARE THIS ARTICLE…
**If you think this article added to your day's enjoyment, any and all article shares on Facebook and Twitter by the buttons below are always appreciated. Helps spread the word about Cricket Yorkshire far and wide and introduces more people to this debate.
What do you think about this particular match? Tweet us @cricketyorks or comment on the Cricket Yorkshire Facebook page!
Latest posts by John Fuller
(see all)