With funding from the Yorkshire Cricket Board (YCB), there is a programme in place to deliver cricket to those who've never tried it, in areas with large BME (black and minority ethnic) populations through development centres.
The YCB cover the cost of venues and coaches (these are local to each community) and the 10 development centres offer free indoor junior cricket coaching over six weeks during the winter to complete novices with the goal of connecting these kids to local clubs.
It's not a new scheme by any means (running for twenty years) but is quietly ensuring those who have never picked up a cricket bat before or learnt how to throw can give it a go and progress if they want.
Last year in Yorkshire, 420 juniors (who were aged between 7 to 17) attended the BME development programme with one centre running a girls-only session.
Supported by both qualified coaches and volunteers, the class of 2017 ensured continuity with links forged across 23 cricket clubs.
To find out more, I met up with Sarfraz Qureshi who is the lead coach at the Keighley BME development centre where children were having their final coaching session before linking up with Riddlesden Cricket Club.
It's a Sunday afternoon in March and boys and girls, aged between four and eleven, are lined up in Marley Sport Hall off Keighley's busy Aireworth Road.
Sarfraz is asking the assembled children about some of the ground rules they've learnt during the past month and a half.
What don't we do here, kids? Hands shoot up. No swearing. No fighting. No bullying.

What do we do? Listen. Teamwork. Help each other…
Ok, asks Sarfraz, what we have learnt in previous weeks?
Archie, stands confidently in his orange T-shirt, then announces 'Long barrier!' and is then picked out to give a demo to the group then heartily applauded by all.
There are a series of simple coaching drills like picking up a tennis ball, touching the far wall of the sports ball then putting it back on the tee and joining the group. These shuttle runs test hand-eye co-ordination, mimic fielding for a runout and gets the heart pumping.
In three teams, the children offer advice to each other, no-one has a dig at others for being too slow and everyone seems to love it, judging by the shrieks of delight.
Each team gets a football identity…like Manchester United and Liverpool…and that in itself speaks volumes of the battle cricket faces for the hearts and minds of this generation.
Football dominates this age group way ahead of cricket. Remember, they had never played the game before beginning with this BME Centre but you can guarantee they know the names of football teams and wouldn't have a clue about their cricket equivalents.
When I arrive, the kids are all kicking a football around with an oversized goal dwarfing them at one end. When the session finishes, they go back to punting a football about and nearly poleaxe me during an interview!
Football is engrained from its TV coverage to the fact that here at Marley, facilities include a full size floodlit artificial football pitch, eight football grass pitches, a junior size football grass pitch and a mini soccer grass pitch.
To some extent, Keighley is a rugby league town with Keighley Cougars on Royd Ings Avenue though there's rugby union and the cricket club compete in the Bradford League; yet football has a considerable head-start.
No matter. For the next ninety minutes, cricket takes centre stage as throwing practice and fielding stops allow these twenty or so local children to hurl themselves about and sharpen their rocket arms. It is noticeable that about half of those attending are girls.
Talking to the coaches and volunteers, Keighley BME Centre has made a concerted effort to persuade parents to bring their girls along and also to stay and encourage or even take part.
This is being followed through as the Riddlesden Under 11s (from the Centre's winter intake) will have two female joint captains in Imaan Zharah and Sahdia Umar.
It will be worth tracking how the class of 2018 transfer to outdoor cricket in the Upper Airedale Junior Cricket League.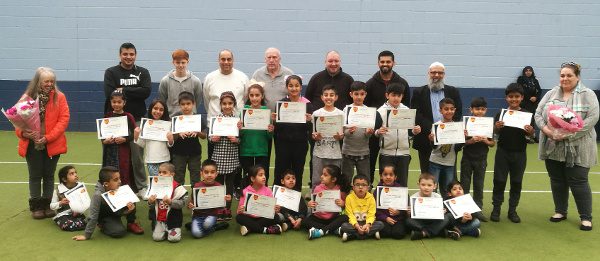 Either way, it's already a glowing success because these BME Centres have been offering cricket to those not already connected to the game in any way for decades.
Many are from deprived areas of towns and cities who can't readily access cricket – so it has to come to them.
The kids I saw had not received any coaching before their Marley visits and were completely new to the game yet according to Sarfraz (with a hint of a proud coach's bias and a glint in his eye) several will go on to play for Yorkshire.
Wouldn't that be something?
THE CRICKET YORKSHIRE PODCAST BELOW: Listen to Umar Rafiq (YCB Director) and Sarfraz Qureshi (Keighley BME Centre, Coach)
It's a short discussion of the success at Keighley and BME Centres more generally then touches upon issues such as the lack of cricket in schools and the importance of opportunities for all.

SHARE THIS ARTICLE/ PODCAST!
Now know more about cricket for the BME community in Yorkshire? Inspired by this tale of coaching newcomers to cricket?
Please show your appreciation by sharing the article using the Twitter/Facebook buttons below. Thanks for reading and listening and we'll catch up again with a new article soon.
LINKS: For all of the contacts and addresses of BME Centres across Yorkshire from Sheffield to Bradford, visit the YCB's BME Centres section of their website.
Latest posts by John Fuller
(see all)