As a club cricketer, travelling away from home was always a delight for me, wherever I've played in the UK.
In West Somerset, we would rocket around country lanes, with hedgetops converging like untamed eyebrows, en route to an idyllic cricket field that was hidden, unless you knew it was the third left past Lower Middle Wallop Farm.
In Buckinghamshire, we turned up after a long drive from Teddington to see a beautifully lush green patch in the countryside. The downside that day was the opposition hadn't cut a wicket but you can't have everything.
In Yorkshire, I've bowled on a former county 2s ground (Salts), run out of clothing to wear on a windswept hilltop (Denholme) and stood on the edge of the world (Sandy Lane), gazing across at Haworth.
Fond memories…so, I thought I'd pose a question to the cricket universe around favourite away fixtures, given the season is on pause and we'll got some time to ponder these things.
AWAY MATCHES: What's your favourite club cricket away fixture – and why?
?Tweet or DM @cricketyorks
?️ I'll feature them in an article soon!
? Is it the teas?
? Opposition?
?️ Views?
? Playing record?

Let's hear from players, umpires, scorers and spectators. Thanks, JF. pic.twitter.com/ijwvxy6geO

— Cricket Yorkshire (@cricketyorks) April 25, 2020
The response on Cricket Yorkshire's Twitter and Facebook pages was lively, packed with anecdotes and thanks to everyone who contributes comments and photos.
Matt Summerhill reckoned: "On a nice day, not many nicer places to play than our rivals over the hill at Bradfield. Also loved the one occasion I played on the main ground at Shaw Lane, Barnsley. Unlike a lot of big complexes feels like a proper cricket bowl. And the tea at Conisbrough – wowsers."
In case you're wondering, as I was, about Conisbrough's teas…Matt did follow-up with some detail on that most pressing of issues. Everything from Southern Fried chicken to home-made trifle apparently.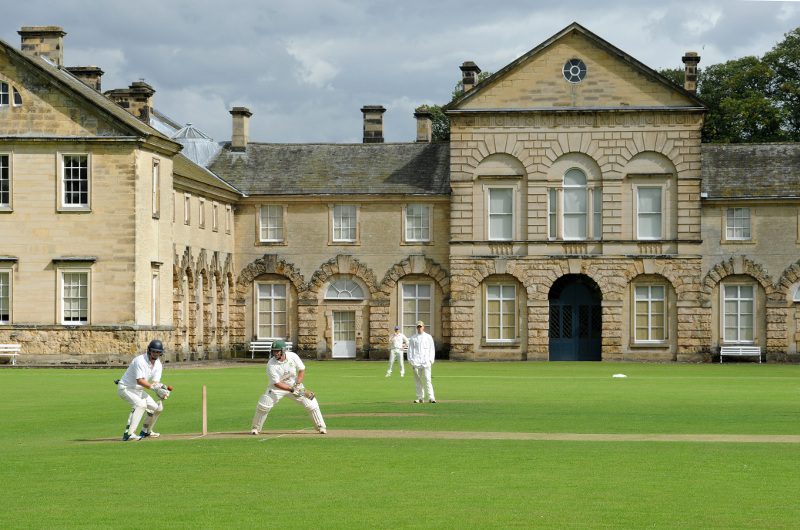 There was plenty of appreciation for getting a chance to play at Hovingham. As Ian Lumley put it: "Essentially playing on the lawn of Hovingham Hall and good craic in the Cricketers bar of the Worsley Arms post-match."
There was a Scottish contribution as Barry Leaper got in touch to say that: "In the Aberdeen grades league, we played away to Crathie most seasons. They play their home games in the grounds of Balmoral Castle."
Wouldn't that be something? Now, that's a trivia question…how many cricket grounds in Yorkshire have a castle in view? Must be a few.
I certainly know of one (though I've not got there yet) as Sheriff Hutton (below) comes to mind. For the record, Sheriff Hutton and Sheriff Hutton Bridge have merged with the latter keeping the name and the Castle ground being retained too.
There's certainly cricket clubs in towns where there is a castle such as Knaresborough and Ripon.
It's not always just the pitch or the views that make it memorable. David Crowther gave his vote to Thongsbridge CC, who are based north of Holmfirth.
"Thongsbridge…nice new clubhouse, teas, people, and one of the best young scorers, and only 5 minutes back to my home club Scholes (Holmfirth)."
Their modern, stylish clubhouse in wood and glass brought to mind Copley who play in the Halifax Cricket League.
Thongsbridge HQ (see below) is a cracker and having looked at their website, it's a reminder of the impact of coronavirus with facilities like this sadly lying empty when they'd ordinarily be used and hired out.
Thanks also go to David Fawcett for sending across photos. His recommendations included Kildale and Broughton & Kirby in the Langbaurgh League.
Look at those views from Broughton & Kirby Cricket Club with the Wainstones looming up behind where the Cleveland Way winds through.
David assured me that they also have one of the finest wickets around for good measure too.
Now, we can't talk about an away trip, anywhere frankly, without waxing lyrical about cricket teas.
Some of the finest I've sampled have included Farsley, Airedale and Cawthorne to pluck a few platefuls from the memory banks.
It can make the long journey all the worthwhile if you know the pork pies or home-made cakes are a feast for the eyes and stomachs.
It has even been known to dictate whether a side bats or bowls first.
West Bretton, a Barbara Hepworth's throw from Yorkshire Sculpture Park, crops up in dispatches frequently for the quality of teas – and it did again.
I couldn't track down pictorial evidence but I do have their ground as a more than adequate substitute.
Which opposition club does the best cricket teas in your league? Who wins those all-important culinary awards at the end of the season?
Leave a comment after the article….it never hurts to start building a shortlist for when club cricket returns!
There were nods for various clubs in the teas department. Nick Thompson reckoned Bradshaw CC is a showstopper:
"Cricket Yorkshire, it's the amount and variety of the spread. Usually, amazing cakes, filled Yorkshire's, different nibbles, quality meats in the sandwiches. You can tell a lot of effort goes into them. Don't think many, if anyone, in the Halifax Cricket League would disagree."
On Twitter, Haydon Jackson suggested a trip to the Yorkshire Wolds: "Londesborough Park was a good away game… good spread, good views and nice stop off at Wetwang chippy on the way back."
Last but not least is a suggestion from Rik Andrews for a cricket ground that has character, epic views and a location to marvel at. I've featured Haworth West End on this website before.
Well, last year Mrs Cricket Yorkshire and I took the steam train to Haworth, walked the incline through its heart and out onto the moorland of Penistone Hill.
There was no cricket on but the wicket was prepped and the views…..if you get a chance to go there, it's pretty special, despite limited facilities.
Thanks to everyone who contributed, I couldn't include all the comments but if you want to click on the Facebook thread below (or the Twitter post at the start), it'll re-direct you to that social media platform.
There's photos, opinions and a wealth of knowledge. Here's to away fixtures near and far….who knows when we'll all back playing and watching cricket but I will be clocking up the miles when we do!
Have your say and leave a comment!
Readers commenting on Cricket Yorkshire articles is still relatively new but we've had so many rich and varied conversations from those who really know their cricket over the months.
If you have any recommendations of cricket clubs in Yorkshire and why you like going there, do add your comments below!
Latest posts by John Fuller
(see all)