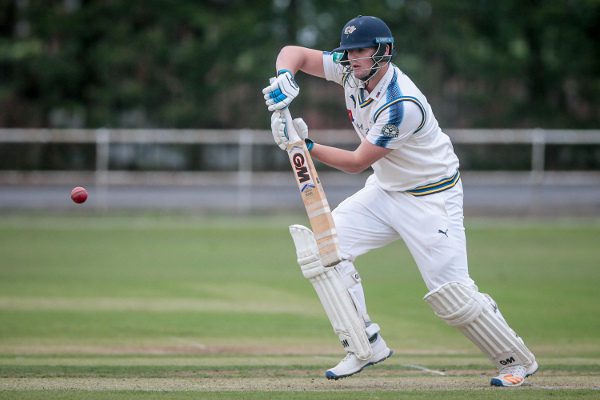 Yorkshire CCC opening batsman Alex Lees is talking to me as the echo of conversation bounces off the walls in the sports hall under the East Stand.
The capricious nature of the weather has brought with it a flurry of snow so the interviews are indoors and we grab a few minutes before the team photos are underway.
In the very first minute of our chat, Alex talks of going back to the drawing board and whether that's literal or more a figure of speech, he is acutely aware another year like 2017 is not on the wishlist.
Lees was a regular in a Yorkshire top six that creaked rather than purred in the County Championship but his 531 runs at an average of 24 meant he was part of the criticism from fans.
As he discusses, if you listen to the Cricket Yorkshire podcast below, part of the rethink has seen Alex tweak his technique so his batting stance is more of a crouch.
He's a laid-back bloke who I've interviewed before and you can tell that the barbed comments about his batting have stung but he is looking forward:
"That's all you can do is move on because unfortunately, if you dwell on things, in sport or in life, you can beat yourself up. You find yourself at the same place as you were the previous twelve months ago."
With the clarity that time away from the middle over winter brings, Lees sounds as though a lean 2017 has toughened him up for the inevitable rollercoaster of another county season.
It might be a soundbite for my benefit or a lesson from Dr Mark Nesti, a specialist in applied sports psychology at Liverpool John Moores University, whose expertise the county are now tapping into.
Speaking to yorkshireccc.com, his Coach Andrew Gale certainly seems positive: "From what I've seen with Leesy, his stubbornness for runs is coming through again. He's one score away from being back in form."
"He's had a good pre-season. You can tell since he's come back how much fitter and leaner he is. He's desperate to prove people wrong. And he will."
We get to talking about competition at the top of the order with Lyth, Lees and Kohler-Cadmore acutely aware that three into two doesn't go.
Cheteshwar Pujara is a world-class opener-in-waiting – if Yorkshire choose to go that route though Pujara is more likely at three where he bats so efficiently for India.
Lees' reply is telling in that Alex doesn't trot out a respectful, middle-of-the-road answer about 'wait and see' but assures me that he will be picked, if he bats how he knows he can bat.
Cricket is a game of ifs and buts and yet if you are one to look for patterns then Alex Lees is due a stellar 2018 after averaging 33 in 2015 and then plundering 1,000 Championship runs in 2016.
If only it was that simple, eh? Well, for Lees, being the best version of the batsman once mentioned for an England call-up is all he can do and Yorkshire need him firing from the start.
LISTEN: THE CRICKET YORKSHIRE PODCAST WITH ALEX LEES:
CRICKET PHOTOGRAPHERS
Cricket Yorkshire is fortunate to be able to benefit from two professional cricket photographers this year.
Ray Spencer does the Bradford League website photos and Mark from Caught Light Photography is going to be on hand to offer his view from the lens on club, league and county cricket.
Latest posts by John Fuller
(see all)