On a roasting hot day at Barnsley Cricket Club, Yorkshire 2nd XI took on Northamptonshire seconds in back-to-back T20s.
The prospect of seeing Vikings overseas signing and current Australia T20 captain Aaron Finch make his long-awaited return from a hamstring injury ensured an even healthier crowd.
Deckchairs were parked in prime locations and the white shed where the groundsman's equipment is normally housed was doing a roaring trade in ice-creams – which also came round in a wheelbarrow for those who appreciate the personal touch.
Barnsley are faring well in the ECB Yorkshire League and their various age groups have yet to lose this season; a remarkable fact proudly shared by their secretary Keith Hampshire as Yorkshire and Northants went through their pre-match drills.
This was a strong second XI for Yorkshire with a number of first-teamers shoe-horned into the side at Shaw Lane such as Hodd, Pyrah and Finch alongside the likes of James Wainman, Ryan Gibson and Karl Carver.
It was a spectacular day to take in the game for those fortunate to be in this South Yorkshire town seeped in cricketing tradition. Yorkshire CCC President Dickie Bird, in trademark blue puffer jacket, was out in the middle as always, seemingly torn between watching from the shade and officiating proceedings.
As it so often the way when you slump into a moss-laden, white plastic chair next to a total stranger, conversation flowed with cricket the convivial glue.
The early action saw the children's nursery building on the other side of the walkway get a pounding as the Northants openers tore into Moin Ashraf.
Boundaries and wickets were heartily applauded and cheered by the schoolchildren beyond midwicket where Andrew Hodd patrolled.
Dan Hodgson was watchful and quick on the draw behind the stumps for Yorkshire's second-string and Gibson, Rhodes, Pyrah, Wainman and Ashraf all dipped in and out of the action.
The visitors mustered 171 (give or take – it'll be on Google) and the white ball frequently plonked into hedges including past under my nose when a few fours were reeled off on the bounce.
The main attraction – apologies to all the other stars on show obviously – was Aaron Finch batting and he unfussily clipped a few off his legs, looked robust in defence and punched a four just past my shoulder while I was focussing (literally and fruitlessly) on getting the 'money shot'.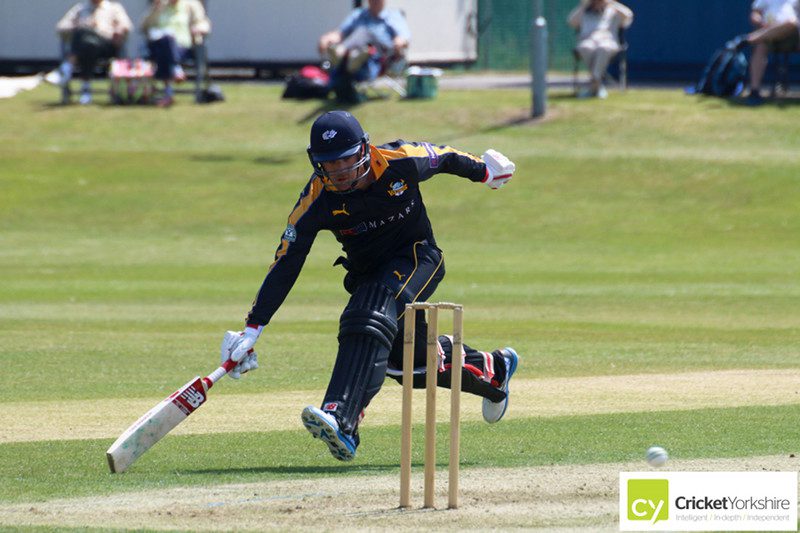 It was value for money in a short stay at the crease with a near run out, a near stumping and premature demise for not many by being bowled, whilst attempting to hit one into Barnsley town centre.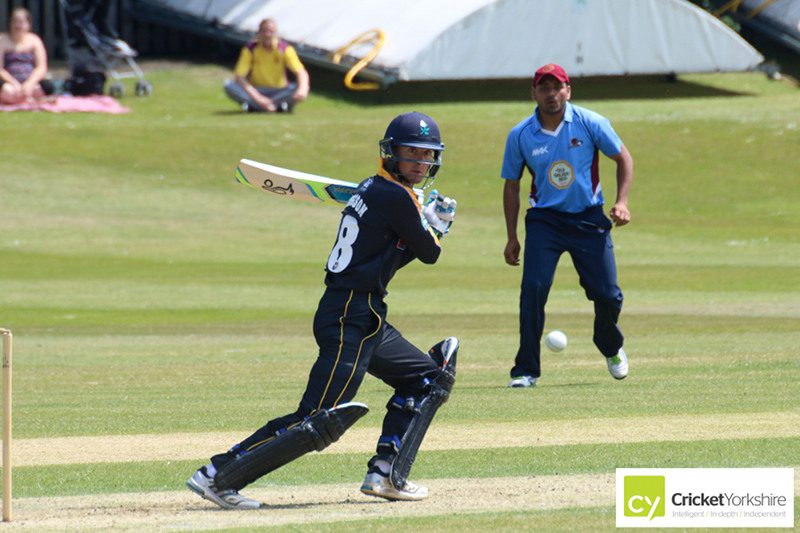 Yorkshire scored quickly enough but lost wickets at regular intervals which eventually left Richard Pyrah a bit too much to do at the death, despite several booming sixes.
So, defeat in the first T20 and after steak pie, peas and gravy to counter-balance all this excitement, it was time to head home.
There were rumours Maxwell would play in the next T20, Lees perhaps too but the CY office was calling.
Enjoy the photos from Barnsley CC who were kind hosts and best wishes to the club for the rest of the season.
Latest posts by John Fuller
(see all)