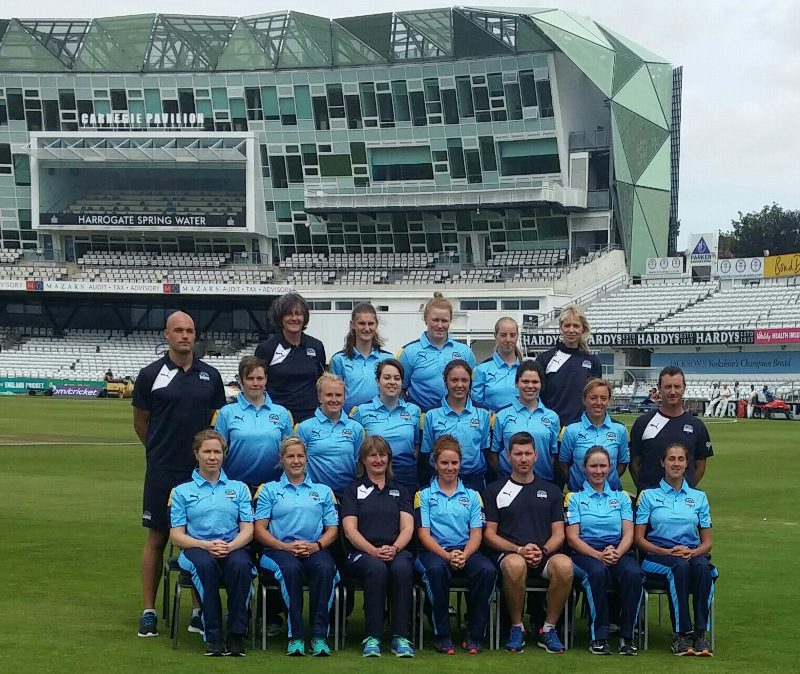 The Yorkshire Diamonds squad came out in dribs and drabs for the Media Day photoshoot with the Carnegie Pavilion looming in the background.
Captain Lauren Winfield, Beth Mooney, Jenny Gunn and Danielle Hazell plonked themselves on the front row with the shouted excitement from a sponsors game taking place out in the middle as the soundtrack.
So, this is it. After being unveiled as one of the six teams in the inaugural Kia Super League, the logo design, the hashtag (#shinebright) and squad announcements, Yorkshire Diamonds are ready to rock.
This T20 tournament intends to aid the transition between county and international cricket, boost the standard and profile of womens cricket still further and inspire those of all ages to play the game.
There can be no doubting the quality. Yorkshire Diamonds will have four England women's players, three overseas players, two England Women's Academy players and six cricketers who have been picked through a county talent identification process.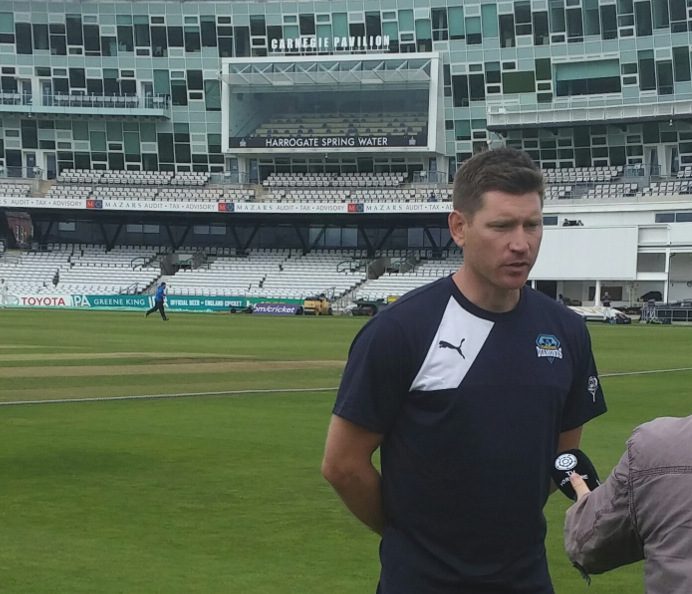 Talking to Head Coach Richard Pyrah, there's a sense of excitement at what's to come but also a slight step into the unknown:
"The challenge now is to get them gelled together in a five-day period and away we go on Saturday."
He believes winning trophies is the name of the game, you'd expect nothing less from a Yorkshire cricket team, but that will partly depend on the sharp learning curve for less experienced county players who'll need to adapt to the occasion and professional environment around this league:
"I think exposing them to a bit more pressure, to the professional game so having sports psychologists and full-time physios…they've never had this before…it's going to be a big shock to them. The ones who will be successful are the ones who take all of it in their stride."
Pyrah's looking to senior players and internationals to bring the county cricketers along and that dynamic will be fascinating as there is a gap between England Women who have professional contracts and the amateur status of the county game.
I grab a word with Beth Mooney, the Australian wicketkeeper-batsman who is returning to Headingley after helping Yorkshire Women win the County Championship last season.
Alongside her international teammate Alex Blackwell, Mooney is expected to deliver the runs and nous to power the Diamonds top order, though my glib notion that she's one of three overseas 'superstars' is dismissed with an easy laugh.
Last season Mooney played for Wrenthorpe in the Ladies Northern Division One League and assisted the staff with the county age group teams: "I was more of a mentor and a coach. They're a really good bunch of girls and really talented."
As for Mooney's own expectations with Yorkshire Diamonds, she'll be keeping things simple: "I've come here to play my brand of cricket, I think you've got to take it one game at a time, the old cliché…I guess you need to hang in there and do the hard work."
Yorkshire Diamonds begin the inaugural Kia Super League against Loughborough Lightning at Headingley on Saturday 30 July at 2.30pm before Western Storm visit HQ on Sunday 14 August.
No-one quite knows what the public reaction will be to this new tournament given the volume of cricket already.
With any luck, Yorkshire cricket fans will get behind the Diamonds and come along to Yorkshire County Cricket Club to give their support.
With only two home games, building a Yorkshire fanbase may take time but womens cricket is set for a bold new adventure.
YORKSHIRE DIAMONDS 2016 SQUAD:
Hollie Armitage (Yorkshire & England Academy)
Alex Blackwell (New South Wales & Australia)
Katherine Brunt (Yorkshire & England)
Steph Butler (Staffordshire & England Academy)
Alice Davidson Richards (Kent)
Teresa Graves (Yorkshire)
Jenny Gunn (Warwickshire & England)
Danielle Hazell (Yorkshire & England)
Shabnim Ismail (Western Province & South Africa)
Katie Levick (Yorkshire)
Beth Mooney (Queensland & Australia)
Anna Nicholls (Middlesex)
Laura Spragg (Yorkshire)
Katie Thompson (Yorkshire)
Lauren Winfield – captain (Yorkshire and England)
http://yorkshireccc.com/diamonds
Latest posts by John Fuller
(see all)