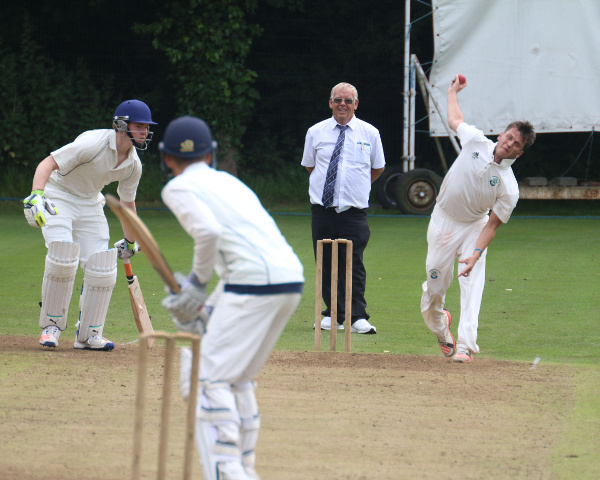 When we pulled into the car park at the back of the Toby Carvery on Sheffield's Ecclesall Road South, it was with something of a heavy heart as it looked like there was movement with Parkhead Cricket Club's ground covers going on.
The reality of Saturday's weather had been nothing like the morning forecast – religiously checked, as we all do, before embarking on a day where cricket is involved.
There was meant to be light showers in the morning, giving way generously to resplendent sunshine in time for cricket clubs in and around Sheffield to put on their whites and get stuck into their cricket.
A persistent drizzle hung over these parts, not too heavy to call games off but enough to warrant a beer towel in the field to dry the ball and the dye of the ball to stain palms and trousers cherry red.
It transpired that the covers were actually being dragged off and play promptly resumed with a light rain doggedly returning for the next hour or so.
This was the first time as a spectator going to take in the Yorkshire & Derbyshire Cricket League which was set up in 1969 with the 2016 season seeing 51 teams compete across five divisions, covering Sheffield, North East Derbyshire and the Peak District.
I arrived grumpy. Frankly, cricket loses a lot of its appeal when there's lingering rain and the picture I had faultlessly mapped out in my head was turning into a bit of a disaster.
At least there had been shelter and a brew with Sheffield Collegiate's seconds at home against Darfield before a walk up the incline to ever-so-briefly catch a few overs of Collegiate's thirds at home to Shire Green.
Millhouses Works had also been on the radar to see some action from another league so it was a surprise there was no play – but it turns out Woolley seconds had conceded this South Yorkshire Cricket League Division Four (West) fixture.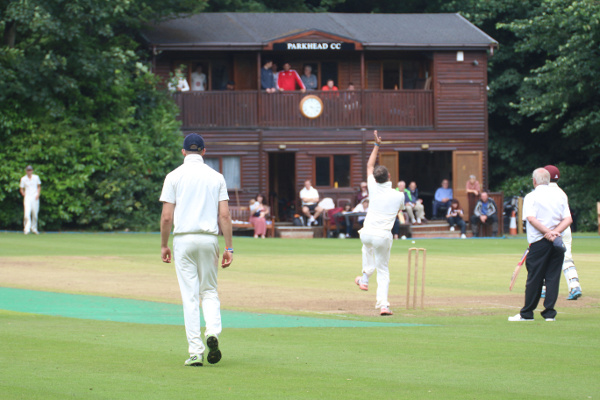 Any despondency fell away at Parkhead's attractive, enclosed cricket ground with its wooden clubhouse a little like a Nordic ski chalet without the cheese fondue.
The scorers were two young lasses who sat on a bench with a black umbrella on the table at the ready and a plastic tub housing coloured pens and a possible replacement match ball.
Parkhead was a leafy amphitheatre…it's a tiny cricket ground and as we walked the perimeter, it felt almost intrusive and somehow just by being there on the boundary edge, we were acting as substitute fielders.
Settled down to @ParkheadCricket vs @SheffieldColCC VP XI. Persistent drizzle has abated. Eyes on teatime donuts. ? pic.twitter.com/YsGgX278b7

— Cricket Yorkshire (@cricketyorks) July 16, 2016
Numbers sat indiscriminately on the ground with a blackboard propped up against a garden shed acting as the scoreboard.
It wasn't modern, hi-tech or fancy but it did the job, was easily read and added to the character of the place.
The sightscreen at the far end of the ground stood out like a white catamaran sail amongst a wall of foliage.
It was a little oasis to be here; remarkably tranquil given above this sporting arena was one of the alternative routes south from Sheffield instead of the A61.
Not averse to wandering about and exploring a new cricket club, my travelling companion Brian and I had a look round inside while I allowed a small black dog with toffee-coloured paws called Sam (I think) to lick my trouser leg and sit on my foot as his own personal welcome to the club.
Thanks to Parkhead CC for being genial hosts. Everyone was hospitable and happy enough to answer questions – including the ladies running the teas, who it will amaze you all to discover, were my first port of call.
As mentioned in the tweet earlier in the article, I had clocked that there were donuts beckoning from a table groaning with food and made a mental note to return after the cricketers had swept through.
It is fair to say that at times, the relatively new gluten-free regime gets hastily discarded…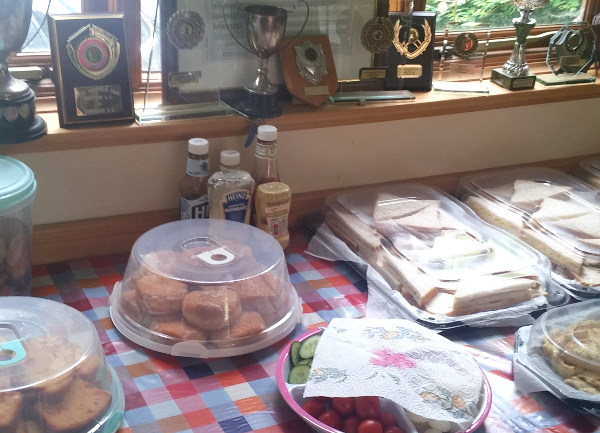 Alongside press clipping of past heroics, memorabilia and team photos were a couple of items that caused pause for thought.
A navy blue pennant, donated by Collaroy Plateau Cricket Club from their 2013 tour, is on the wall and I imagine they had a blast when they discovered what this club was like.
This corner of South Yorkshire is a world away from New South Wales for the club based in Northern Sydney, that's for sure.
There was also an embroidered club crest with a heraldic lion, wheatsheafs and the latin VITAE LAMPAOA which roughly translates as "Welcome to Parkhead where we greet you with donuts."
It had been found discarded and in a state of disrepair but now hangs proudly having been lovingly restored.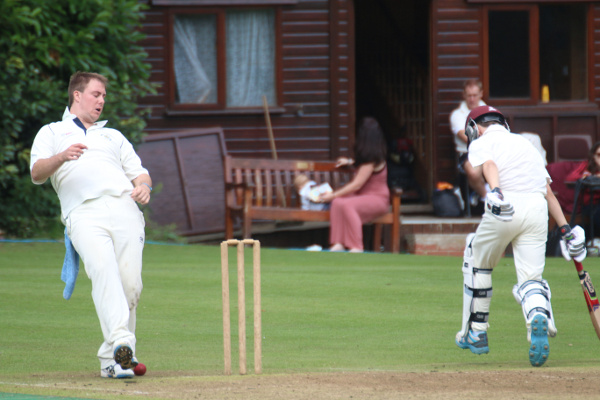 The cricket was nip and tuck with a commendable battle between bat and ball.
One of the younger lads, sporting a maroon lid, went in for Sheffield Collegiate Vice Presidents in the top six and had a compact defence as well as crisp timing with some punchy drives.
The match was noticeable for the sportsmanship and smiles with respectful behaviour towards umpires in contrast to some other matches I've witnessed in higher leagues this summer when a number of decisions weren't given.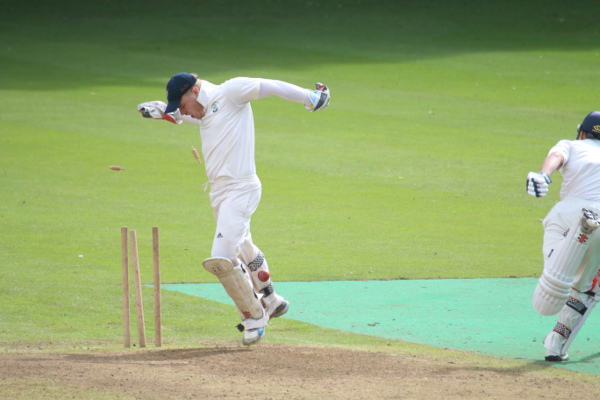 Parkhead's firsts have won the Mylnehurst Yorkshire & Derbyshire Cricket League more than anyone else (twelve times with a shared title) and are defending champions so clearly mean business.
There were some lusty blows towards the tea interval and Sheffield Collegiate's 174-9 off 46 overs felt like it was competitive.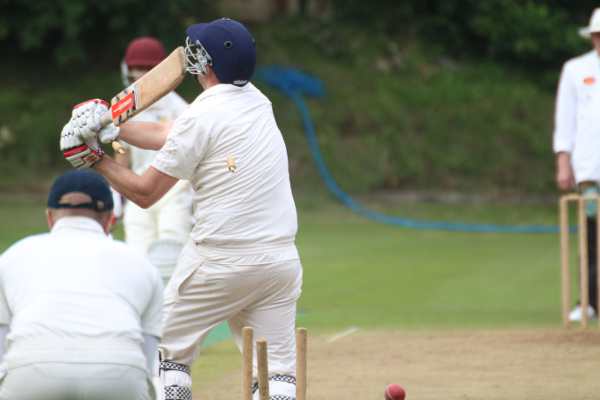 We stayed long enough to chat to players and get a sense of both clubs.
Credit to Sheffield Collegiate Cricket Club who are managing to field five Saturday teams across the ECB Yorkshire South Premier League, the South Yorkshire League Championship with two sides in the Yorkshire & Derbyshire League.
There is a thriving cricket scene in and around Sheffield with teams tucked away in unexpected places.
After departing Parkhead, there was time to go and watch some De La Salle's home match in the undulated slab of green behind Beauchief Hall.
It felt more like the middle of the Yorkshire Dales than the outskirts of a major city as deer roamed in the distance.
More of that visit in a future article coming soon but the Yorkshire & Derbyshire Cricket League absolutely delivered and I'll be sure to seek out more clubs and fixtures in future.
You can click below if you'd like to look at Cricket Yorkshire's photography from the match.
*CLICK FOR YORKSHIRE & DERBYSHIRE LEAGUE PHOTOS**
So, regular readers will know the drill…this is where you can click round Cricket Yorkshire's album from the Parkhead VS Sheffield Collegiate Vice Presidents XI match.
For photos capturing the cricket action and drama of cricket in this South Yorkshire city, just click the link above. Or HERE IF YOU LIKE!
** You'll need to type in your email address to access the images but on the plus side, as well as the BEST club cricket photography anywhere, you get to join Cricket Yorkshire's newsletter community. You'll be sent a quite awesome fortnightly read with exclusive offers too. And if you decide to, you can unsubscribe at any time…so enjoy the photos!
Latest posts by John Fuller
(see all)