As midday approaches, Bradford feels like it's only just tentatively waking with a muggy walk up Laisteridge Lane towards Bradford Park Avenue.
Today is all about a Quaid-e-Azam Sunday Cricket League match between White Rose and Indus Ghari in the semi-final of the chefgenie Shield.
Not one to stand on ceremony, my eye is caught by a man on a rather dapper looking sit-on machine rolling the pitch and I work my way down the steep steps of this tired stadium to say hello.
As luck would have it, Nadeem (below) is the founder of White Rose who started in 2003 and play their cricket in the Premier Section of the Quaid-e-Azam League against the likes of Flix, Keighley RZM and Bhalot Strikers.
A flick through the league handbook reveals that the oldest team still in existence is Shaheen Cricket Club who began way back in the mists of time that was 1981 – when Yorkshire CCC still used Bradford Park Avenue as an outground and the visitors that year were Nottinghamshire and Leicestershire in what was the Schweppes County Championship.
That was the year the Quaid-e-Azam Sunday Cricket League began life, created by South Asian communities to combat what was felt to be limited opportunities for Asian cricketers in league cricket and named after the founder of Pakistan, Muhammad Ali Jinnah.
Fast forward to today and White Rose have a cosmopolitan feel to their squad with a number of Australian club cricketers in their ranks (one of whom has a go driving the roller with amusing results) as well as a South African speedster who is set to open their bowling. Word has spread between teammates in Saturday teams across Yorkshire and the Quaid-e-Azam now attracts cricketers from around the world.
This being Ramadan, some cricketers kneel for prayers before this Shield semi-final gets underway and I'll admit to hoovering my lunch and glugging back water back at the Mirror Pool in Bradford's City Park prior to arrival. Though it may not faze the players, it doesn't feel right to be scoffing and drinking while others fast.
It is pleasant with breaks in the cloud but the prospect of cricket takes its time to actually materialise with the start time of 1.30pm coming and going as the absence of any bails precipitates a delay.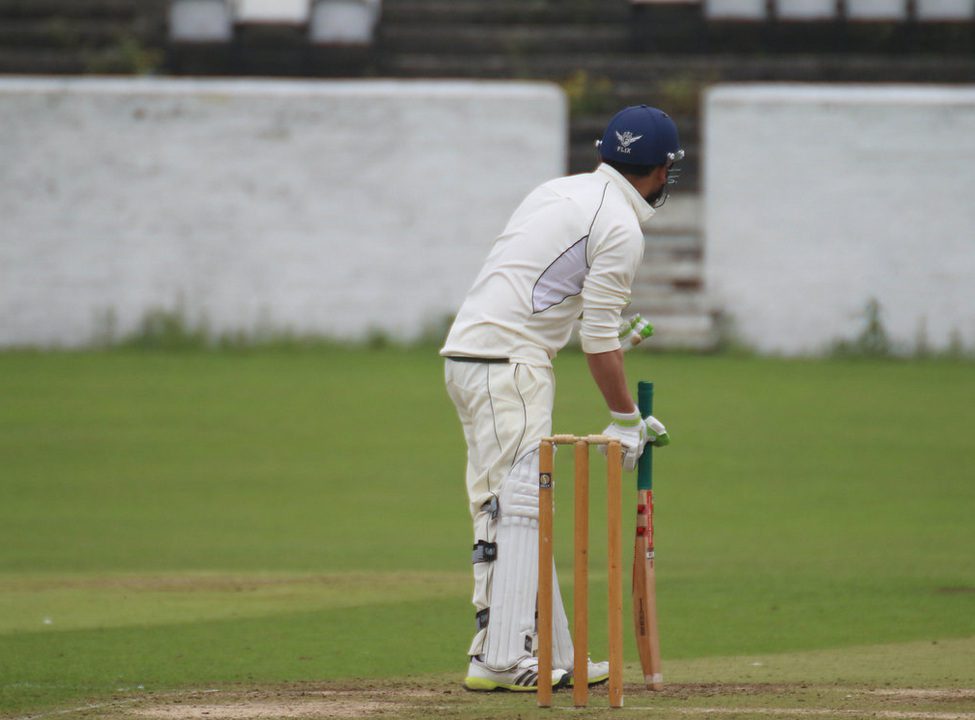 There is also the drama of league rulings that White Rose have fallen foul of – a team must field cricketers who have turned out at least twice for their club that season to qualify for a knockout semi-final.
With their Bradford Premier League contingent playing in the second round of the Priestley Cup, White Rose find themselves depleted and unable to field more than eight that conform to the rules and so, rather unsatisfactorily to my mind, they must cover the enormous expanse of a former county ground with just bowler, wicketkeeper and six outfielders.
By the time play gets underway, the skies have darkened and the prospect of rain – earmarked by the forecasters for around 4pm onwards, looks to have stolen a march and is brooding menacingly.
White Rose's South African speed merchant Louren Steenkamp (who plays Saturdays with Hopton Mills CC and spent the afternoon flinging himself about the outfield with gusto) won the early exchanges against the openers but my eye was drawn to something else: beard envy.
One of the umpires, sporting a white hat that had a hint of the Wild West about it, notwithstanding the maroon and light blue trim, is a very dapper gentleman and has a spectacular beard. There's no other word for it.
His commendable white, wispy facial feature is offset by the dark green Quaid-e-Azam League tie. There is something hypnotic about a well-turned-out umpire while the other official has a jumper tucked into his belt and is carrying off the starched white flat cap look.
Some of the White Rose players take to the field with emerald green baggy caps (the English rather than Australian style) and again, 

At some point, I take myself off to have a nose inside the old scorebox which showed remnants of the last team to score there with a takeaway carton and plastic fork still in residence.
In fact, if I'm brutally honest, the ground is looking at its most stark due to the shocking deluge of rubbish piled up at the far stand where everyone is seated, as an orange empty packet of Doritos makes a bid for freedom and spins across the outfield. Whoever is responsible for creating this mess needs to take a long hard look at themselves.
The wonderful scoreboard numbers on gigantic wheels was an unexpected treat. Building on the artificial and grass nets along with changing room facilities is well underway so the old is being ushered out but part of me hopes there's room for a touch of sentimentality at Bradford Park Avenue's development.
On one of my many laps photographing from all kinds of angles while the cold sneaked up and a light then persistent drizzle quietly drew a chill, I perched next to and talked to the Indus Ghari team.
Indus Ghari is a team back in Pakistan from which its Yorkshire equivalent has been inspired and incredibly, this cricket team is all based around one family which seems a lovely reason to start a cricket team but must make selection a bit of a nightmare.
There are a few young kids charging around at the speed of sound and as soon as I pause with my camera then they are literally clambering over me to take photos themselves.
I get talking to the scorer who it turns out in that affable, unassuming way that embodies Yorkshire cricket, is a Pakistani first-class cricketer.
Nazar Hussain plays at Mirfield Parish CC in the Drakes Huddersfield Cricket League but also coaches White Rose.
We discuss the prolific runs by another Pakistani with first-class experience, Saeed Bin Nasir at Marske in the North Yorkshire South Durham League, who Nazar believes should have represented his country and who he's played alongside back in Pakistan.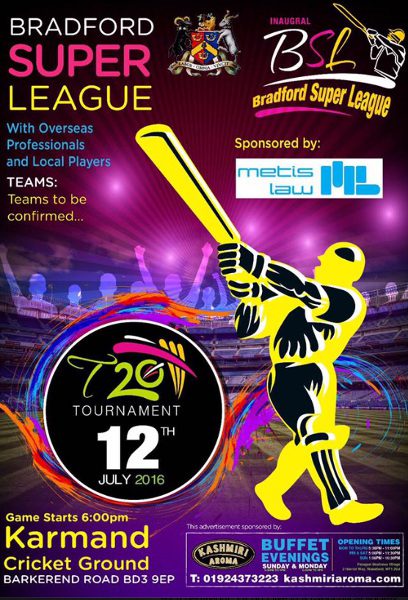 Naza is looking forward to captaining one of the teams in the inaugural Bradford Super League at Karmand Cricket Club on 12 July which is set to include league cricketers and overseas players from across Yorkshire – might well get along to that for Cricket Yorkshire.
So, a productive first outing to the Quaid-e-Azam League where I was warmly received by everyone, well, as warm as you could get on a day where the rain rolled in and I sloped off just before the Indus Ghari innings drew to a close.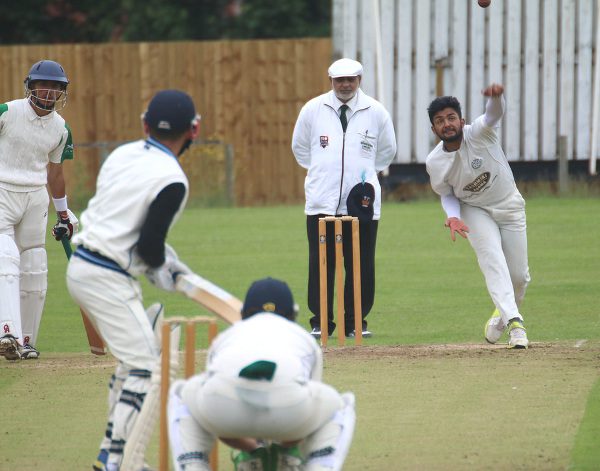 All things considered, White Rose – captained by Amjid Hussain who marshalled his resources very well, stood up to the barrage from Indus Ghari who closed on 202-5 with Nadeem Lodhi 61*.
Rain did curtail things predictably soon after my departure. However, when the second innings was eventually played another day, White Rose concluded a four-wicket win with Steenkamp cruising to an unbeaten 91 to book a place in the chefgenie Shield final against My Lahore. Now…don't miss out on the match photos below!
*CLICK FOR WHITE ROSE VS INDUS GHARI PHOTOS**
So regular readers will know what's coming up…this is where you can click round Cricket Yorkshire's album from the Quaid-e-Azam League.
For photos capturing the cricket action and drama of Sunday shield cricket, just click the link above. Or HERE INSTEAD!
** You'll need to type in your email address to access the images but joining Cricket Yorkshire's mailing list is the tiniest price (actually a benefit) for the premier club cricket photography anywhere on planet earth. Besides, you'll get a cracking fortnightly read and exclusive offers too. And if you decide to, you can unsubscribe at any time.. Enjoy the photos!
Latest posts by John Fuller
(see all)