Thanks to all of you who read the articles and engage on social media, Cricket Yorkshire continues to grow.
But there's no resting on laurels here so, as part of a wider strategy to get the Cricket Yorkshire name out there more, a number of sponsorship deals have been struck for 2016.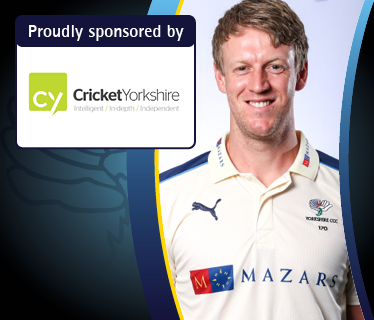 Steve Patterson (Yorkshire CCC)
Every County Championship is built on a seam attack that rolls up its sleeves and puts in the grunt work when the batsman is on top or the surface is unforgiving.
Yorkshire County Cricket Club's tall seam bowler Steven Andrew Patterson is the epitome of a Hull steamer puffing through storm force winds and has won a reputation on the county circuit for consistency.
Having played for the county for over a decade and with 282 first-class wickets to his name, experience is certainly not lacking and he's been a mighty effective cog in this talented Yorkshire bowling attack.
Needless to say, Cricket Yorkshire is pleased as punch to be sponsoring the Yorkshire CCC first-teamer and look forward to watching the 32-year-old in action this season.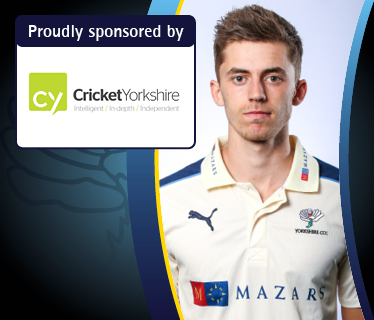 Ben Coad (Yorkshire CCC)
Ben Coad is a right arm medium-fast bowler who worked up through the ranks with Yorkshire Academy and Yorkshire second eleven.
Ben's breakthrough came last season when he was selected for a couple of NatWest T20 Blast matches with the Yorkshire Vikings. With 2-24 and 2-30 against Northamptonshire and Birmingham respectively, Coad had shown he could make an impact.
That has continued in 2016 by being selected for Yorkshire's senior squad pre-season tour to the UAE. In three T20s, Coad recorded figures of 2-26 against Leicestershire, 1-15 against the MCC and 1-27 against Lancashire in Dubai.
As for competitive club cricket, Coad has moved from Studley Royal to Harrogate for the inaugural ECB Yorkshire League North season.
It will a pleasure to watch how Ben's season unfolds and it's fantastic to sponsor a Yorkshire County Cricket Club player who could be on the verge of his most important season as a cricketer (no pressure, Ben).
So, when it comes to right-arm Yorkshire seam bowlers, Cricket Yorkshire is sponsoring both Jedi Master (imagine Yoda is a tall East Yorkshireman) and apprentice.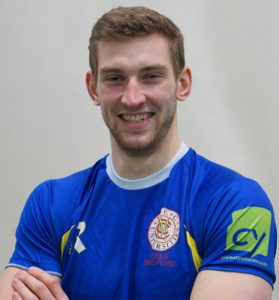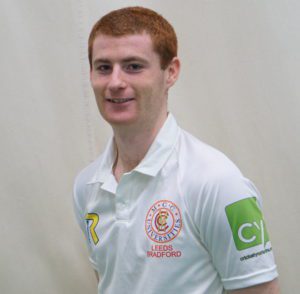 Leeds Bradford MCCU
Cricket Yorkshire will be continuing its shirt sponsorship of Leeds Bradford MCCU for a second year – and it's a delight to be able to support this squad who are first-class in every respect.
After a pre-season in South Africa, they have launched into their three matches against the counties with aplomb. A rain-affected draw against Warwickshire saw the students nearly match the home score of 350-6 with their own 291-9 declared – some recovery from being 180-7.
At the time of writing, in the first-class fixture against Sussex at Hove, Leeds Bradford MCCU are in recovery mode after Sussex racked up 387-4 dec with hundreds for Ben Brown and Harry Finch.
Their third and final county opposition is Yorkshire at Headingley from Monday 11 April and we can expect Yorkshire to pick a strong side with Hampshire in the Specsavers County Championship not long after.
Leeds Bradford MCCU is packed with cricketers already playing first or second-eleven county cricket and in Moin Ashraf, a name familiar to Yorkshire fans, they have acquired a bowler with 'wheels' and a mean yorker.
Best of luck to everyone in the squad, whatever their involvement this season and suffice it to say, Cricket Yorkshire will be supporting every step of the way.
Future plans for Cricket Yorkshire
So, not a bad day of sponsorship news…two county cricketers and a first-class cricket team.
Cricket Yorkshire will be doing everything to spread word about the website and to get these articles to a new audience – if you can 'share' this using the button at the top, it all helps.
Meanwhile, there are other opportunities to grasp both with Cricket Yorkshire and freelance journalism, not least the chance to write for The Cricketer Magazine, The Cricket Paper and The Nightwatchman (Wisden Cricket Quarterly) in the coming months. Here's to a cracking summer….
Latest posts by John Fuller
(see all)