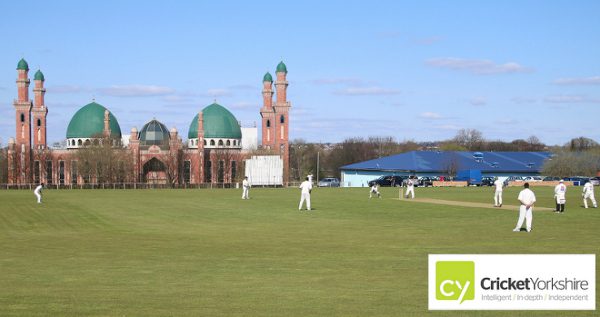 Nasa Hussain, cricket groundsman at Bradford Park Avenue, picks me up outside Bradford Forster Square railway station in a white van that's part of a scheme to collect household cooking oil.
As we weave our way through the morning city traffic, I glance round the interior which hints at a multitude of projects. A tennis ball bags a ride in a cup holder and soil samples are dotted about amongst a sea of paper.
On the incline up to the cricket ground, past St Luke's Hospital and swinging right down to the roundabout where the gold panels on the Al Jamia Suffa-Tul-Islam Grand Mosque glint in the sun, Nasa reflects on the forthcoming evolution of Park Avenue.
This is the popular former county ground that has fallen into disrepair and been neglected for decades but is now set for a £5.5m facelift that will include new nets, pavilion and floodlights.
It's a dry, sunny morning in Bradford but not warm enough to linger so we amble round the edge of the grass and discuss the cricket transformation within the city.

Nasa has been the groundsman at Park Avenue for two years during which time local clubs have been using it with increasing frequency now that the Yorkshire Cricket Foundation is involved with the tenancy.
But his links with Park Avenue go back to childhood when Hussain played for Bradford Schools and Yorkshire Schools and the old pavilion was still standing. The history and the cricketers associated with Bradford made it a special place to be:
"That memory of getting changing in that pavilion where Sir Len Hutton and Geoffrey Boycott and all those characters got changed…walking down the stairs where they've got the grooves with the spikes on the wooden stairs and walking out…it felt like thousands of people were watching – there weren't a man and a dog in the ground!"


He describes that connection with Park Avenue as a club cricketer, when it was still a county ground, as "the pinnacle." Although when Friends of Park Avenue was formed and fundraising games were being held, a call out of the blue offered a new opportunity.
Would he step in as a late replacement for a match at Park Avenue? There was to be a Commonwealth XI against an International XI with West Indian duo Roger Harter and Gus Logie and New Zealander Mark Greatbatch all down to play – so young Hussain jumped at the chance.
He recalls nervously asking his boss at Morrisons Supermarket for the Friday afternoon off, getting the go-ahead and walking into the Park Avenue changing rooms with all those famous internationals as a 17-year-old: "It's a memory that will stay with me for the rest of my life."
Subsequently, Nasa played at a strong recreational level in the Bradford League before serving on committees of a number of clubs as an administrator and coach such as Undercliffe and most recently at Karmand, on Barkerend Road, where he's also the groundsman.
In terms of developing his groundsmanship, Nasa credits Richard Robinson, who is on the Yorkshire County Cricket Club groundstaff and at Leeds Bradford MCCU's Weetwood base, with passing on tips and expertise.
Today, Bradford Park Avenue lies ghostly quiet and in need of a lot of time and money spent on it – although purists will be pleased to hear the square looks in decent nick and played well last summer when I was there.
Nasa was generous with his time, full of stories and his beaming smile reflected the fact that as groundsman, he's set to be at the epicentre of one of cricket's most ambitious and exciting redevelopment projects.
**

For the very latest on Bradford Park Avenue, you can read my article in The May 2016 issue of The Cricketer magazine – with interviews of Yorkshire County Cricket Club Chief Executive Mark Arthur and Lord Patel of Bradford who is on the England & Wales Cricket Board (ECB) board of directors.
**Please share this article (at the top), if you've enjoyed reading it. It all helps introduce Cricket Yorkshire to a wider audience. Thanks – and enjoy the photos and audio below!
**Click for match photos from Cricket Yorkshire at Park Avenue.**
AUDIO: LISTEN TO NASA SHARE STORIES OF BRADFORD PARK AVENUE:
Just click the arrow and away you go…
Latest posts by John Fuller
(see all)