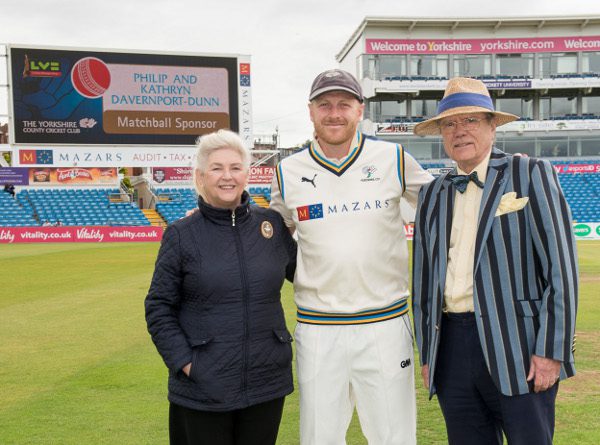 Seconds into this interview, Whitby-based artist Kathryn Davenport is a bracing, breath of sea air with her honesty and tales of how she discovered a hidden talent.
Her paintings have adorned the walls at Headingley and she was asked to do portraits of each of the Past Presidents of The Yorkshire County Cricket Club, sixteen in all, in celebration of the Club's 150th anniversary.
You might expect this Lancashire lass, now a Fellow of the Royal Society of the Arts, to have had a lifetime honing her paintbrush – but nothing could be further from the truth. She discovered her gift quite by accident. It started off as a whim, apparently.
In 2005, Kathryn mentioned to a friend that she fancied a go at painting and, in her own words: "It just went from there, really. I was amazed at how I could paint! I couldn't believe it. All them years…"
As for how she got involved in painting the cricket world? Well, there we have fast bowler Ajmal Shahzad to thank for that, when he was still at Yorkshire. His portrait was gifted to the club, as the cricketer had become quite a good friend of Kathryn's husband.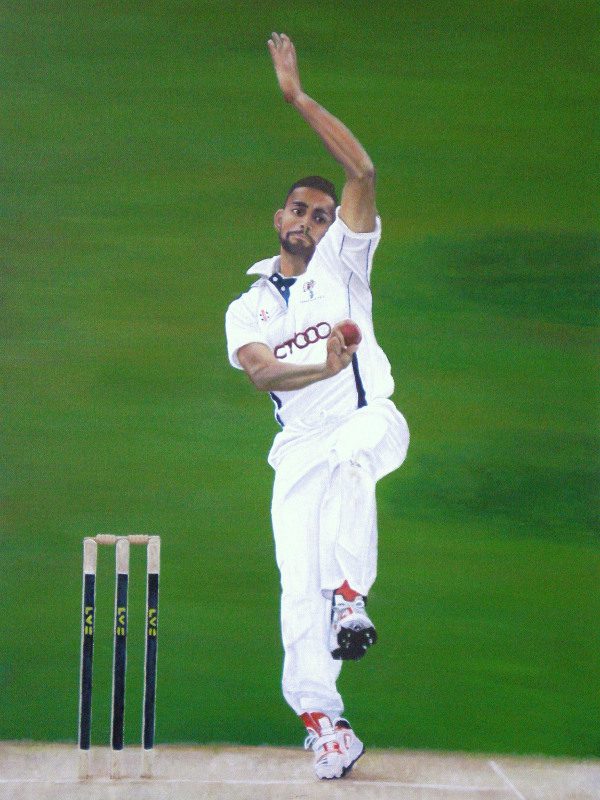 Shahzad is captured, poised in delivery stride, at the crease. Fingers gripping the seam, left arm acting as the directional ballast and JCT600 shirt sponsor of the time visible.
Her most recent project came about when Robin Smith, Vice Chairman of Yorkshire County Cricket Club, was at Lord's where the impressive paintings there caught his eye and got him thinking.
As a result, Kathyn is currently being asked to paint captains Andrew Gale and David Byas together, holding the County Championship trophy but her work can already be seen dotted around Headingley cricket ground.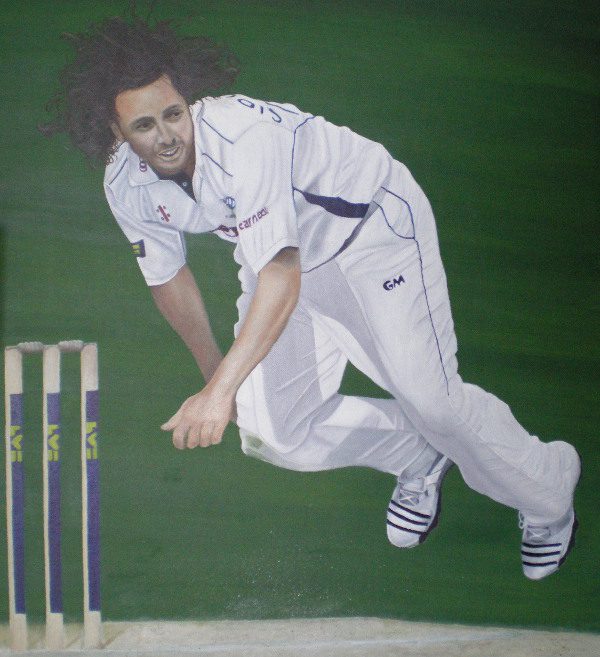 Inside the Indoor Cricket Centre, before you reach Stumps restaurant, Ryan Sidebottom's portrait is on display, with brown shaggy mane and sleeveless sweater. He's appealing to the umpire with both arms thrust out and legs stretched, resembling a starfish in cricket whites.
Another from the Davenport collection is Colin Graves whose oil on canvas replica resides in the Long Room at Yorkshire, while Dickie Bird and Jason Gillespie have also been subjects.
Before she met her husband Philip in 2010, by her own admission:
"I never knew what cricket was all about, to be fair. He introduced me to cricket and I thought: why have I missed this all these years?"
But, that's certainly changed since, the pair of them enjoy coming over to West Yorkshire from the coast and are regulars in the debenture seats above the press box.
The couple also sponsor rising star Matthew Fisher and though a fledgling county supporter, Kathryn talks about "giving something back to the club because I enjoy it."
It was a hoot to talk to Kathryn and a reminder that whatever you'd like to do in life, don't hold back or be left wondering because you just never know where it will lead…
HOW TO CONTACT KATHRYN…
Available for commissions, you can email Kathryn here.
You can also link up with her on Facebook: https://www.facebook.com/Kdavenportartist/
Latest posts by John Fuller
(see all)