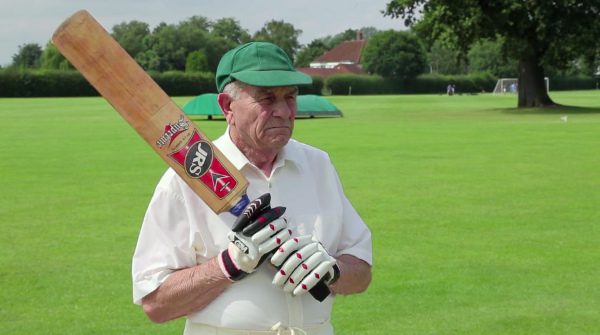 What will you be doing when you're eighty years old? Batting for your village cricket team still? Yeah. Thought not, me neither, although Mrs Cricket Yorkshire begs to differ.
Well, thanks to a wonderful cricket documentary by TV Producer Chris Hay, the world can get to hear about Yorkshire cricketer Geoff Deighton, who is still playing the game after an incredible sixty-five-year career.
Those in the York area know all about Geoff, who first turned out for Askham Bryan Cricket Club in 1950 when in his teens. More recently, he's had stints at Copmanthorpe and then his current team, Bishopthorpe, who play on Saturdays in the York Vale League.
As it happens, the exploits of Mr Deighton had already come to my attention and it had been the plan to meet him last summer at a visit to The Retreat CC, who he also turns out for midweek in the Foss Evening League. But he wasn't playing that sunny evening when Tang Hall Tigers were the visitors.
Cricket may be seen as a game that lends itself to longevity compared to the crunch and carnage of contact sports like American football or rugby union but the truth is that relatively few of us manage a career in whites into our fifties or sixties, let alone beyond.
The ten-minute film is an absolute gem; beautifully shot with interviews from Geoff's wife Dorothy, sister Doreen and former Askham Bryan team mates and really does show off village life in Yorkshire and how cricket is at the heart of the community.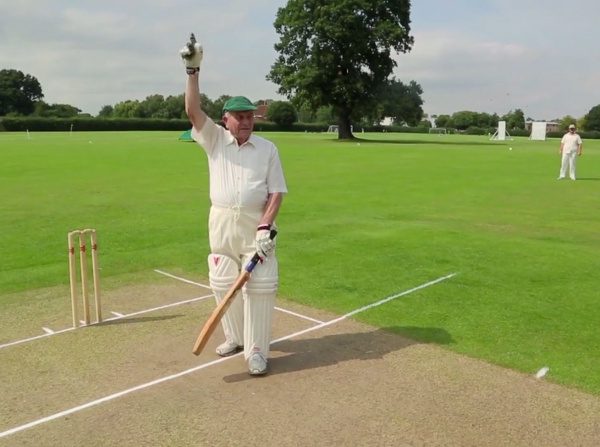 We see Geoff take guard, marking his crease doggedly with his JRS Supreme bat and looking like he's been there and got the T-shirt which, in fairness, he probably has. I bet that green cap of his can tell some stories.
On a personal note, he also runs between the wickets quicker than I do, which is about the most profound prod towards January fitness training I could ever have.
Let's be frank, Geoff is one of the oldest league cricketers in England right now, he's a marvel. (Editor's note – this article was edited to reflect 'one of the oldest' after recalling that Bill Robinson, Yorkshire Terriers fame, is older than Geoff and incredibly, I'm getting tales of other cricketers on social media in their eighties too).
Filmmaker Chris Hay had this to say to CricketYorkshire.com about the reasons for the documentary:
'80 Not Out' was a labour of love. After working on TV broadcasts of international cricket for four years, I wanted to get back to the sport's roots and show its more humble and genuine side.

Cricket isn't about TV contacts, millionaire players and glitzy competitions, it's about people like Geoff Deighton.

Geoff's story incapsulates everything that is so wonderfully quirky, endearing and quintessentially English about the sport – the traditions, the anecdotes, the lifelong friends.

His passion for cricket is remarkable and truly inspiring, and proves that age is just a number if you love something enough!"
Pleasingly, there are a number of excellent cricket films of late such as Death of a Gentleman (have a read of our review) but '80 not out' beats them all – knocking it out of the park, over cow corner and past cow pats.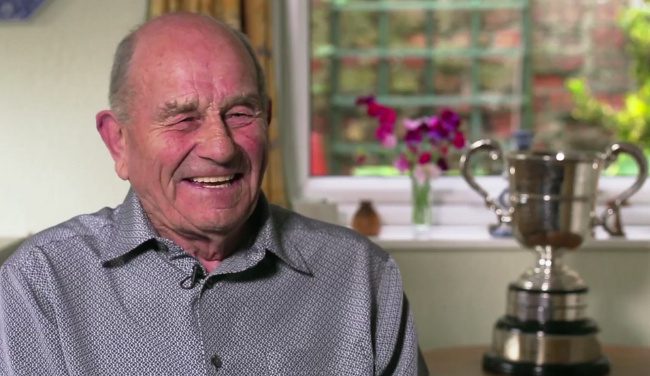 There is something for everyone here from Geoff reminiscing that "nobody was allowed a holiday in the cricket season" to Askham's Club song and reflections about the quality of the cricket teas.
Seriously, how long can anyone still carry on playing cricket? Well, Geoff Deighton is happily roadtesting that theory and I'm sure you'll join me in wishing him all the very best, however long he still puts the pads on for.
As his wife put it: "If he wasn't playing cricket, he'd be miserable."  Never has so truer a word been spoken about so many, one suspects.
If you do anything today, spare a few minutes to watch this film below…
Latest posts by John Fuller
(see all)