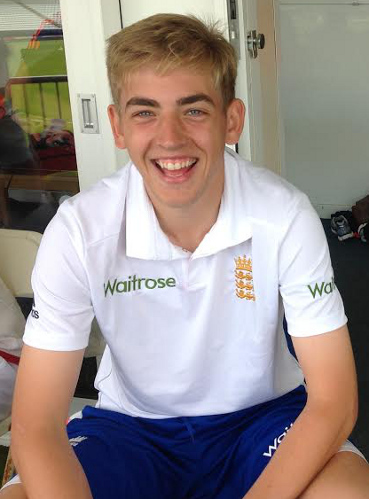 When Yorkshire County Cricket Club seam bowler Jared Warner wakes up on 27 January, he'll be forgiven for pinching himself.
Before a breakfast of protein-infused quinoa and ultra-energy berries (or whatever professional sportsmen eat nowadays), there will be chance to privately enjoy the prelude to England's first ICC Under 19 World Cup group match against Fiji.
Yorkshire County Cricket Club has had a production line of fast bowlers that went on to represent their country all the way back to the era of Fred Flintstone and for Warner, the county's only representative in this 'yoof' England squad at present, the global tournament is the latest stepping stone.
This will be the eleventh edition of the tournament since it launched in 1988, with England's only trophy coming a decade later when they got the better of New Zealand in the final in Johannesburg. England's recent tournament form reads 5th – 8th – 5th – 3rd since 2008.
While Jared is the only Yorkie this time round, Mosun Hussain was picked for a youth ODI in Perth last April and the likes of Matthew Fisher, Karl Carver, Will Rhodes, Jonny Tattersall and Josh Shaw have all put on an England U19s shirt in the last couple of years.
Cricket Yorkshire caught up with Jared before he jetted off to Dubai for practice and then on to Bangladesh where England, captained by Brad Taylor (Hampshire), are confident of a strong showing.
What would you say you got out of the England U19 trip to Sri Lanka to play in the winter Tri-series with India and Sri Lanka?
I think personally I got rid of the early rustiness of having not bowled for a couple of months in a game and got better as each game went on, gathering confidence.
It was obviously disappointing to come out without a win but I felt sizing up both teams was important. We know what to expect if we face them in the World Cup; their strengths and weaknesses and also ours as a team in these conditions.
What challenges are you setting yourself concerning England and Yorkshire CCC?
"Obviously, I want to contribute to the World Cup side as much as possible. Regarding Yorkshire, I;d like to be a regular second team performer and try and push for a first team place in a competitive squad if I can."
"Realistically, one day cricket is where the chance could come but with consistently performances, hopefully I can get that chance."
"I want to build on last year and how I finished and just keep improving as a bowler all the time. I'll be playing for Yorkshire Academy again and I'm keen to to help the younger lads and use what I've learnt to date to win more trophies in that team."
What part has club cricket played in your the development of your career?
I noticed you turned out for Wakefield Thornes in 2015 – Will you be playing for them in the ECB Yorkshire South Premier League?
"Club cricket has been a significant part of my development I feel. It's matured me as a cricketer and a person playing in a very competitive environment at such a young age. As well as that, playing against some very good players can only be a positive."
"I was always tested and I think this has helped me as I've gone through the ranks at Yorkshire. That's especially the case at Wakefield Thornes, they have been excellent to me."
"Although I'll be signed on there for the 2016 season, I will be turning out for Yorkshire Academy on a Saturday in what's a landmark year for club cricket in Yorkshire. It can only an encouraging thing for our academy as it will continue to challenge us."
Editor's note: Yorkshire Academy will be part of the Hunters ECB Yorkshire Premier League North, while Wakefield Thornes are in the new ECB Yorkshire South Premier League, both newly created for 2016.
Can you believe it…You'll be representing your country in a World Cup! Have you talked to other Yorkshire cricketers (like Will Rhodes or Matthew Fisher) about what it's like?
What are you expecting from the tournament? Naturally, I expect you to say England can win – but who else will be a handful and as a bowler, will getting your head around conditions hold the key in Bangladesh?
"It something that's only just sinking in really and I don't think it'll hit me or the other lads until we're actually out there in the first game amongst it. I've spoke a lot to 'Fish' and 'Rhodesy' about their time in Dubai and just how much they enjoyed it."
"We're going there with the attitude that we can win the tournament and the last couple of years have all been building up to this."
"We've had good preparation this time and how quickly it takes us to adjust to the conditions will play a major factor in how successful we are."
"Over the last four years in the England teams, we've played the majority of the best sides and India look to be the strongest. We took them close in the Tri-Series and on our day I believe we're as good as anyone in the world."
Latest posts by John Fuller
(see all)