Meet Andrew, scorer at Kexborough CC in South Yorkshire, who was kind enough to answer some questions for Cricket Yorkshire about number crunching and give his perspective on life in the scorebox.
**
As a young boy I had to have operations on my feet which curtailed my sporting capabilities so I choose to concentrate on watching a sport I grew to love.
Like many boys of my generation, I learnt to score the traditional way by playing 'owzthat' with sides in imaginary matches where the 'Andrew XI'  would take the field against a World XI.
I also learnt to score by the linear 'Frindall' system as I listened to matches on the radio and watched them on the television.
A particular memory from my secondary school days was sat listening to the Test Match via a small portable radio hidden in my blazer.
Due to family connections at Kexborough Cricket Club (KCC), I was appointed the Honorary Secretary in 1995.
It's a position I still hold while my uncle is President and his younger son is the Club Chairman and Treasurer and still is an active player.
Kexborough is a small club on limited resources with a hard working team of officials.  We are recognised as being one of the best-run clubs in the Barnsley area.
Both of the senior teams have had excellent seasons. The junior section is flourishing and already several members have been given an opportunity to play senior cricket.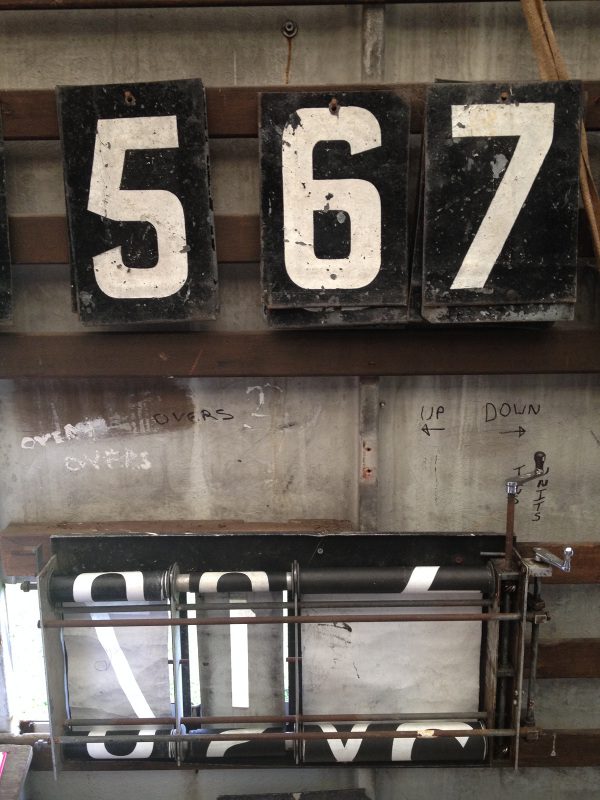 When I first started scoring, we had to update scoreboards manually by the use of 'tins'.
Some scoreboard numbers were operated by pulleys; requiring physical work and sometimes the numbers got jammed.
I remember scoring at Barnsley in their big old scoreboard where the scorers had to sit on a cushioned ledge and if you dropped your pencil or pen you didn't know quite what you may find on the floor…
When it comes to technology, I had a vision for Kexborough to utilise an electronic scoreboard with the scorers using computers.
During the 2012 season, the South Yorkshire Senior Cricket League (SYSCL) made a package available to introduce clubs to computer scoring and my club took up the offer, which ensured I was fully trained on the Total Cricket Scorer (TCS) software system.
KCC made a successful funding application that included a new electronic scoreboard.  The new facilities were in place from the start of the 2013 season and now I was sat on my backside for the whole innings instead of changing the 'tins' after every over!
During the 2013 season I began to look at how I could further my scoring ability outside of club level which led to everything from Duckworth Lewis (D/L) method talks to involvement with the South Yorkshire Officials Association.
At the start of last season, my experience branched out to include scoring some representative matches like the Under 19 ODI between England and South Africa at Trent Bridge and also the one-day warm-up between England Women's Academy and India Women at Harrogate CC.
Both these fixtures were a fantastic experience and an honour for me, KCC and the SYSCL.
Since then, I've become a qualified tutor and had the chance to be a match official for the two-day warm-up fixture between England U19s and the Unicorns at Loughborough University.
As for scoring ambitions? They echo those of players who want to perform at the highest level possible and I'd relish the chance to score in an official capacity at the home of cricket, Lords, one day.
Everything I achieve in scoring is dedicated to my father who passed away in August 2012 and the memories I have of watching cricket with him both live and on television will remain forever.
If you were to press me on favourite places to score at, I tend to prefer officiating at the larger grounds in the South Yorkshire Senior Cricket League such as Shaw Lane (Barnsley) and Abbeydale Park (Sheffield Collegiate).
However, other grounds have their own features and appeal like Bradfield CC, near Sheffield, which is a lovely setting and how you'd expect typical English village cricket to be.
A further recommendation would be Cawthorne Cricket Club, from the Drakes Huddersfield League, which is another very picturesque ground, surrounded by trees.
What is it about scoring that holds particular appeal?
Well, I have always had an interest in statistics especially cricket ones, from being at school.  It's a chance too to be involved with the match from the sidelines.
More especially, I enjoy putting something back into the game especially as I was unable to play cricket to a decent standard as a small boy.
Attitudes to scoring differ from club to club but most players let you get on with it.
Of course, there will always be one who says you got their score wrong once they have batted.
It is easy to criticize but I very much doubt if they were asked to undertake scoring duties they would have much of a clue!
As to my own future in cricket scoring? That'll include continuing to work towards my ECB ACO Level 3 qualification.
Building up the requisite experience has involved an early-season SYSCL Representative side against the Huddersfield Central Cricket League at Birchencliffe where we scored from the comfort of the clubhouse conservatory with a wireless console.
Away from Kexborough, I've also benefitted from stints with Hoylandswaine Cricket Club (HCC) in various formats and competitions.
I've been made very welcome at Hoylandswaine and it's been good to score at grounds I have not visited for a few years and see old friends.
There's plenty of variety out there with lots of grounds offering decent scoring facilities and a proper view to others no bigger than a shoebox with both scorers almost sat on top of each other!
By Andrew Hinchliffe (Kexborough Cricket Club, South Yorkshire Senior Cricket League).
**Feel free to chip in with your own comments below**

Latest posts by Cricket Yorkshire
(see all)