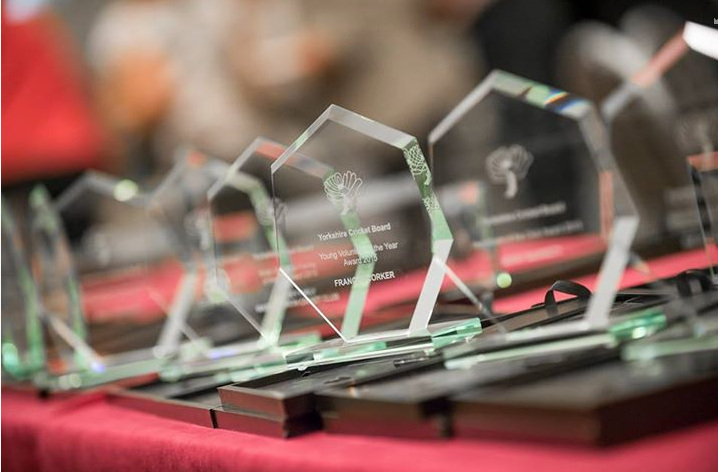 The Yorkshire Cricket Board (YCB) have held their annual awards ceremony to recognise the outstanding contributions across Yorkshire recreational cricket.
Reflecting the growing appreciation for volunteers and interest in the Outstanding Services to Cricket Awards (OSCAs), this year's event moved from Stumps restaurant to Headingley Carnegie pavilion.
With BBC Radio Leeds' Dave Callaghan on the mike for the evening and an audience over a hundred in attendance, everyone from scorers, coaches, players and groundsmen were deservedly given their moment in the spotlight.
Our OSCAs are an opportunity to acknowledge the time, commitment and dedication to recreational cricket that volunteers make on a daily basis.

Whether that is within clubs, cricket leagues or the development of junior cricket the contributions made by the people honoured is unmeasurable and very humbling – we thank you all.

Philip Radcliffe, Yorkshire Cricket Board Chairman.
Here's the full list of Awards winners and the categories in which the attendees were honoured. Remember, these awards are open to anyone who fits the category criteria so do remember to look out for the call for nominations from May 2016.
Get the Game On
A person making match day contributions to make the game happen, a pro-active volunteer
Winner Graeme Smith North Yorkshire South Durham League
Stuart Hodgson Award Services to Leagues
A dedicated individual who has achieved sustainable results for a League or Board
Winner David Normanton Halifax Cricket League
Highly Commended Colin Adamson Solly Sports ECB Yorkshire Premier CL
Officiating – Umpires and scorers
An individual who has raised the profile of officiating within the county
Winner Rob Smith
Services to Umpiring
An Umpire who had given long-term service and made a difference to umpiring
Winner Harry Marsden Huddersfield Central CL
Highly Commended Eric Wade Stillington CC
Services to Scoring
A scorer who had given long-term service and made a difference to scoring
Winner Dennis Wadd Appleby Frodingham CC
Highly Commended Martin Goldsborough Blackley CC
Services to Groundsmanship
A Groundsman who has given long-term service to groundsmanship and their club or area
Winner David Holdsworth Sutton in Craven CC
Highly Commended Dennis North Stillington CC
Maurice Young Award – Services to Coaching Young People
A coach who has inspired young people and made a difference over many years
Winner Bren Terry
Outstanding Services to Cricket Coaching
A coach who has created a legacy through the development of coaching and increased activity
Winner Tony Bowes
Outstanding Coach Achievement
A coach who has made a significant difference in shaping the lives of cricketers
Winner Andrew Inns Pocklington CC
Young Coach of the Year
A coach under 25 years who has made a clear impact with schools, clubs and the community
Winner Robbie Gresham Treeton CC
Numan Shabbir Syed Award for Services to Black Minority Ethnic Cricket
Winner Haqueq Siddique Bowling Old Lane CC
Clifford Smith Award for Services to Youth Representative Cricket
An individual who has given a life-long commitment to youth representative cricket
Joint Winner Derek Gregerson
Joint Winner Andrew Clegg
Barbara Hare Award for Services to Womens Cricket
An individual who has long term service and made a difference to womens cricket
Winner Vanessa Holliday
Highly Commended Della Rebours
Services to Disability Cricket
An individual or organisation who has made a huge difference in the availability of cricket for those with a disability
Winner Atif Rafiq Yorkshire VI team
Young Disability Achiever of the Year
A young player from a disability group who has achieved highly and so raised the aspirations of others
Winner Matthew Ingram Yorkshire Terriers and Treeton CC
Ralph Pritchard Award for the Volunteer of the Year
An individual whose volunteering in 2014-5 has truly made a difference
Winner Ann Townsend Follifoot CC
Highly Commended Simon Winder Wakefield Thornes CC
George Reah Award for Special Services to Cricket
A special individual who qualified to win in many categories for a lifetime's dedication
to cricket
Winner Geoff Deighton York Vale CL
Brian Stone Club Family of the Year Award
A family who together have given exceptional service to their club in 2014-15
Winner Wolsey Family Warmsworth C C
Young Volunteer of the Year
A young volunteer under 25 years who has made a difference in 2014-15
Winner Frances Corker Hollinsend CC
Heartbeat of the Club
The clubperson of the year – someone who a club could not do without
Winner Jenny Barrett Pannal CC
Highly Commended Yasin Patel Batley CC
Lifetime Achiever
An individual who has made an outstanding difference to cricket over a sustained period
Winner Richard Webster Bradley CC
Highly Commended Fred Mason Woodhouse Grange CC
Latest posts by John Fuller
(see all)