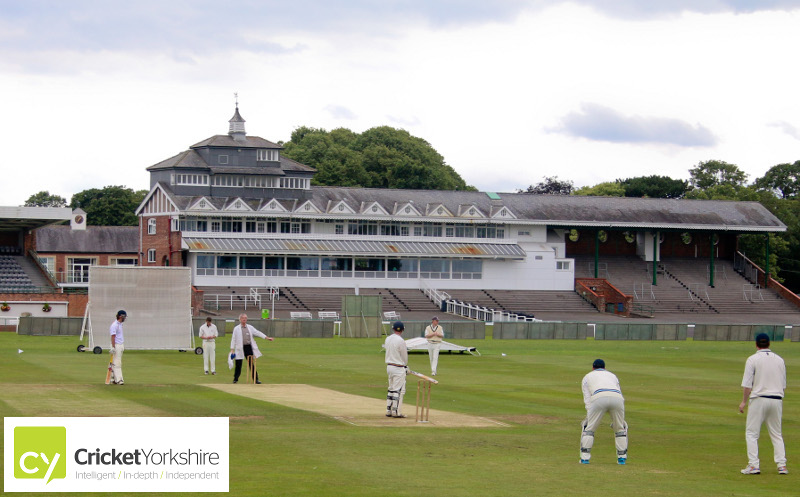 Being entirely honest, arriving at Thirsk railway station on foot is to begin a bit of a soulless walk into town with the drone of traffic on your right only partially balanced by the titter of birdlife from the racecourse to your left.
Thirsk itself is clearly the happening place to be, judging by the 4.2 billion people in cars attempting to negotiate their way into the market square on this particular Saturday.
Ok, enough of the mock grumpiness….what I can categorically tell you is that the sandwiches and cakes in the White Rose Books cafe are the bee's knees and were worth dicing with death by running the gauntlet of cars to get there.
I have clearly reached a certain vintage in life when the provision of an extra recepticle of hot water for my pot of tea brings spectacular joy.
Also, a word of advice, if you're keen on a trip to Thirsk Cricket Club – and why wouldn't you be given its unique setting inside the Thirsk Racecourse track…
Don't retrace your steps back towards the railway station and enter Thirsk Racecourse in the mistaken belief that the cricket ground is easily accessible out back.
If, and obviously we're hypothesising here, you did that, it would require an ungainly battle against a spiky wooden gate with a NO EXIT sign nearby, followed by success at a lower, less vicious barrier, watched by curious onlookers from the caravan park.
Thirsk Cricket Club have teams in the York & District Senior Cricket League and the Nidderdale League and were friendly and approachable from the moment the camera equipment got dumped on a wooden bench at the clubhouse.
George, Chairman and general dogsbody (his words, not mine) was on hand to fill me in on all things Thirsk and show off the Thomas Lord plaque (who was born in the town and went on to establish Lord's cricket ground).
George dashes off to umpire and the game begins after one of the Hovingham opening bowlers appears and somewhat sheepishly takes up position at fine leg.
Thirsk are a cricket club struggling to understand their place in the world. Not so long ago, their firsts were riding high in the upper echelons of the York & District Senior Cricket League.
Key performers retired or moved clubs and they have plummeted down the divisions since from those heady heights to Division Two North.
Thirsk ponder wistfully what might have been when they see left-arm spinner Karl Carver representing Yorkshire who left them after playing as a junior to join Sessay or the McKendry brothers who are now at York.
As a club, Thirsk are also perched between cricket leagues – while their frists are in the Yorkshire Senior, their seconds compete in the Nidderdale League; both very well run cricket leagues but the standard can vary quite a bit between 1st XI and 2nd XI teams that straddle leagues.
This is not a good time of year given that Thirsk are a club promoting youth involvement in senior cricket and the schools holidays are taking their toll on availability.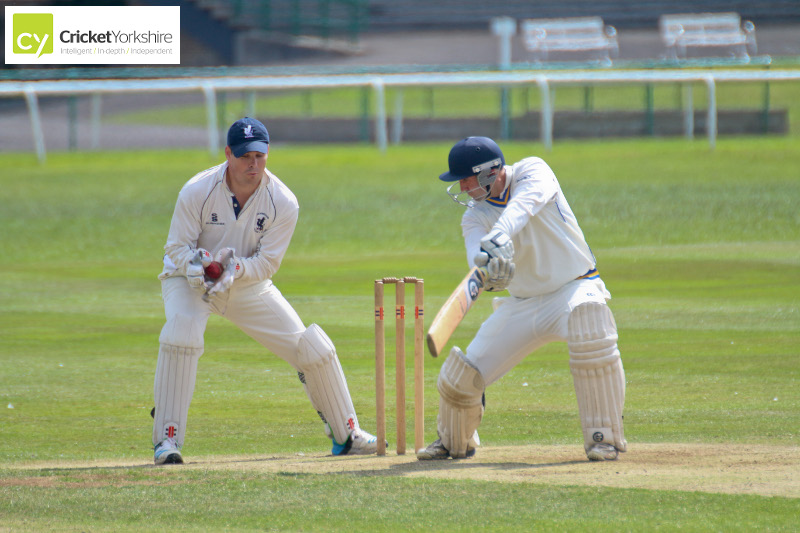 There are no octagenarians hobbling around the field between overs; quite the opposite, partly through choice and partly through necessity, Thirsk have a host of young cricketers on show.
There are two Harrys kind enough to chat away while scoring during the afternoon from the elevated position of the Thirsk scorebox.
At just fifteen, Harry number one coaches the under nines, has mowed the outfield that morning courtesy of his dad living nearby with a mower and talks intelligently about the challenges facing the club.
Harry number two is older and gives his perspective of players past and present while tussling with the scorebox numbers that are seemingly out of sync.
Mark, first-team captain, plays an anchor role as opener but, when he's finally dismissed, is a font of knowledge on how the club is doing, on and off the field.
Though Thirsk field a young first-eleven squad, perhaps they'd like more experience, but their playing resources come from strong junior sections for which they can be proud.
Off the field, they have the odd logistical challenge, not least being booted off their ground whenever the races come to Thirsk Racecourse (don't want a full blooded drive belting the odd-on favourite after all).
The Racecourse itself, having looked around while a tad lost, is an impressive setting for sport while there are bowls, tennis, rugby and other sports all on site too.
It is in the realm of sponsorship; an area many clubs work hard at but don't necessarily reap the rewards, is where Thirsk are helping to safeguard their future.
The list of sponsors includes Hambleton Ales (on tap in the clubhouse) to Adam Lyth's previous bat sponsor, Dales of Thirsk – all three matches this particular Saturday have match ball sponsors.
Thirsk's tactic? Raising thousands of pounds a year by charging small amounts to get in many local sponsors which has the added benefit of connecting with the community for players or potential future help.
Meanwhile, by strange coincidence, I had already swapped messages on the Cricket Yorkshire Facebook page with two ladies, Tracey and Samantha, who it turns out in this small world of ours, are the ladies who serve up a superb cricket tea at Thirsk.
It's a round-robin operation when it comes to cricket teas but they are – and I know I thrill you all endlessly with tales of club cricket teas – officially AWESOME.
Tracey was at the helm and let's just say a number of cricket leagues I've played in would be shamed into improvement if they saw the feast laid on between innings at Thirsk.
The visitors to Thirsk were Hovingham who play their games in front of Hovingham Hall, the childhood home of the Duchess of Kent, so Wikipedia tells me.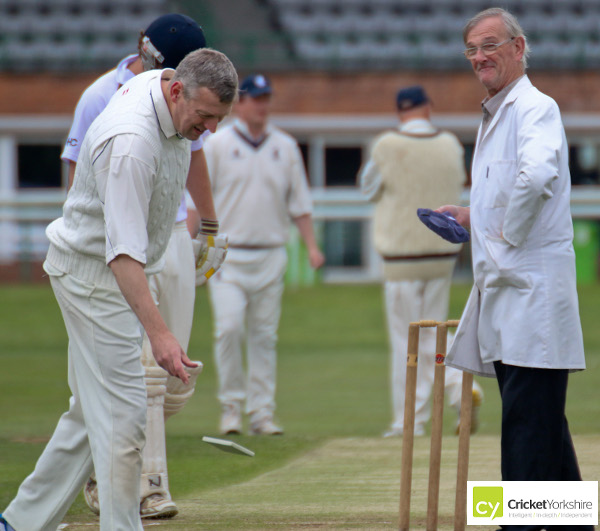 Their bowlers stick to their task and as rain descends with the resumption of play after chugging forty-five scones (me not them), their batsmen chat amiably on the benches on the boundary edge before rain returns driving us inside.
It was pleasing to see both teams supporting local batmaking businesses by using North Yorkshire bats from Nick Nixon's willow over in Malton to my own commercial partner, Raven Cricket.
The walk back to Thirsk station took long enough that my trainers squelched due to the relentless rain and I resembled a drowned rat but it had been another rewarding visit to a Yorkshire club.
Thirsk might not be playing at the standard they once were but they have the infrastructure and people in place to continue to be a success. **Check out the match photos below**
They still need a shirt sponsorship though and I promised I'd ask, so….. http://www.thirskcricket.co.uk/
Thanks to everyone at Thirsk and good luck to them for the future…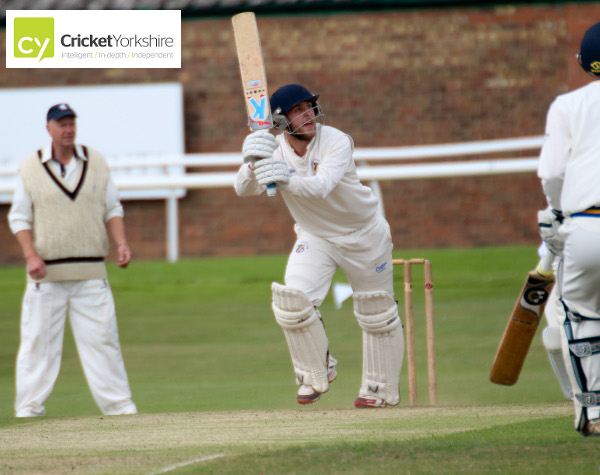 Join the Cricket Yorkshire Newsletter
To keep in touch with all things Cricket Yorkshire, join 1,500 cricket fans who are part of our newsletter community.
Like exclusives, partner offers, competitions and life from CYHQ? Sign up for bite-sized cricket updates every now and then to your inbox. 
Latest posts by John Fuller
(see all)