Of the 750 or so clubs across Yorkshire, many boast a charm of their own due to geography, history and often as not, the people who live and breath the game.
The point of this particular Saturday afternoon was to go along and hear from those at a progressive club in the Theakston Nidderdale League nestled in the Yorkshire Dales.
If you find yourself with an afternoon free and a desire to explore, Bolton Abbey Cricket Club is a wonderful place to watch the game and its location is pretty special.
Some ten minutes outside of Skipton on a bus that went like the clappers and lurched around precariously is the 30,000-acre estate of Bolton Abbey with its lush countryside and abbey ruins.

Next to the grandeur of the Devonshire Arms Hotel and Spa is Bolton Abbey cricket club, a grassy slice of peace and quiet.
Their pavilion is a black painted, timber construction, lovingly put back together piece by piece when the club moved from a nearby field when opportunity arose years back.
Roger, the secretary and groundsman, is painting the lines on the square for today's second-eleven fixture against Darley in Division Seven of the Nidderdale League.
The square and the outfield look like they've been trimmed to precision with toenail clippers and you can just feel any stress leeching out of you when turning up at a ground this welcoming.
Bolton Abbey CC have been successful with a few financial grants to improve facilities including sightscreens and covers and like other clubs I've visited, act as a motivator to any out there who think that financial assistance lies beyond their grasp.
Despite its rather five-star surroundings, the club is run like any other so grants have come not from their President and one of England's richest landowners, the Duke of Devonshire, but from work done by the Chairman Robert Mayo.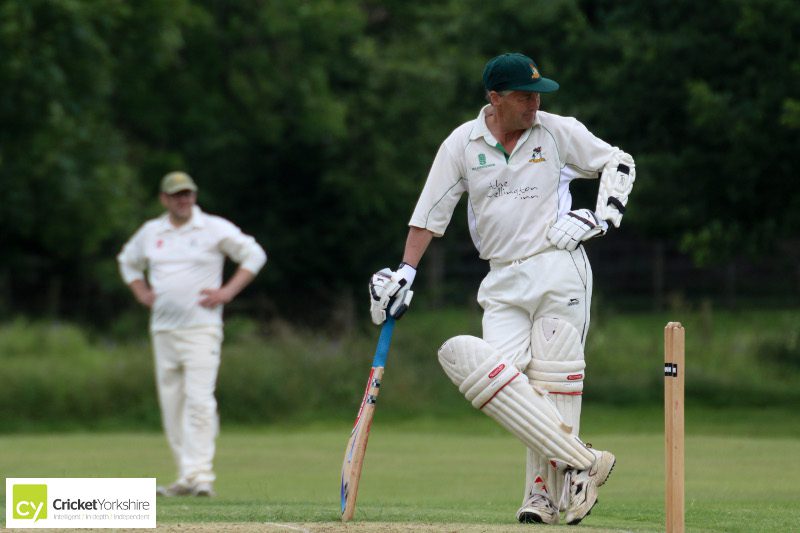 Both teams understandably ponder why Cricket Yorkshire has turned up, camera in hand, to capture their cricketing feats for posterity but it's the whole point of this website; to not just showcase the upper echelons of the game.
After a pitstop across the road in the tea rooms where a busy lunchtime service had seemingly stretched the friendly staff to the point of meltdown, it was time to absorb some cricket.
This might be the lower divisions of one of Yorkshire's largest cricket leagues but still there was real quality on show including a stonking catch from a close fielder who reacted as if he'd just won the World Cup.
Talking to the home skipper, Steve, they were a bit short and hence today was a truly family affair with Dad and Mrs Nayler doing the teas while Steve captained and his daughter out in the middle.
Darley were the visitors with their nifty green caps looking a little like Bolton Abbey were taking on a touring Australian Test side.
As it happens, this picture-postcard ground does play host to some high-profile games including the Marylebone Cricket Club (MCC) each summer.
CricHQ reveals the visitors enjoyed a comfortable win to the tune of 95 runs after scoring 249-7 off their 45 overs and then keeping Bolton Abbey twos to 154-8.
By which time I had long departed having horlicked up the bus timetables – seriously, the last bus to Skipton on a Saturday is 3.30pm – but pleased to have made the trip out and appreciative of how both teams played the game competitively but without rancour.
MATCH PHOTOS TO VIEW FOR FREE OR TO BUY
There are match photos available to view – just click on the BOLTON ABBEY V DARLEY PHOTOS link and you'll be asked to plug in your email.
If individual players or a cricket club wish to buy a photo or the whole collection, they are available to download and just click to purchase from the top menu.
Once you've paid, you'll be emailed with order confirmation and an email with a link to where you can access the high-resolution digital files.
**These are not prints, they're the source, large computer files (2-4MB each) that you can re-size, print and have for personal use**
Cricket Yorkshire has been asked about photography a fair number of times for clubs and hence the decision to sell images taken when visiting clubs.
The thing with digital files is they're obviously great as a screensaver, Facebook or Twitter or club website. Thanks again for the hospitality at the host club, Bolton Abbey CC, and to Darley for playing their part in the entertaining innings I watched.
Latest posts by John Fuller
(see all)