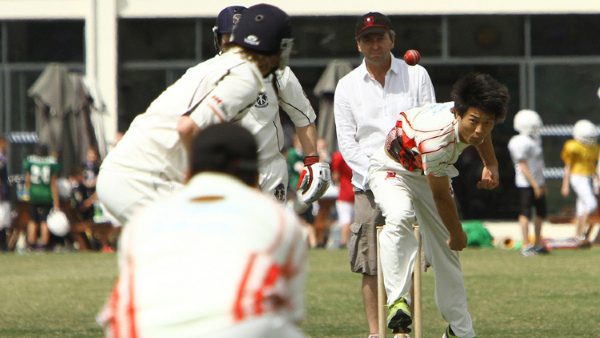 Sometimes at Cricket Yorkshire HQ, an article drops into your lap that is hard to ignore. It was a Sunday evening and the last train back to Skipton from Leeds was dragging on. You know how it is when you just want to snap your fingers and be at home
An intriguing email pinged across from China by a Yorkshireman who plays cricket in one of the largest cities on the planet. Would I be interested in his story?
You will get plenty of travel writing from all over Yorkshire during the year on Cricket Yorkshire but nothing like this. It's a departure in every sense but not so obscure so that there aren't a healthy sprinkling of Yorkshire references.
Over to Adam…
**
I've played cricket in some interesting places over the years: in the grounds of a psychiatric institute in Leeds; next to a cattle rodeo in rural New South Wales; on a Catalonian beach at an infamous student sports festival that was once described as "creating scenes that left locals horrified" by the Daily Mail – and I'm not talking about my bottom-hand swipe through midwicket.
But I never thought I'd strap my pads on in China.
Most people in the West know very little about China. To many, mention of the world's most populous country conjures images of the Great Wall, chop sticks, rice, and governmental censorship, when in reality it is quite different.
Yes, there is that big wall, rice is plentiful, and getting on sites such as Google and Twitter isn't as easy as it is back home, but it isn't as foreign as you'd think.
For example: I had Taco Bell the other day. I recently witnessed a Geordie order a "pint of Wife Beater, please, pet" from a rather bemused local barmaid and I regularly do stand-up comedy on the same bill as an Egyptian, an Australian, a Chilean, two Swedes and a bunch of Americans. They also have cricket here – and quite a lot of it.
Shanghai Cricket Club was formed way back in 1858 and over the years has taken part in many fascinating fixtures, including games with Beijing, Yokohama and even a somewhat ironically named Friendship Cup match against North Korean capital Pyongyang back in 2008.
The honours board on the club's website dates back as far as the 1860s, recognising FA Groom's seven-for versus Hong Kong in 1866, as well as more modern milestones such as D. Rakowski's 101 versus the Japanese women's national team in 2009.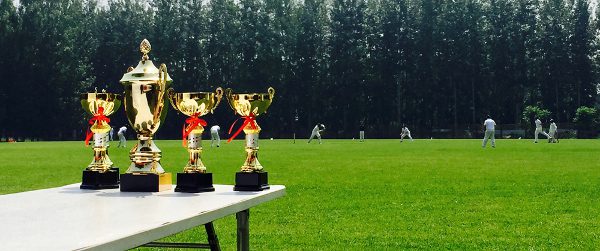 The history of the club is as obscure as it is intriguing. Cricket in Shanghai went into dormancy for 45 years in 1949 due to the small matter of the formation of the People's Republic of China, but the sound of leather on willow returned in 1994 and has been ever-present in the city since.
2004 saw the birth of the Shanghai Cricket Club League, a three-division competition now made up of teams from eight participating clubs.
They include founding members such as Pudong CC and Bashers CC, as well as associate clubs like China Zalmi CC – who have affiliation with Pakistan Super League side Peshawar Zalmi – and K2 CC, a team that has some players making a close to 350-mile round trip from Zhejiang province for each game.
That's the equivalent of travelling from Glasgow to play in the Bradford League. While the vast majority of the players in Shanghai are expats, there are a small handful of Chinese players, including former China women's captain Mei Chunhua and China men's international Yufie Zhang.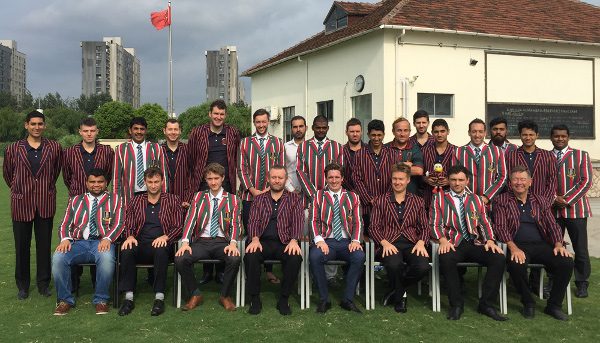 Originally from England, Paul Malpass has lived in China for five years and at the end of the 2017 season stood down as Shanghai Cricket Club President following a two-year reign.
During his time in the country he has seen cricket in Shanghai and China as a whole go from strength to strength but admits there is still a long way to go for the game to hit the mainstream. "I think people would be surprised by how much cricket there is China, particularly in Shanghai," he said.
"This year (2017) we had 17 sides play across three divisions with over 300 players involved. The challenge is that 99 percent of our playing membership is expats. We are actively working with the local cricket authorities to try and help grow our number of Chinese members, particularly amongst local schools and universities, and while there is enthusiasm there, the limited availability of facilities – there is no purpose built pitch in Shanghai – and coaches makes it somewhat of an uphill battle."
I joined Malpass' club, DPR Hot Dogs CC, or Hot Dogs for short. In Hot Dogs colours, I found myself playing alongside cricketers from all over the world: New Zealand, India, Sri Lanka, Pakistan, Malaysia, South Africa, Australia and even a bloke from Chesterfield – "just down the road" from my native Leeds. Our 1st XI boasted Shanghai's fastest bowler, Manik Kapoor from India. An unusual accolade, but an accolade nonetheless.
The majority of our games were played at Shanghai Community Sports Club, a multi-purpose sports facility found way out east on Line 6 of the Shanghai Metro – many a mile away from the coffee shops, artisan bakeries and foreigner-frequented haunts of the city's Former French Concession area.
Playing at the Community Sports Club would see us encountering several problems the average English league cricketer wouldn't be used to, such as a game of Frisbee breaking out behind the bowler's arm, a bunch of Japanese children from an international school playing rugby at long-on, or a Chinese family having no idea what cricket is and attempting to wheel a pushchair across the pitch in the middle of a game.
"Keep off the pitch" – 请勿践踏球场 (qingwu jianta qiuchang) – is a very important phrase to learn as a boundary fielder in Shanghai.
I was lucky enough to be selected for the Shanghai Cricket Club representative XI, the Shanghai Dragons – mainly after the near comically economical figures of eight overs, one for five on Hot Dogs debut against eventual league champions Daredevils CC.
My first game was the annual China Cup fixture away to Beijing CC. Most people visit Beijing for touristy stuff, such as a stop off at the Forbidden City or Great Wall, not for a game of cricket or 板球(banqiu) as they call it here.
Taking a day off work to go up to Beijing for cricket was a most confusing prospect for my Chinese coworkers and arguably more so for the Canadian girl I went out for dinner with the night before leaving.
From Toronto, she knew nothing of Canadian cricket, the lively medium-pace of Austin Codrington or the whirlwind century heroics of Jon Davidson versus the Windies at the 2003 World Cup. Needless to say, there was no second date…
The second Dragons match of the season saw us entertain Hong Kong CC in the traditional Bokhara Bell match. Cricket in Hong Kong is a much bigger deal than in Mainland China, with the players being spoiled by the lavish facilities at Hong Kong and Kowloon cricket clubs, a world away from Shanghai Community Sports Club.
The Hong Kong touring team was a decent one, including former Durham off-spinner Ryan Buckley and a 14-year-old Haseeb Hameed clone who was probably the most impressive junior cricketer I have seen since I came up against a young David Lloyd (obviously not Bumble) in the Wales U14s XI back in 2006 (he was a gun) or first bowled at an under 15s incarnation of Joe Root in the nets at Headingley during my days in the Yorkshire youth setup.
The highlight of the season was our game with MCC. Managed by Mike Gatting, they brought a strong squad including several current, former and semi-pros, such as Pakistan international and county stalwart Yasir Arafat, Steve Snell and Simon Guy, formerly of Gloucestershire and Yorkshire respectively.
We, on the other hand, were captained by a history teacher from Redcar, our wicketkeeper was a Pakistani fabric salesman and our left-arm spinner was me, Time Out Shanghai magazine's blog and social media editor. Gatting was hardly quaking in his boots.
Despite the perceived gulf in class, we more than held our own. Our 40-over match was unfortunately rained off 35 overs into the first-innings, with MCC 171-4, just as Guy (49*) and Scotland A batsman Chris Greaves (43*) were ominously starting to accelerate.
The attitude towards the development of cricket in China is promising, as unlike many associate and smaller cricketing nations, they don't allow players born outside of the country to represent their national sides, encouraging local talent to come through. The game is on the rise in the country's schools and universities and back in 2012, Chinese batsman Jiang Shuyao played for Cleethorpes 2nd XI in the Lincolnshire League.
Also, earlier this year, ahead of the PSL, two Chinese players Jian Li and Yufie Zhang, were added to the Peshawar Zalmi squad and travelled to Dubai for a training camp. The latter is a very composed batsman and useful out-swing bowler who can even boast that he's dismissed me caught behind – not that it's much to shout about.
When I started playing cricket as an 11-year-old at Pudsey St Lawrence back in 2003, I never thought one day I'd get out to a Chinese international.
As Malpass testifies: "There are 25 million people living in Shanghai – if you can get one or two percent of the population interested, you would have half a million new cricket fans. If you can replicate that across other tier one cities (cities that have a GDP of over 300 billion USD) very soon you have a game changing number of fans. You only have to look at the excitement that the NBA, NFL and Premier League creates to see the possibilities." 
The prospect of seeing a Chinese team at a World Cup is still a very long way off and Test status is a mere pipe dream, but if China decide to take cricket seriously, in a country of more than 1.3 billion people, you better believe they'll unearth some talent.
By Adam Hopkins – Blog Editor at Time Out Shanghai, @aw23hopkins on Twitter.
Latest posts by Cricket Yorkshire
(see all)