A Payntr Cricket Shoes sale is always worth a look as the Yorkshire-based sports footwear brand has some amazing deals.

You'll be able to save up to £60 per product and either get some end-of-season bargains or look ahead to Christmas or a future birthday.

As we head indoors to play cricket in the UK, there are discounts for Payntr's pimples (the rubber stud shoes that have grip but aren't spikes), as well as Payntr cricket spikes, trainers and t-shirts.

Here's their Payntr Sale (includes golf) to have a click round.

🏏 Editor's Note: If you shop via the links here on Cricket Yorkshire, we'll earn a commission at no cost to you. So you'll get money off Payntr and be supporting our grassroots cricket journalism.

Win-win – and thanks to everyone who buys their footwear through the links on our site.

1. Payntr V Pimple – White & Green

The Payntr V Pimple cricket shoes are the latest design in the Payntr V range that have proved so popular for years. A lightweight shoe, for indoors and outdoors with rubber studs for grip, honeycomb insoles for cushioning and a reinforced toe.

Green laces and cushioning around the ankle make sure you'll be hard to miss even before those stunning wickets, runs and catches.
2. Payntr XPF-22 Cricket Pimple

The XPF-22 Cricket Pimple, with its trademark green flourishes, give you support, grip and looks the part too.

You could have them as a pair of not-so-regular trainers or play your cricket indoors or outside in them. They're designed by pro cricketers with comfort and performance in mind.

Water-wicking material to keep your feet dry (ideal for Yorkshire weather) and the fact they're Payntr's lightest design to date means you'll be fast off the blocks. 
For a limited time, Payntr are offering an extra 10% (on top of the sale price) with MEMBER10 promo code at checkout on payntr.com meaning instead of £94.99, they've come down to £58.50.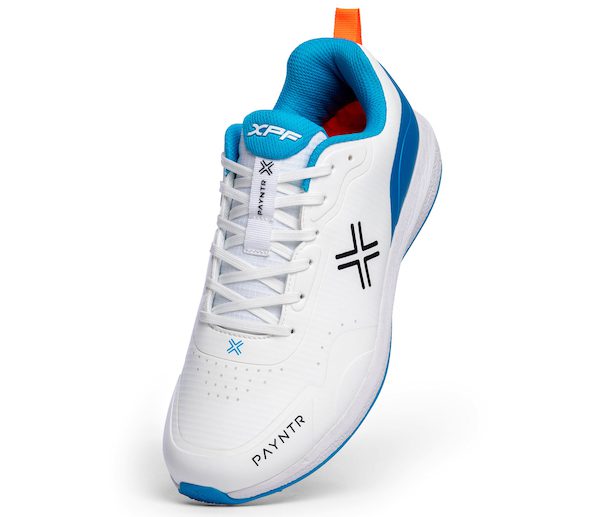 Payntr Reviews

I hope you enjoyed this Payntr V cricket shoes review and a look at the XPF-22… To read our review about Payntr cricket shoes products, click the link above.

🎉 Happy shopping…whether it's spikes, pimples or trainers, head over to Payntr to check out their cricket offers in this 2023 autumn sale!
Latest posts by John Fuller
(see all)