It becomes apparent minutes into our conversation that Kiran Bali's professional and personal journey has been about breaking barriers but also advocating change.

The magistrate and community volunteer, who won an MBE in 2008 for her community work in West Yorkshire, has taken those beliefs and brought them into grassroots cricket in Huddersfield.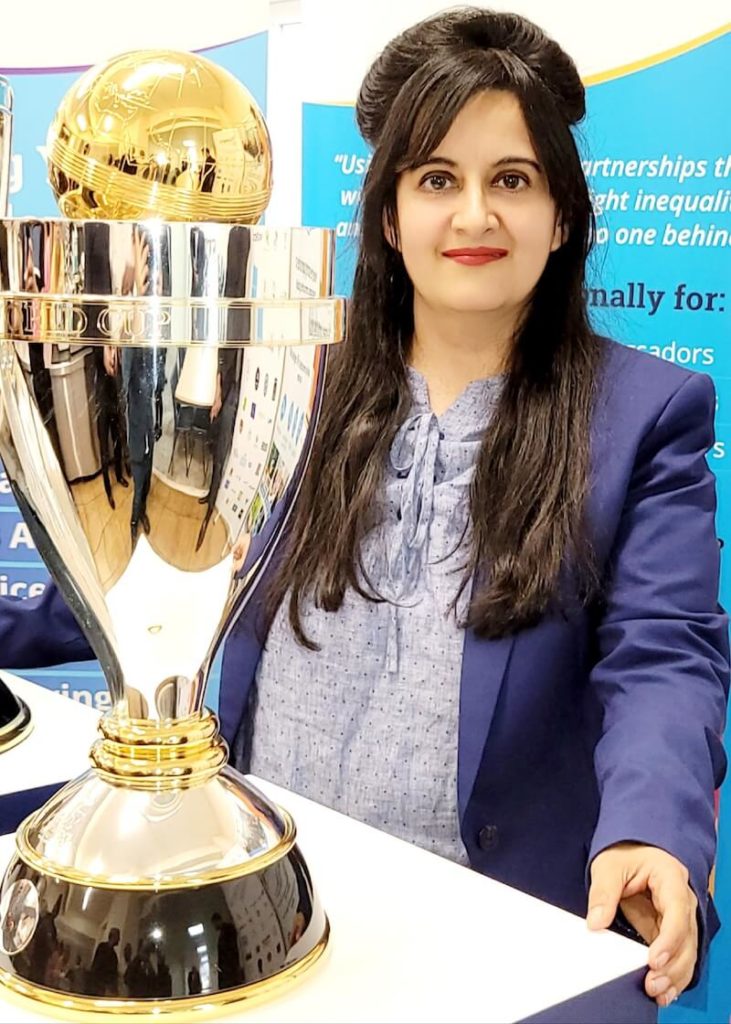 Kiran's connection to cricket has been there from watching the game as a kid and the only girl at school who played.

That interest led her to contact a Huddersfield cricket club in her teens to see if she could play for a team.

"I rang a club, there was a match on and the guy laughed at me. I could hear everybody laughed in the background. This was going back to a time where they just thought women's cricket was funny."
---

"Now I think we're at a stage where there are so many facilities and so many options. The ECB has done a fantastic job of providing support and encouragement for women to be involved."

---
For Kiran and others, a lack of a pathway at the time brought more formal involvement in the game to a halt.

The reaction from that club put her off although she'd still play street cricket and kept a connection to the game.

Kiran's journey is a fascinating one, dedicated to bringing faiths together while also campaigning on climate change and becoming an International Peace Ambassador.

The youngest magistrate at the Kirklees Magistrate Court, an independent member of the West Yorkshire Police Authority and general secretary of the Hindu Society of Kirklees and Calderdale are just some of the other roles where she'd made such an impact.
Being well known in Huddersfield and keen to empower women in the BME (Black & Minority Ethnic) community, thoughts turned back to cricket.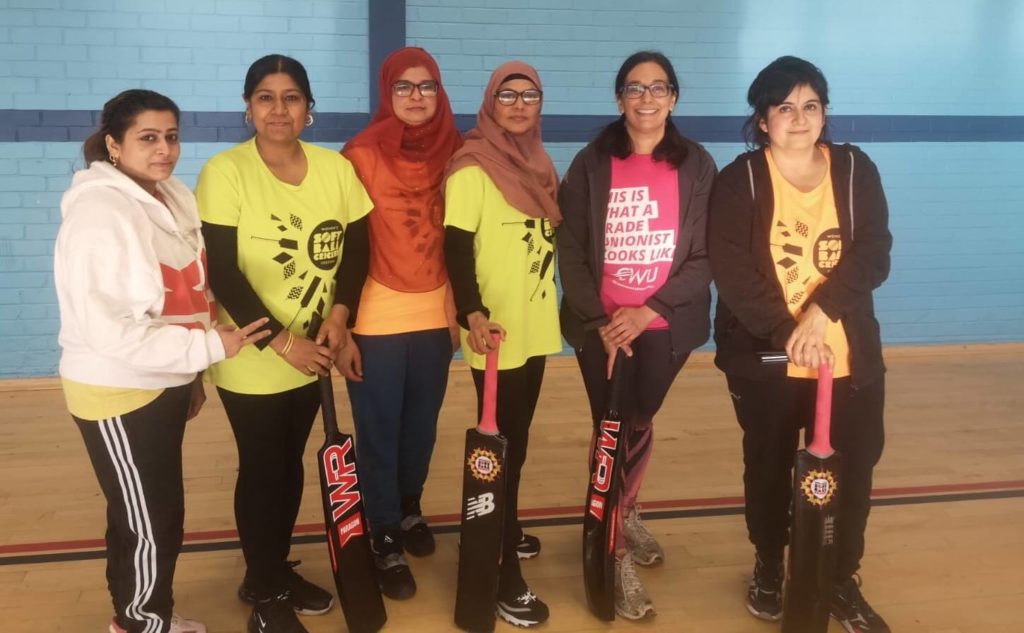 "I met a lot of women and many of them could really do with something which keeps them engaged, gets them out of the house and just breaks up that daily routine of serving the family."

Kiran told me: "On an informal basis, I used to invite some of the ladies to the local park. So every Friday, we'll play a little bit of cricket and over time, more and more started to come; you could see how much impact this was having on them."

What began casually, with the support of the Yorkshire Cricket Board (YCB) who helped with cricket equipment, evolved further as Kiran got first her Level 1 and latterly, her Level 2 coaching badges. There's also been support with finding a location to play indoor cricket in winter too.
Other events have followed like meeting the Mayor of Kirklees (see below) who recognised the power of this initiative.

Benefits for the women taking part, many of whom had never played before, included a boost for their mental and physical health.

Getting out and making new friends has been transformational with their passion for cricket acting as the vehicle.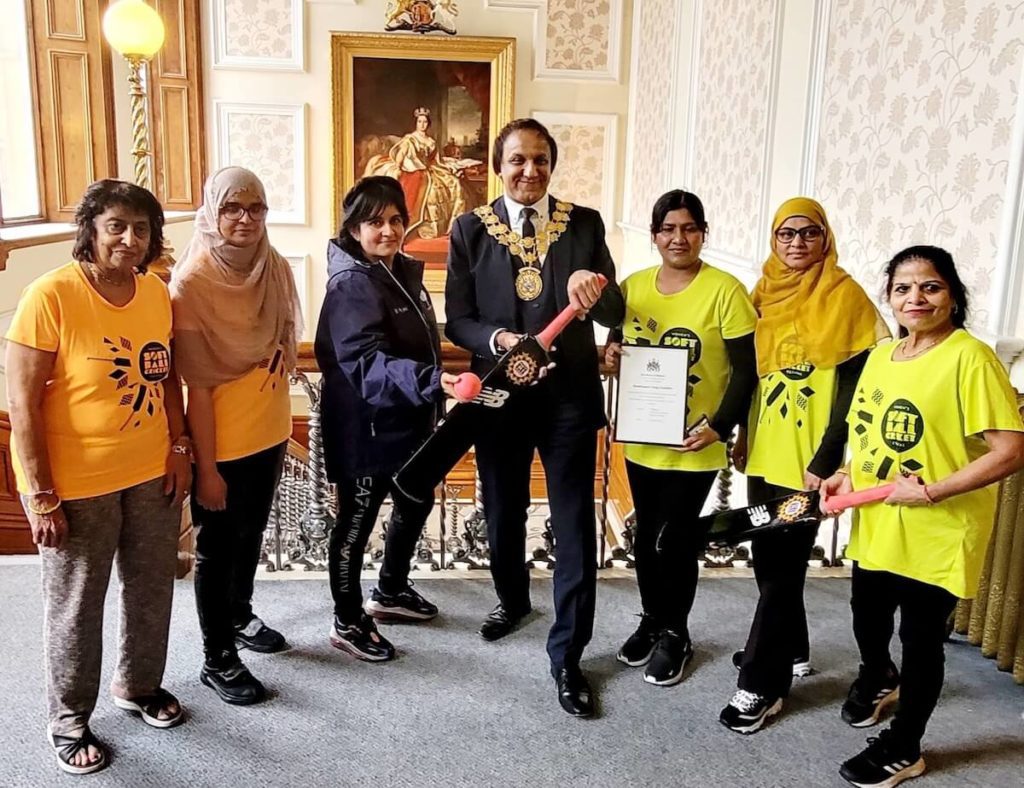 Amtal, who took part in the soft ball sessions, acknowledged the game had helped her self-confidence while Razia Mahmood reckoned: "Cricket allows me to de-stress and stay physically active."
For many of the women attending, English is not the first language so Kiran does a lot of coaching in Punjabi; an asset to ensure inclusivity.

Encouraging this kind of grassroots cricket volunteering is an example of how the Yorkshire Cricket Board can support and falls under the England & Wales Cricket Board's Core Cities strategy.

Core Cities, set up by the ECB with Sport England in 2018, seeks to help South Asian communities in Birmingham, Bradford, Kirklees, Leeds, Leicester, London (Middlesex, Surrey and Essex), Luton, Manchester, Sandwell, Slough and Nottingham.
---

Encouraging participation takes many forms and in the case of Kiran, she is a shining example of how someone who once felt excluded, at a point when she should have been encouraged, is now supporting other women in Huddersfield.

---


Inclusion and diversity are much more than buzzwords and cricket can be the spark.

As Kiran told me: "I really think it builds a sense of community and reflects the community we are. I think we can all bring our best to it, regardless of cultural barriers…we can overcome them and I think that's something to celebrate."

So, what's next for Kiran? She's keen to encourage attendees to develop their interest in cricket and for younger players to not think twice before approaching a club.

There's very much room too for anyone to feel comfortable turning up and just meeting others and having a hit. Meanwhile, Kiran has been encouraged by the YCB to embrace her coaching and has done some sessions in schools.
Interviews like this, about service to a community and the empowerment of women are a reminder of how cricket can be so powerful.
When I signed off, the forecast had been pretty grim for Saturday but Kiran laughed that she'd get in trouble if the cricket didn't go ahead; apparently being rained off in the park wasn't an option.
Thanks to Kiran for her time. This is a sponsored article on behalf of Yorkshire Cricket Board – if the mood takes you, click to read Cricket Yorkshire's policy on sponsored content.
Latest posts by John Fuller
(see all)