Sohail Raz is Community Development Officer (Leeds) at The Yorkshire Cricket Foundation (YCF) and one of his roles is to head up something called Core Cities Leeds.
Core Cities is part of the ECB's action plan to engage South Asian communities and it has identified 10 areas, including Bradford, Leeds and Kirklees in Yorkshire, where it believes it can reach the majority of those people.
Talking to Sohail, I learnt that his aim has been to meet diverse communities through cricket in the Leeds area. The goal has been to make the game (viewed as too expensive, long or complicated) as accessible as possible to everyone, particularly those in deprived areas.
So, whether it's a chance to play tapeball cricket or encourage a knock-about with no rules with friends and just a bat and ball, the focus is on bringing the game to those who wouldn't normally consider it.
Core Cities Leeds initiatives in 2019 included offering cricket to those living in Beeston, Harehills, Chapeltown and Armley. 
Sohail comes from Beeston himself and plays his cricket with Methley in the Bradford Premier League. Prior to joining the YCF, he had a sports development background and also worked as a primary school teacher so was well placed to lead Core Cities in Leeds.
With good links to the local mosque and the community centre, he found that weekly free cricket sessions worked well in encouraging children to try cricket without the barriers of cost, transport or needing any equipment.
Sohail began his role during the holy month of Ramadan and he oversaw the Ramadan Cup; a six-team tape ball tournament over three days for those from Beeston and Harehills with a final in Roundhay Park.
"It was very exciting. The Cup was a shortened format which worked because of Ramadan, it was really entertaining with lots of boundaries and brought a decent crowd in."
I was curious as to who comes along to this kind of cricketing event and as you might expect, it was a mix of some who already play club cricket and others who just saw it advertised and came along to try it out.
If you're not familiar with it, tape ball cricket is a form of street cricket with a tennis ball typically wrapped in electrical tape.
It can generate exaggerated spin and swing, goes like a rocket off the bat and the format that dates back to Pakistan in the 1970s is low-cost, low-frills, maximum entertainment.
In the Leeds version, it might last only 8 or 10 overs a side which is ideal for those looking to let off steam after a long day at work. 
Adults playing tape ball can often be taxi drivers and restaurant workers doing unsociable shifts who still want a form of cricket that can be done and dusted quickly and fits their lifestyle.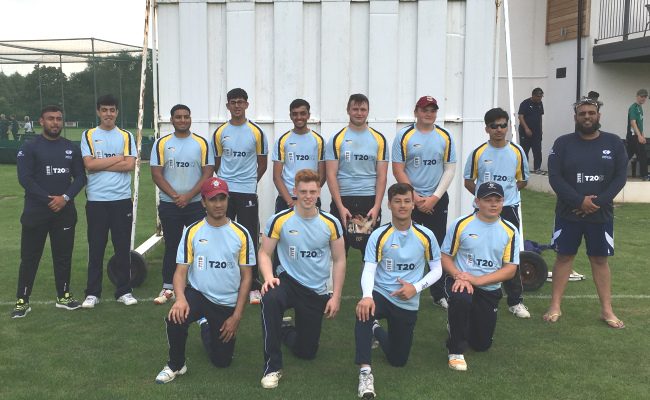 Another project that ties in with Core Cities Leeds is the ECB City Cup; a national, talent identification programme designed to give players outside top-tier Premier League cricket a chance to be spotted.
This year, the qualifying age group was adjusted down to 15-18 year-olds, as opposed to Under-21s in 2018, with a view to the professional coaches getting the best results from a slightly younger squad.
Another amendment saw the area expanded for each region so the 'city' of Leeds actually incorporated anyone from Kirklees too in order to give a breadth of entrants.
There's no messing about. As the goal is to find cricketers who might have slipped under the radar and give them a pathway to professional cricket, it stands to reason that the selection approach mirrors that.
In fact, the system is already working with Shams (below), who came to attention in last year's ECB City Cup for Leeds and is now in the Yorkshire age-group bronze pathway.


In Leeds, there were two indoor trials in April at Headingley and Stumps in Wakefield followed by outdoor trials, regular squad training and two warm-up matches at Hunslet Nelson Cricket Club (where Sohail began playing cricket at the age of eight).
The Area Finals saw Leeds beat Manchester at Bowling Old Lane Cricket Club in Bradford before losing out in the Regional Finals at Duffield Cricket Club in Derbyshire.
Yorkshire's untapped potential has shone through in this competition with Bradford past overall winners and Sheffield and Leeds also impressing.
As a consequence, two players from the Leeds team (Shamsullah Dost and captain Waseem Qureshi) and four lads from the Bradford team (Saqif Ali, Jacob Philips, Seif Hussain, Mohammed Waheb) were selected to go to development days at Loughborough Cricket centre, with elite coaches.
There has also been plenty of activation around this summer's cricket World Cup which saw the Beeston Mini World Cup with kids from urban street cricket sessions chosen to represent one of six playing nations.
My talk with Sohail had only served to illustrate that there is a mountain of cricket played across Yorkshire that we don't always get to hear about. This outreach work serves a crucial purpose in democratizing cricket for those who need help in accessing it.
The Yorkshire Cricket Foundation's work as facilitator of the ECB's Core Cities strategy continues this winter. 
One example being the launch of a community indoor league at Roundhay High School that offers a version of cricket that is speedy, fun and a fitness boost for over 18s.
To learn more about the work of the Yorkshire Cricket Foundation (YCF), you can visit https://yorkshirecricketfoundation.com.
**This is a sponsored article as part of our partnership with the Yorkshire Cricket Board – if the mood takes you, click to read Cricket Yorkshire's policy on sponsored content**
Latest posts by John Fuller
(see all)