Thanks to the first rain I can recall since May, I am walking along Keighley Road, soggy and pondering wretched luck – but coaches Lee Bailey and Mark Pennington have kindly agreed to meet anyway to discuss how All Stars cricket has gone down at Crossflatts Cricket Club.
In case you haven't heard about All Stars cricket, it's an initiative by the England and Wales Cricket Board and delivered by cricket clubs across the country.
In its second year, the aim is to offer children, aged five to eight, with a rewarding and fun first experience of the game.
Volunteers at clubs are given training and each child gets eight sessions as well as a shirt with his or her name on it, a cap, plastic bat, ball and backpack to allow for impromptu games at home or on the move.
For Crossflatts, using All Stars as a feeder into their under nines felt like a sensible move and they got around 16 boys and girls attending in 2017.
Over winter, they linked up with Bingley Grammar School and offered free coaching to build a relationship there and also hit the printers with 3,000 leaflets produced that went to local schools.
Mark, who has been Crossflatts' All Stars Activator, picks up the story:
"Some of them had never picked a bat or ball up before. They seemed to really enjoy it. Quite a few have now come down and joined the All Stars programme."
That impetus led to 41 kids signing up to All Stars cricket for this season and the results have been fantastic (their words, not mine) with under 9s and under 11s also training together afterwards.
Crossflatts found that they could pick those who signed up for All Stars cricket in their summer teams with six All Stars now having had a taste of under nine club cricket.
The club are rightly proud of their junior cricketers with Archie Ward, Rhys Mazey, Thomas Durn and Harry Hinchcliffe going on to play representative cricket.
In what is a comprehensive look at All Stars cricket but also a discussion of the challenges for cricket clubs with junior cricket, Lee and Mark were astute guests on the Cricket Yorkshire podcast.
I know I would say this but seriously…I recommend you have a listen at the end of the article, if you're interested how such a massive national programme is orchestrated at local level and the results they bring.
Lee, who is also Second Team captain, saw All Stars as an important part of a broader drive to improve the club, after a review three years ago acknowledged they were stagnating:
"Ultimately, the junior section is the biggest bit. If you don't have kids coming through, there's no future….we're going in the right direction…it's to provide a conveyor belt of players for us."
He credits the senior players for investing their time to run sessions and some becoming All Stars Activators but there is always room for improvement with a desire to see more parents helping out in future.
While first and foremost, it's about encouraging children to play cricket then join a cricket club, there's been a little financial bonus in the number of parents coming down who end up buying food and drinks.
While Crossflatts' All Stars cricket programme ran from 8 June to 3 August, there was always the intent to extend it across the month, as I've seen a number of other clubs do.
After all, they are achieving all that they intended to and All Stars cricket goes beyond a bat and a ball to teaching teamwork and social skills.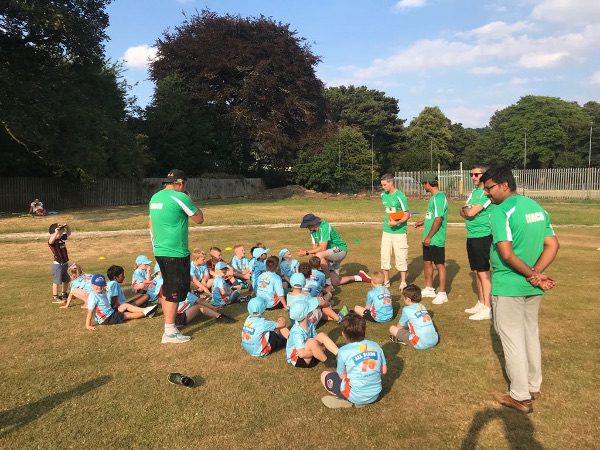 The case of Crossflatts Cricket Club taps into a wider success story for All Stars cricket in 2018.
In figures from the Yorkshire Cricket Board seen by Cricket Yorkshire, the picture across Yorkshire has seen a huge leap up in the number of clubs involved and children doing All Stars cricket.
In 2018, there's been a 79% increase to 6,220 signups in Yorkshire which represents strong progress in persuading a new generation of young boys and girls to start or continue their journey in cricket.


Listen to Crossflatts CC on the Cricket Yorkshire Podcast
In the 24-minute episode, Lee Bailey and Mark Pennington talk about:
How All Stars cricket has helped Crossflatts' junior section
Lessons learnt as coaches
The exciting potential growth for cricket

Share this article using the Twitter and Facebook buttons below….

Thanks for reading, if you've learn something new about All Stars cricket or think you know someone who might be interested, please share the article via Twitter and Facebook.
**This is a sponsored article as part of our partnership with the Yorkshire Cricket Board – if the mood takes you, click to read Cricket Yorkshire's policy on sponsored content**
Latest posts by John Fuller
(see all)