Having talked to Java sparrows and met a Humboldt penguin, it was time to go in search of Sewerby Cricket Club.

It struck me that Sewerby could well be my favourite ground I've never actually watched cricket at, with Bamburgh running it close. They share close proximity to the coast so perhaps it's that.

In fact, I'd hazard a guess that Sewerby Cricket Club is the nearest ground from boundary edge to the clifftop (about 30ft, give or take) in the UK.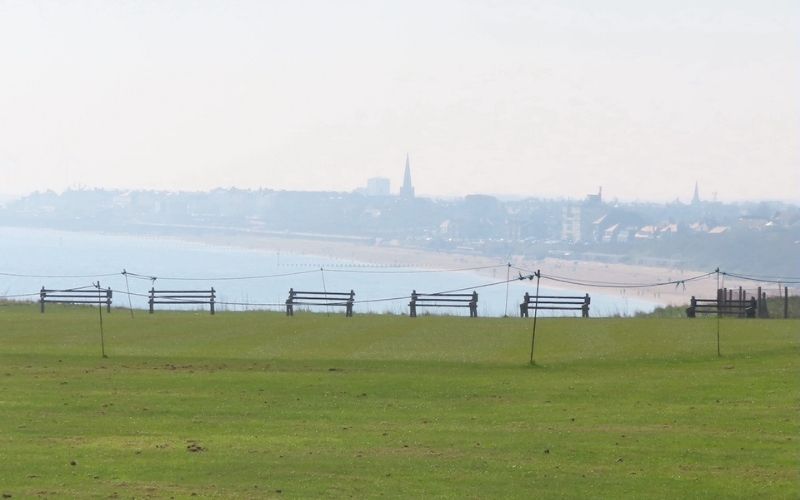 Having strolled around Sewerby Hall & Gardens (fantastic day out) and been bewitched by their small zoo, it is a minute's walk to the cricket club.

First impressions are of the many concrete benches surrounding the cricket square like Yorkshire's answer to Stonehenge.
There must be getting on for a hundred. How many cricket clubs have a seating capacity of 300 I wonder?
The white pavilion is striking for its red-tiled roof and punctuated by its green frontage with various shutters still closed.
---
The views from Sewerby Cricket Club are breathtaking. The waves dance and catch the light as if an invisible coin pusher sweeps gems into shore.
---
I drew comfort and satisfaction in noting that Sewerby's pavilion can be clearly seen all the way from Bridlington's North Beach. Something my ever-patient wife got reminded of more than once.

On a sunny day such as this, you get the sweeping curvature of Bridlington's beach and a steady stream of walkers making the climb up and along towards Danes Dyke and the Drinking Dinosaur at Flamborough Head.

That's a rock formation, not a pub, in case you're curious.
Speaking of which, I can recommend the beer-battered haddock at The Seahouses Inn of Flamborough. The village also has a cricket club that plays in the Scarborough Beckett League, if you wanted to combine the two.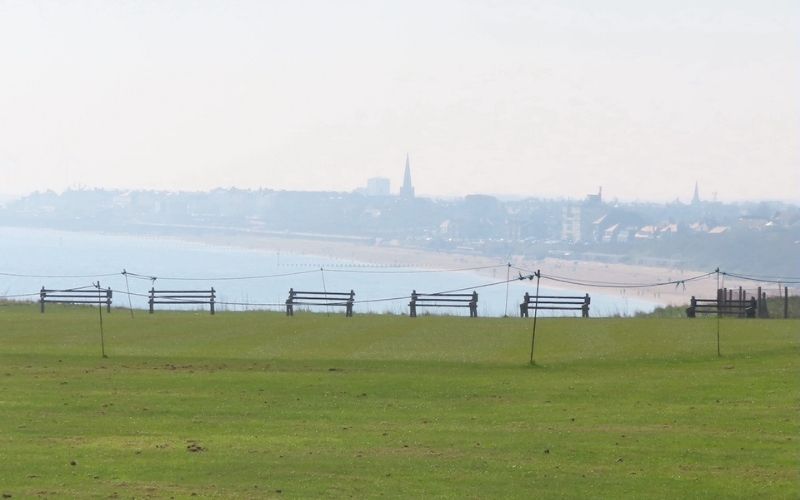 To return you to Sewerby, just beyond the boundary is the coastal path and then the sheer chalky precipice down to the North Sea. Out there somewhere beyond the horizon is the German spa town of Sankt Peter-Ording, as the seagull flies.

I sink into an empty bench at Sewerby's pavilion to appreciate the views and get talking to a couple nearby.

As a plane passes overhead close enough to get the serial number on its wheels, he checks his watch and announces knowingly to his wife, 'It's twenty past one' with plane-spotting seemingly a popular hobby.

We do what Brits do and discuss the weather. It's been warm and settled for the past week but apparently Brid has its own micro-climate here and can equally snow at a moment's notice. I imagine when the temperature drops, Sewerby is a cold place to stand at fine leg without doing much.
---
They must lose their fair share of cricket balls at Sewerby. I wouldn't want to be the one searching through tufty grass with a 100ft drop nearby.

---

Continuing my circumference, I watch a black and white Border Collie gradually makes its way back to its owner sitting on the other side of the square.

Come. Stop. Lie down. Wait. Repeat. Each command to move closer is achieved by holding the lead in the air and shaking it from side to side. With a hug at the end for good measure.

A weekend to Bridlington in this balmy March spell was an antidote to life's stresses and the first time we'd returned to the Yorkshire coast in a couple of years.
A final foodie recommendation. If you like your steaks and appreciate Tex-Mex then Aloha Bridlington will do the trick. I was rendered speechless when their Southern Fried chicken came out.
It was literally half a chicken in two battered pieces the size of cannon balls. Delicious though and tremendous value.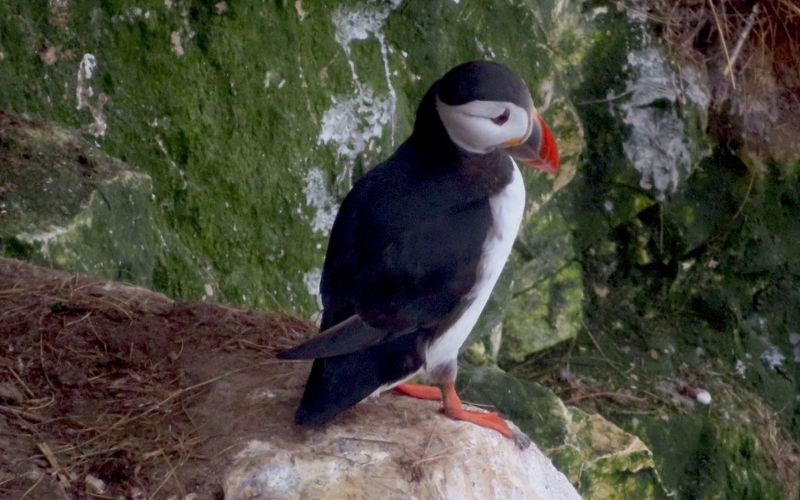 The final stop on this visit to this Holderness coast mini-tour was to RSPB Bempton Cliffs. There was a sea fret in (which reminded me of Scarborough Cricket Festival) so we weren't prepared for the unbelievable numbers of seabirds nesting.

Well set up with cafe, shop and toilets, visitors can walk from the Seabird Centre to Grandstand, Mosey Downgate and Bartlett Nab viewpoints.

There are RSPB volunteers on hand to guide you and thanks to Angela with her spotting scope, we enjoyed our first sighting of puffins within minutes of leaving the car.

Not all of you will be as excited as I was at gliding razorbills with their tell-tale white lines across black beaks. Or nesting gannets, jostling for position amid a cacophony of screeching.

But everywhere you look there is something going on.
---
Who knew being a gannet was such a compliment? These graceful fliers with their black-tipped wings outstretched and a dusting of pale yellow around their heads.
---

They emerged from the sea fret as ghostly apparitions to land precisely on a crowded rocky ledge.

Aware that I could wax lyrical about the joys of Yorkshire's sea birds for another thousand words, let us wrap this up and return you to cricket.
The 2022 outdoor season is nearly upon us here in the UK and it can't come soon enough. Friendlies from the first week of April and many Yorkshire cricket leagues beginning by the middle of the month.
In this last week, it's been late teens and sunshine then snow so it's anyone's guess what's coming up…
I already have a long list of grounds to visit but must definitely get back to Brid (appropriately, an anagram of 'bird' – those hours of Wordle are paying off) and actually watch some cricket.
Sewerby Cricket Club really is quite something.
Enjoyed the read? Sign up for the Cricket Yorkshire Newsletter…
Latest posts by John Fuller
(see all)