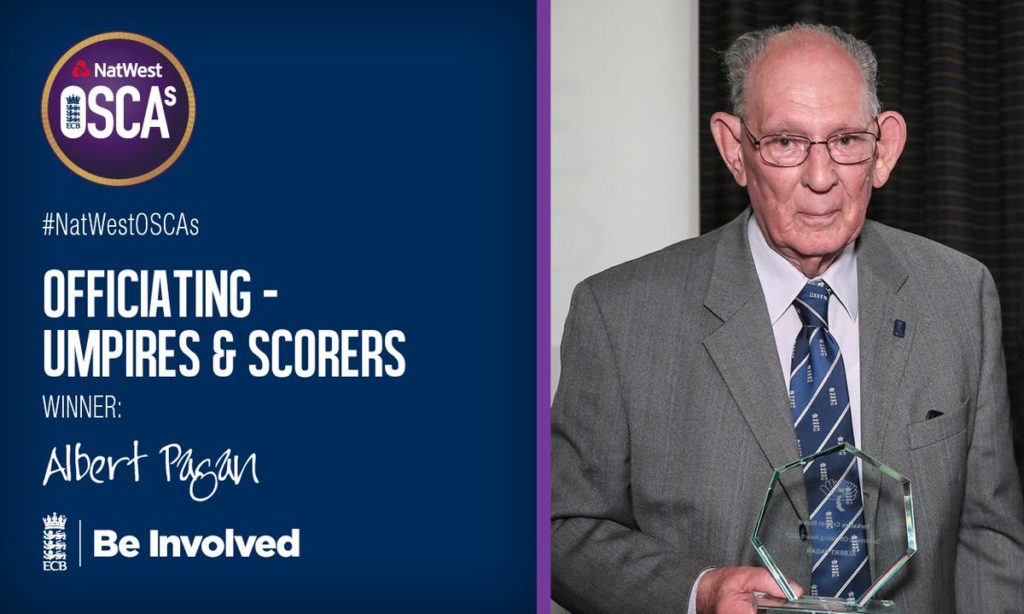 Albert Pagan, 88, well known in the North Yorkshire & South Durham Cricket League (NYSD) cricket circles, is reflecting on national umpiring recognition:
"I've been very lucky to be selected to represent all of my colleagues. The effort they've put into setting standards in the North Yorkshire South Durham League…the players have done remarkably well and we think the umpires have contributed to the enjoyment by training to a high standard."
The 15th NatWest OSCAs, held at Lord's back in October, awarded the work of volunteers who embody the dedication within club cricket.
Albert only just hung up his umpire's coat at the end of the 2017 season and won the 'Officiating, Umpires and Scorers' category; in fact, Yorkshire could also be proud of a hat-trick of runners-up accolades too.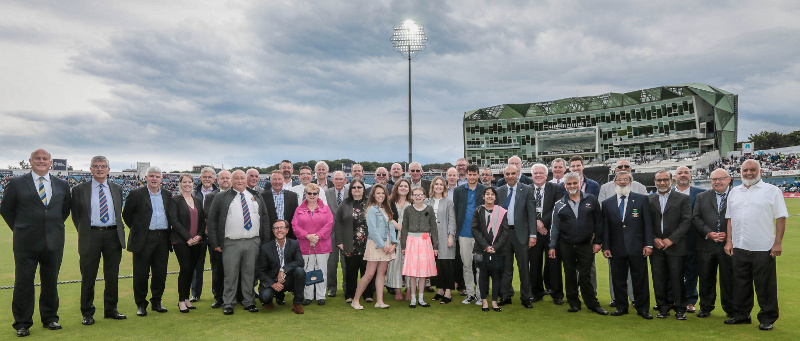 The Yorkshire OSCAs, were at Headingley in July and from that, there were seven nominees picked for the national event down in London that was presented by sports broadcaster Alison Mitchell, with England cricketers Eoin Morgan and Stuart Broad handing out the gongs.
Congratulations to the Halifax Cricket League for their runners-up spot in the Leagues and Boards shortlist; Sowerby Bridge Cricket Club matched that in the Get The Game On category as did Abdul Ravat of Mount Cricket Club in the Heartbeat of the Club category respectively.
But back to Albert…
He was only in London for the third time in his life; previously, he'd headed to the capital to ask for changes in cricket's laws and before that, playing football for Durham University against the Hospitals.
This time, he had to face a trip down the Jubilee Line of the London Underground at rush hour – 'horrendous' was the verdict and I wouldn't disagree – but at least, someone offered up their seat.
In a fascinating phone interview, Albert casts his mind back to what influenced him to enter umpiring after 43 years of playing cricket. Throughout our conversation, there are frequent anecdotes punctuations with humour and gravity.
Young Albert Pagan was an all-rounder but got fast-tracked into prominence in school and club cricket, courtesy of being able to handy with the gloves too:
"During the Second World War, I was a thirteen year-old at school and my local club, West Hartlepool Cricket Club, were short of players because of call-ups. They came to my school and asked us to go. I was a thirteen year-old playing in a school first team because they couldn't get anybody to keep wicket at the time!"
He recalls an incident with an umpire as a club cricketer that made me think of the fabled WG Grace story:
"Second ball of the match..batsman leaned forward…I took the wicket off…appealed…he was well out. The umpire came in and said: "Look. This ground is packed. The people have come here not to see you play but to see the batsman. Who happened to be Yorkshire & England batsman Willie Watson."
But why opt to go into umpiring all those years ago?
It came about after team selection would have meant leaving out a talented teen and Albert, 55, was pencilled in to play but decided now was as good a time as any to call it a day.
He found himself out in the middle in an umpire's coat after applying to officiate in the North Yorkshire & South Durham Cricket League where he has been ever since.
In the second over of his debut match, he called three no-balls which was replicated by his colleague, the league's training officer at the time, the following over to prove a key life skill of any umpire (laser vision) was up to speed.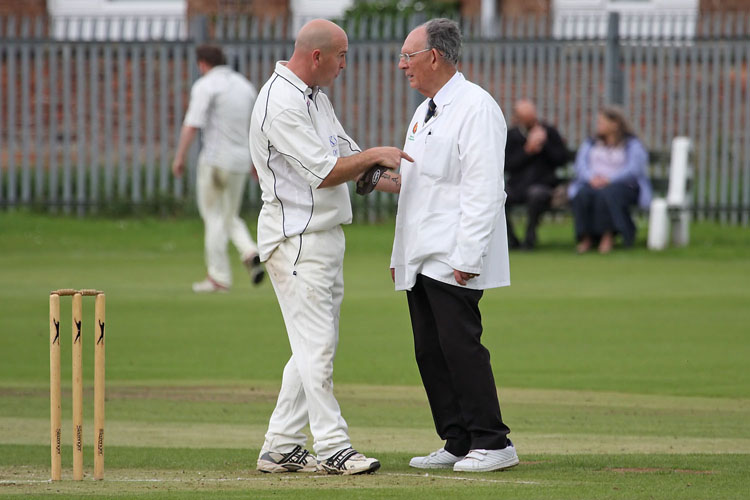 Though Albert doesn't strike me as someone to namedrop, I tease a few from him all the same.
Liam Plunkett crops up in conversation as he played in Lord's Taverners games as a young lad that our award-winning umpire officiated in back in the day.
Former Durham batsman Michael Gough is someone with a stellar reputation in county cricket having won this year's Professional Cricketers Association (PCA) Umpire of the year (for the seventh successive year no less, voted for by county cricketers).
It's a note of pride that Albert was leading the league's umpiring course that Michael joined to start his own umpiring journey and gave him the first introduction to the laws of cricket.
Gough has credited how he received a good foundation in the North Yorkshire South Durham League from Albert and his colleagues and has obviously flourished since.
In a career spanning many decades, it's not always easy to pluck out one or two particular highlights but Albert did umpire Imran Khan's hospital charity game featuring the India & Pakistan squads at Acklam Park that was broadcast on Thames Television.
We get to reminiscing on the quality of the professional cricketers that have been in the North Yorkshire & South Durham Cricket League that he's been out in the middle with such as Lance Cairns, Ijaz Ahmed, Desmond Haynes and Clayton Lambert.
Speaking of Clayton Lambert, the former West Indies batsman that Cricinfo describes uncharitably as 'an old-fashioned chunky biffer' once caused Albert to seek clarification on the LBW rule.
We think of Kevin Pietersen as the trend-setter with switch hitting but Lambert liked to alternate between left and right-handed: "We got that qualified into the law that the position he was in when the bowler started his run-up was the position that mattered all through that delivery."
He also recalls the on-field camaraderie: "There was one player who used to talk all the time. He was fielding at deep third man one day and shouted for LBW. He said: 'I'm only waiting to see if you're awake, Albert.' I said: "The only time I go to sleep is when you're batting…" That kept him quiet for about two balls and I got a round of applause from the teams."
It struck me, as I put the finishing touches to this article in the buildup to the Ashes with Nathan Lyon spouting rubbish about ending England careers, that Albert was an alternative breath of fresh air with his stories.
Rather than Ashes hot air, I'd rather hear how Albert gave Desmond Haynes out twice in three evenings:
"I was walking off the field at tea on the Saturday…he came up to me and said: 'LBW twice in three days? But you got it right both times!' Those players (professionals) knew when they were out and they never caused any trouble."
So, many congratulations to Albert for his distinguished career in cricket as an umpire in the North Yorkshire & South Durham League. It makes you think…who are the cricket umpires at your club or in your local cricket league who deserve a mention?
North Yorkshire & South Durham Cricket League: http://nysdl.play-cricket.com/
Here's all the 2017 OSCA winners: https://www.ecb.co.uk/news/489488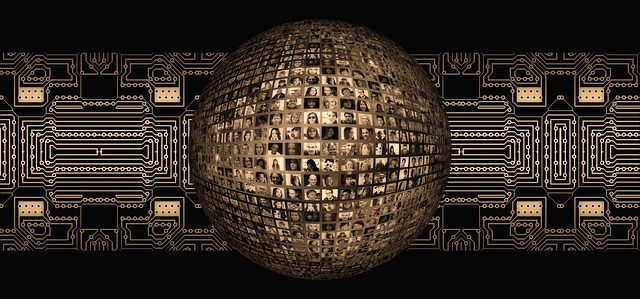 DID YOU LIKE THIS ARTICLE? PLEASE SHARE IT!
Please spread word about Albert's umpiring tales and life in the North Yorkshire & South Durham Cricket League by sharing the article. Just click the Twitter and Facebook buttons below!
The goal of this website is to bring you fresh cricket journalism and showcase the breadth of Yorkshire cricket. As readers, you have an ability to really turbo-charge the reach of any article.
What did you think of the article? Get in touch via @cricketyorks or Cricket Yorkshire on Facebook. Thanks for reading….
Latest posts by John Fuller
(see all)